The saying that 'TV is the new film' hits close to home for Mr Robot creator and showrunner Sam Esmail.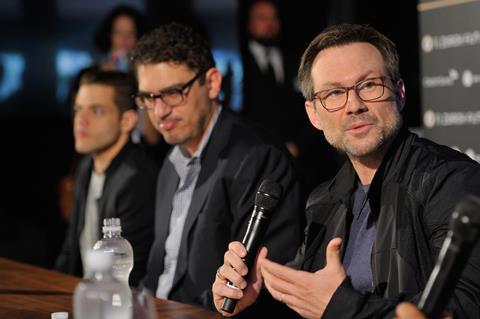 Esmail recounted how he first thought of the project as a film, before turning it into the USA Network's summer hit.
The story follows paranoid young man Elliot Alderson (Rami Malek) who works as an engineer at a cybersecurity company. Christian Slater plays an anarchist hacker-activist named Mr Robot.
"As far as I'm concerned we are making the movie version, it just happens to be on streaming and television," Esmail responded to Screen at a Zurich Film Festival press conference.
"I don't see the difference. Films are two hours long, and TV shows can go on for 20 or 30 hours or more, that affects your storytelling. But if [either format] is right for your story, I don't see any difference.
"I originally intended [Mr Robot] to be a film, I'm not shooting it any differently. We're executing it in the same manner, I just got a lot more long-winded."
He was speaking alongside lead actors Malek and Slater at ZFF, where Mr Robot is screening in the TVision programme.
Esmail, who says he is "very much a film nerd" revealed inspirations for Mr Robot include A Clockwork Orange, Pulp Fiction and Taxi Driver.
Of the latter he noted: "It's one of the best character pieces in cinema, the way it gets you so inside Travis Bickle's head, I really wanted to do that with Elliott."
TV at film festivals
The very idea that Mr Robot is screening in Zurich (after earlier launching at SXSW) is notable.
"The fact that film festivals are starting to introduce TV into their world, the marriage is working very nicely," Slater said.
"It's been harder to make indie films and people are finding this great outlet in TV. The cable networks are providing that freedom, USA let Sam stay true to the vision he had for the show.
"There are so many outlets and so many different platforms for people to create these shows, it's incredible. It's changed so much."
Slater doesn't find it strange becoming a TV star after many years of doing films.
"Whether it's TV, stage, film, it comes down to the team of people around you," he added.
"TV is this world now where great creative people are getting more and more involved in it. If you're lucky and fortunate you get the opportunity to work with great people and get to play a fun, creative character.
Going deeper
Slater said production schedules can obviously be more rushed, but work can go deeper over years (a second season has been ordered and Esmail says if possible he'd like the show to run to four or five seasons).
Slater said: "With TV there is a time constraint sometimes with how much work there is to do, it is a fast moving train, but to be able to take the journey every week and get deeper and deeper into the characters - it can go on for a number of years. You can absorb yourself into the character as much as possible."
Timely subject
As Slater noted, the series about hackers couldn't be more timely.
"When we made the pilot, the subject matter wasn't at the forefront as much as it has become," said the actor.
"Since we made the show, the Sony hack happened, it's certainly become a subject matter that has been in the president's State of the Union address, and now the president and Chinese president are going to discuss cybersecurity.
"As we've made it, it's become more relevant in the world."
Human story
Esmail noted that the show wasn't just about technology, it was about humans.
"I wouldn't put the onus on technology, at the end of the day its about a real person you connect with," said the director.
"I remember when video specifically came around and people wanted to do interactive movies, like choose your own adventure. and I always thought that was a pretty dumb idea.
"For me, what a show like Lost did, and a little like what is happening our show, there is a level of interactive because people are guessing about what the show is about, the mystery of the show, they are going online and talking about it with friends.
"That to me is a level of engagement, that's out of pure storytelling and characters."
Relative newcomer Malek said that working with Slater was intimidating at first, "but I got to know him. He is so down to earth, from being an icon and this laundry list of great films he's worked on. It was pleasant to see how cool and normal he was…I was learning from him almost immediately."