Britdoc chief executive Jess Search tells Wendy Mitchell about how the non-profit organisation works holistically across a film's lifecycle, and how it took a calculated risk with Citizenfour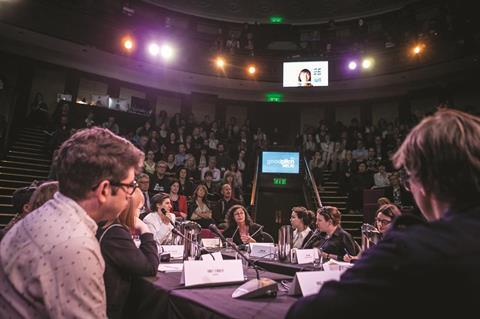 Britdoc came on board the film that would become Citizenfour when the idea was a very loose concept pitched by director Laura Poitras.
Britdoc founder and CEO Jess Search remembers: "She said, 'It's a film about American surveillance. There will be no proposal or a confirmation of what I'm filming. It makes it difficult to fund if people don't know what I'm filming.'"
But that is exactly the kind of project that Britdoc and its Bertha Foundation-backed Bertha Britdoc Fund for Journalism were keen to support. "Bertha are risk-taking funders. They came in with a big grant," she says of the $100,000 initial grant from the journalism fund — another $62,300 (€50,000) came from the Britdoc Circle Fund. "This was a year or more before Snowden approached her."
"That's the role I want Britdoc to play, spotting projects early," says Search. "It's in those early days when film-makers need more support."
Britdoc is not just a sign-the-cheque funder. "We want to come in holistically," Search says. "It's not just money, it's belief and conviction… It's our contacts and moral support. It's kind of like being a Sherpa for that film-maker on their journey."
That journey continues into distribution, and Britdoc has recently become more involved in both managing distribution and being a distribution partner. "With Citizenfour it felt too important to just leave it with a commercial distributor," Search explains (in the UK, the organisation partnered with Artificial Eye). "It deserves to do well."
She advocates thinking of box-office success and social change going hand in hand — not having two teams work separately on those goals. "The more money it makes at the box office, the more power it has and the more social change it can effect," she explains.
For Citizenfour, it was important to get as many people as possible interested. "We made a list of people we thought should see the film and be in the discussion. We didn't leave it to chance."
For Ping Pong, a doc about elderly table-tennis champions, Britdoc organised screenings in care homes. Meanwhile for gang story One Mile Away, the organisation wanted to target African-Caribbean adolescents. "We call it impact distribution. From the beginning we ask, 'What does the film mean for society and what sort of distribution should it get?'" says Search. "We want to be involved in a film's full lifecycle. We think of ourselves as being like a think tank."
Making connections
Channel 4 was a founding partner of Britdoc in 2005, and at the time funded all the $1.3m (£800,000) annual budget. Now the channel provides just 8% of Britdoc's funding, although it remains a broadcast partner with a first-look deal on Britdoc projects.
Britdoc's annual budget is now about $3.9m (£2.5m). The Bertha Foundation and the Ford Foundation are major backers, although there are a whopping 45 funders in total behind the work that Britdoc does.
Staff has grown from four in 2005 to 12 in 2014; and the name Britdoc remains despite work being done across the globe.
Even for films Britdoc is not 'sherpa-ing' itself, the organisation has become a key connector. Good Pitch is one case in point — these events around the globe let documentary film-makers pitch their projects to charities, NGOs, foundations and brands to forge coalitions and campaigns. Since 2008, 134 projects have been pitched with 1,005 partnerships struck, and $16m in funds raised. Films to have benefited from Good Pitch include Dirty Wars, The Square, Virunga, Citizen Koch, Bully, The House I Live In and Ai Weiwei: Never Sorry.
"It's our way to work with tonnes more film projects. We can be transformative for them without putting our own funds into them," Search explains.
Britdoc also works with partners including Netflix, Puma, the Knight Foundation and the Compton Foundation to present the annual Impact Award, which this year went to five films — American Promise, Blackfish, Granito, The House I Live In and No Fire Zone — that earned $15,000 each in recognition of the social change they affected. It is not just a celebration of good work, it is learning from best practices — explored in Britdoc's Impact Field Guide and Toolkit (impactguide.org).
Britdoc also offers the DocAcademy programme in 400 UK schools, and Something Real, building audiences for online docs. The next phase will be making more 'orphaned' docs available on digital platforms.
These varied programmes build on a guiding tenant, that feature documentaries can change the world. As Search sums up: "We believe the feature documentary can really take people on a journey of understanding and empathy. If we play our cards right, we can convert the whole world to be feature doc fans."