Documentary festival announces winners.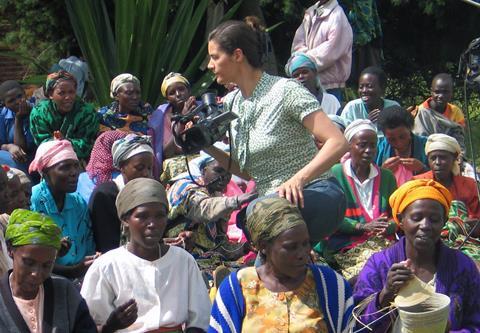 Cameraperson, a documentary about the career of cinematographer Kirsten Johnson, has won the grand jury award at Sheffield Doc/Fest (June 10-15).
Johnson, who also directs the film, is the US cinematographer behind Laura Poitras' Oscar-winning Edward Snowden doc Citizenfour and Kirby Dick's The Invisible War among many others.
The award, supported by Screen International and Broadcast, comes with a cash prize of £2,000 ($2,800).
The jury described the film as "a work that´s both expansive and intimate, formally ambitious and morally humble".
"Though this filmmaker has travelled the world to tell others stories, her real bravery with this film is when she makes the decision to turn the camera on herself, questioning her own ethical choices and exposing her own personal fragilities," the jury added.
"A film unlike any other, intuitively constructed to reflect ideas and choices and emotions, rather than a standard narrative thread, it invites the viewer to contemplate and feel these experiences along with her."
Cameraperson, sold by CAT&Docs, debuted at Sundance and has won prizes at RiverRun, San Francisco, DOXA, Montclair and Sarasota film festivals.
A special mention was granted to Shimon Dotan's The Settlers. The France-Germany-Israel co-production offers an intimate look at life inside the Jewish settlements in the West Bank.
Environmental award
Doc/Fest's environmental award went to SEED: The Untold Story, a US documentary that claims to expose the fatal secrets of the seed industry.
Directed by Jon Betz and Taggart Siegel, the jury said of the film: "It was beautifully crafted and creatively and emotionally finds a way to make the audience care about preserving the biodiversity of our planet."
The award, which also comes with a cash prize of £2,000 ($2,800), goes to the documentary the jury believed best addresses or raises awareness of the environmental challenges faced by the world.
A special mention went to another US documentary, Death By Design, in which director Sue Williams aims to debunk the notion that electronics is a 'clean' industry by investigating the environmental impact caused by the production of gadgets.
In addition, the youth jury award went to Sonita, about a 15-year-old rapper and Afghan refugee living in Tehran whose dreams are threatened when her family intends to marry her off.
The film, directed by Rokhsareh Ghaem Maghami, is a Germany-Iran co-production and previously won the grand jury prize at Sundance.
Alternate Realities
The winner of the Alternate Realities interactive award was New Dimensions in Testimony, created by Heather Maio and produced by Stephen Smith for USC Shoah Foundation. It also won the audience award.
The groundbreaking experience offers a "virtual encounter" with a recorded image of a survivor of the Holocaust, Pinchas Gutter, who responds in real time powered by complex algorithms that provide a realistic conversation.
A special mention went to Walden, A Game, a first-person game simulation of the life of US philosopher Henry David Thoreau during his experiment in self-reliant living at Walden Pond. The US project was created by Tracy Fullerton.
The winner of the Alternate Realities VR award was Notes on Blindness: Into Darkness created by Arnaud Colinart, Amaury La Burthe, Peter Middleton and James Spinney, which complements feature doc Notes On Blindness.
The audience award for this category went to Home – An Immersive Spacewalk Experience, created by Kate Barlett and Tom Burton.
Other prizes
The Tim Hetherington award went to Tatiana Huezo's Tempestad, which follows the journeys of two women victimized by corruption and injustice in Mexico.
The Dr Clifford Shaw audience award was won by Ido Haar's Presenting Princess Shaw, a film about the collaboration between New Orleans songwriter and YouTube star Samantha Montgomery and Israeli composer-video artist Ophir Kutiel.
The storytelling and innovation award went to Notes On Blindness, a UK-France co-production directed by James Spinney and Peter Middleton. Runner-up was Patrick Shen's In Pursuit Of Silence, a UK doc about how civilisation has approached silence throughout the centuries.
The inaugural Whicker's World funding award of £80,000 ($113,000) was won by Alex Bescoby for Burma's Lost Royals, which centres on a forgotten monarchy. The award was open to under-30s looking to make their first full-length feature.
The runner's up prize of £10,000 ($14,000) went to Adam James Smith for Americaville, which centres on a Chinese replica of a US town.
As previously announced, the creative leadership award went to HBO Documentary Films president Sheila Nevins and the award for unsung hero in factual TV went to Jan Tomalin, managing director of Media Law Consultancy, who has advised almost all of the UK's top documentary makers.