As Alex Garland's Ex Machina vies for five Baftas and two Oscars, the film-makers look back on its production and debate the pros and cons of an international release strategy that saw the sci-fi film become a sleeper hit in the US. Mark Salisbury reports.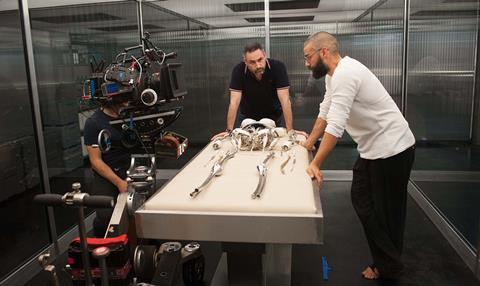 In winter 2011, screenwriter Alex Garland (28 Days Later) was in Cape Town working on comic-book film adaptation Dredd for producers Andrew Macdonald and Allon Reich of DNA Films.
Garland had spent the previous 10 years heatedly debating with a friend about whether artificial intelligence could ever exist — Garland contends yes — and, during pre-production on Dredd, he finally found the right narrative to give voice to his thoughts and feelings on the subject. He wrote the first draft of Ex Machina in three days.
"It just seemed like a film I wanted to see; it made a lot of sense to do it." David Kosse, UPI and Film4
The script was another smart, prescient example of the science fiction that has become Garland's trademark as a screenwriter. It tells of a coder, Caleb (Domhnall Gleeson), in the employ of a Google-like internet search engine. He wins a staff competition to spend a week with the company's reclusive CEO Nathan (Oscar Isaac). Once there, he is tasked with interrogating the artificial intelligence housed inside Ava (Alicia Vikander).
Having known Macdonald since the Danny Boyle-directed adaptation of his novel The Beach, through subsequent collaborations on 28 Days Later, Sunshine, Never Let Me Go and Dredd, Garland gave DNA the script and Macdonald and Reich boarded the project as producers. With its minimal cast and one primary location, Ex Machina was conceived to be achievable on a limited budget and for Garland to direct.
"I consciously wrote it trying to include all the different things I'd learnt about writing and production and put them together as a sort of synthesis," he says. "I can clearly see stuff where I've learnt a lesson from Never Let Me Go or Sunshine or Dredd and applied it to Ex Machina."
Around the same time, he sent it to US producer Scott Rudin, who for years had been keen to work with Garland. Rudin joined as executive producer alongside his Scott Rudin Productions colleague Eli Bush and the then-head of Film4, Tessa Ross.
Financing options
"We had quite a lot of different choices for finance," recalls Macdonald who, having made Dredd as an independent production, was keen to work again with a distributor-financer. Among the companies he approached was Fox Searchlight, with which Macdonald had produced The Beach, Sunshine and 28 Days Later. Fox passed. There were, says Macdonald, other interested parties, but in the end DNA opted for Universal Pictures International, then run by David Kosse. Macdonald's relationship with Kosse dated back to the former's 1994 debut as producer, Shallow Grave.
"Finding the right visual-effects partner was crucial," Andrew Macdonald, DNA Films
"Andrew called me and said, 'I've got a project from Alex Garland,'" recalls Kosse, who would go on to take over from Ross as the head of Film4. "He sent me the script, I read it that night and really liked it. I'd not met Alex, so Andrew arranged a meeting. Between the script and the idea and Alex's pitch and take on the material, it just seemed like a film I wanted to see; it made a lot of sense to do it."
The final budget of just under $15m comprised Universal's advance for worldwide distribution rights, Film4's equity and licence for UK terrestrial transmission, and a UK tax credit underwritten by DNA. One immediate benefit of working with Universal, says Reich, was its stance on casting, with the company prepared to sign off on Garland's choice of up-and-comers rather than big names. "They knew these were rising stars rather than proven stars and thought that was terrific," says Reich. "They were 100% behind that from the beginning."
The real star, according to Macdonald, was always intended to be the visual effects — namely Vikander's AI robot — since the film would live or die on Ava not just being plausible as a machine but as a character Caleb could fall in love with. In common with Hollywood blockbusters, around a third of Ex Machina's budget was allotted to VFX. "We've done lots of similar scaled movies but you end up with visual effects as an afterthought, and in this case you had to treat it like you were doing I, Robot," says Macdonald. "Finding the right visual-effects partner was crucial."
After meeting a number of effects houses, they opted for London-based Double Negative, which had won a visual effects Oscar for its work on Christopher Nolan's Inception and been nominated for the director's The Dark Knight. "Alex Hope, who runs D-Neg, was looking to establish some relationships with more local and emerging film-makers to feed that more creative part of his business," recalls Reich. "We arrived with this script at a perfect time, and his casting of Andrew Whitehurst as visual-effects supervisor was key to why Ex Machina works so well. Alex and Andrew clicked, and began a process that ended up with the extraordinary Ava you see on screen."
One drawback to the substantial VFX cost was that there was only enough finance left for a six-week shoot. "Scott Rudin, Tessa Ross, the bond company… they all thought it was nuts to do it in six weeks," notes Macdonald. "I think a slightly more experienced director might have thought that as well. But I knew it was the right thing to do because it gave us all the flexibility in post to do the visual effects we wanted."
Quickfire shoot
Ex Machina's UK shoot began in July 2013 following two weeks of intensive rehearsal between Garland and his key actors. "Because the film was being shot in six weeks and we had big scene after big scene after big scene, we knew we weren't going to have the luxury of being able to have long discussions on set about what was happening," says Garland. "There were two options — cover the scenes with one or two angles and do many takes, or try and get a lot more angles and do less takes."
Garland opted for the latter and was helped enormously by director of photography Rob Hardy (Testament Of Youth). "Rob had to shoot with this incredibly punishing schedule with a lot of set-ups in a day, with a frenzy of action and movement between the set-ups, but then everything had to get still and calm and zen. I was incredibly fortunate to have him."
Since the majority of the story was to take place inside one location — Isaac's billionaire's compound — finding the right location was crucial. "It had to be set in America and it had to be remote," recalls Reich. "We took a view early on that, for logistical reasons, we'd shoot in Europe, so we started to think of where are the places that can match America? We looked at various houses, but the problem we had was however amazing they were, they all felt, at best, like footballers' mansions or, at worst, an LA plastic surgeon's. What they didn't feel like was something extraordinary, the bespoke house of one of those Bill Gates types."
Eventually, the production honed in on Norway, where production designer Mark Digby (Rush) combined two properties — the Juvet Landscape Hotel and a nearby private house, the Residence — both built by Jensen & Skodvin Architects. These were complemented by interiors built at Pinewood. The production shot for four weeks at the studio before moving to Norway for a fortnight. Post-production lasted 35 weeks.
UK marketing challenge
Ex Machina was released by Universal in South Korea on January 22, 2015 and a day later in the UK, where it opened on 442 screens. Reviews were, for the most part, positive. "Everyone loved the film but it was always a marketing challenge of how to sell it," says Kosse.
"We didn't want it to be, 'It's about a robot.' It needed to be deeper and richer than that," says Simon Hewlett, executive vice-president of international marketing, Universal Pictures International. "Would it work with the mainstream audience? That was our challenge. We knew we could get in a cinephile audience."
"Audiences began to find it but nobody realised it would have the legs it did," Allon Reich, DNA Films
"Universal was really behind the film," adds Reich. "The opening weekend was pretty good, but I think the date was hard for various reasons. People underestimated films like American Sniper and Taken 3 [which opened in the UK around the same time], so we were slightly squeezed. And in terms of screens, things were slightly wiped away by 50 Shades Of Grey not that long after in February."
In hindsight, Macdonald believes that choosing to open the film in January may have been "an error". However Kosse, who left Universal prior to Ex Machina's opening but was involved in the choice of release date, disagrees with that assessment, citing other factors for the film's box-office struggles in the UK. "We ran into a lot of challenges," he says.
"The talent wasn't available and couldn't support the film to the degree they would have liked. And it's difficult to launch a movie that, while shot here and made here, looks to the audience to all intents and purposes like an American movie. To launch that movie in the UK before you've had an American launch is challenging. That said, Universal did a good job, pushed it quite hard and it did business here. But I don't think people realised it would go on to be the kind of iconic movie and the movie with the awards recognition that it's getting now."
The UK box office topped out at just over $3.8m. By then, Universal had begun platforming the film across Europe and the rest of the world, bar the US. "In terms of what the UK did, I thought it was pretty successful," says Hewlett. "It was then how you rolled it out around the rest of the world and it didn't roll out as well in all the markets thereafter. [But] the performance in the UK, if you compare it to the US, is a good performance."
The US release was, according to Macdonald, not without its "hiccups" after Universal's specialist division, Focus, which had first right of refusal, saw the film and passed. "They decided not to take it. Luckily, other people did want it, and the people that wanted it the most were A24. They were a new company and absolutely hungry for this type of film."
Kosse counters that Universal's decision not to release the film in the US was "more nuanced than that. There was a debate as to what might be the right way to release it and how much p&a be committed, and there was a disagreement as to what that might be. Universal gave the producers and us a chance to look for alternatives. So the film was shown to a couple of people and A24 was selected. And we did a deal with A24 to allow that it happen."
US success
A24 Films picked up domestic rights in October 2014 and Ex Machina made its US premiere at SXSW in March 2015 when a Tinder app featuring Vikander's photo made headlines. The following month, on April 10, the film opened in four US theatres to rave reviews and strong box office, taking an impressive screen average of $59,316. A few weeks later, A24 expanded nationwide, with the release peaking at 2,000 screens and Ex Machina becoming a sleeper hit.
"We believed the film would have tremendous momentum and word of mouth," says A24's head of theatrical distribution Heath Shapiro. "A platform release into a nationwide expansion could embolden a lot of passion from the core audience and exponentially build buzz and awareness over the course of the release."
"It became the talking-point film of the summer [in the US]," says Reich. "There were op-ed pieces in The New York Times. There was a three-page piece three weeks later in The New York Review Of Books. Audiences began to find it but nobody realised it would have the legs it did. That was down to Scott [Rudin] and A24. They pushed it absolutely beautifully."
The final US box office was $25.4m, and with the arrival of awards season Ex Machina found itself on numerous critics' top 10 lists, earning Producers Guild of America and Directors Guild of America nominations as well as five Bafta and two Oscar nominations, including best original screenplay. "No-one thought that, necessarily, this was an awards movie," says Reich. "Obviously we're delighted. There were no screeners sent out in the UK. We haven't done any campaigning."
"It's the way it's meant to work, isn't it?" concludes Macdonald. "People liked it, so they voted for it."
Boxout
FROM THE ART: Different approaches were taken with the US and UK posters for Ex Machina. The version produced for the film's January 23, 2015 UK release (far right) focused on the sinister side of Ava including the tagline 'There is nothing more human than the will to survive'. The approach adopted for the US by A24 (right), on the other hand, played up the character's vulnerability: 'What happens to me if I fail your test?' In the UK, the film grossed $3.8m; in the US, following a SXSW bow, Ex Machina went on to gross $25.4m.