Since its debut at Cannes, Laszlo Nemes' Son Of Saul has become one of the most admired films of recent years. So why did so few financiers want to back it?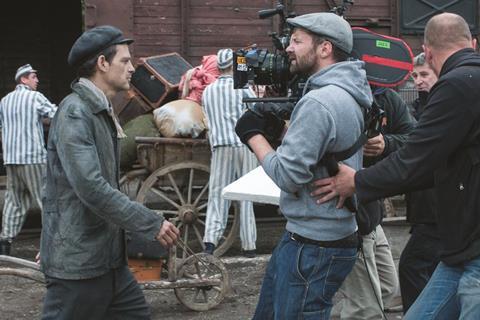 When it comes to depicting the Holocaust on film, the dangers of seeming crass, insensitive and self-indulgent are all too obvious.
Not only was 38-year-old Hungarian director Laszlo Nemes born long after the end of the Second World War but there are already a great number of highly influential books and films about the Holocaust, including Claude Lanzmann's epic documentary Shoah and Primo Levi's autobiographical If This Is A Man.
By tackling the subject head on in his Cannes Grand Prix winner Son Of Saul, the challenge for Nemes was, as he puts it, "how to go back to the dead, how to speak about the dead and [give them] their dignity." He was interested in telling "the story of the dead rather than the story of the survivors."
The film-maker, who is Jewish, first became aware of the Holocaust at a very early age. "It was my mother. She didn't spare me anything," the director remembers. "When I was five, I knew most of it."
Both sides of Nemes' family suffered during the Holocaust. On his mother's side, her maternal grandparents and other members of their immediate family were deported to Auschwitz and killed. As a child, Nemes struggled to make sense of his mother's accounts of the genocide. "It is very hard but I guess it's part of our life, sadly… it's also the destruction of the Jewish civilisation in Europe. This story never left me."
More than 20 years later, when he was a young film-maker working as an assistant on Bela Tarr's The Man From London, Nemes came across texts written by Sonderkommandos, work groups comprising inmates who were forced to dispose of bodies. These so-called 'scrolls of Auschwitz' were found after the war, Nemes explains.
"I never knew there were voices coming directly from the dead like that. I had the feeling I was thrown into the middle of it. It was not people thinking afterwards or giving testimonies. These were really the voices of the dead and I wanted to tell their story."
Son Of Saul is seen almost entirely from the perspective of a Sonderkommando in Auschwitz who, amid the squalor and death, goes to extreme lengths to provide a proper Jewish burial for the corpse of a child he believes may be his own son.
The young director acknowledges the influence of Tarr on his approach to directing. "I like the sense of space and immersion you have in his films," he muses. "He is a very important master. Working with him was a way of finding my own voice."
This influence didn't just lie in Tarr's approach to his art but also in the way he was able to communicate his own highly subjective and intuitive vision to his crew.
Another inspiration for Nemes was Nobel prize-winning Hungarian writer and concentration camp survivor Imre Kertesz, whose 1975 autobiographical book Fateless is about a teenage boy's experiences in Auschwitz and Buchenwald, and was made into an acclaimed film by Lajos Koltai in 2005. Kertesz has expressed his admiration for Son Of Saul and said it was an accurate depiction of what he had seen and endured in the camps.
'Not easy to read'
Budapest-based producer Gabor Sipos had heard about Nemes' plans to make a Holocaust film long before he became a part of the project. "I knew [Nemes] had this project and that he wanted to realise it as a majority French, minority Hungarian film, but I didn't know more about it," he says.
Sipos was a fast-rising producer who already had several credits to his name. He had worked with Arpad Bogdan on Berlinale success Happy New Life and with Kornel Mundruczo on Tender Son: The Frankenstein Project. Nemes called Sipos in 2011 and asked if he would be interested to read the Son Of Saul script. He said yes.
"I am very interested in first-time film-makers," Sipos says. When he and Gabor Rajna, his partner at Laokoon Film, read the script, co-written by Nemes and Clara Royer, they were both "astonished".
"This is not just something that we say afterward, when the film became a success," the producer insists. The first draft of the script was "not easy to read" but, Sipos felt, it had tremendous energy and originality. "It was a very well done first draft," he recalls. "It was already something functioning. It wasn't just an idea. Producers meet many, many directors who have very good ideas but an idea on its own never works, at least not for me.
"We met 24 hours later with Laszlo and told him we'd been looking for such a script for a very long time and that we wanted to do this movie." In person, Nemes was as impressive as his script. He told his would-be producers that he wanted a "very fast reaction". Sipos responded by telling the young director the script was a masterpiece and that his company would start work on it as "a priority".
'People don't talk about it'
Son Of Saul was not, however, an easy film to finance. The script's highly subjective perspective ended up putting off many potential financiers. Not only was the subject matter sensitive in the extreme but Nemes' approach was both bold and oblique.
Sipos, who is also from a Jewish background, was painfully aware many young Hungarians had not "digested" what happened during the Holocaust. "Laszlo was talking about this topic that interests all of us," he says. "People just don't talk about it because it is too heavy, it is taboo, and it is really difficult to know how to catch it and how to show it."
The project was originally conceived as a French film with a French main character. (Nemes is Hungarian but grew up in Paris.) But from the outset the producers were convinced the film would work better as a majority Hungarian production. As it turned out, they could not raise the financing from France — or Israel, even though Nemes participated in the Jerusalem Film Lab. Potential German backers also passed and it was the same story almost everywhere else.
"It was very depressing," says Sipos, recollecting the constant stream of rejections. Almost all the financiers who turned down Son Of Saul were later to admit they made the wrong decision.
"We regretfully missed this film, but this, in a way, comes with the territory," says Katriel Schory, executive director of the Israel Film Fund.
The Claims Conference, a global organisation that works to secure compensation and restitution for survivors of the Holocaust and heirs of victims, was one of the few bodies ready to invest in Nemes' debut feature.
"When we got refused by many, many regular film funding bodies, we thought we might try Holocaust or Jewish organisations," says Sipos. "We contacted a lot, and the Claims Conference was the only one that considered the project. We're very proud of them."
At the time Sipos and Nemes first met to discuss the project, the new Hungarian Film Fund was coming into existence. Its debt-ridden predecessor, Motion Picture Public Foundation of Hungary (MMKA), had collapsed amid much acrimony. Andy Vajna, the Hungarian-born Hollywood producer of hits including Rambo, Die Hard and Terminator, was about to be appointed the new film commissioner. With his background in action movies, the film-makers were concerned Vajna would not be remotely interested in supporting a dark drama like Son Of Saul. "The whole industry was really afraid when Vajna was elected," Sipos admits. "Everybody thought [only] genre movies would be made, a new Terminator and so on."
The board Vajna put in place, however, had the freedom to make its own decisions. And they decided to back the project. When the film-makers informed the fund they had failed to secure co-production support, it agreed to finance almost the entire budget.
"The fund's main goal is to support original films and discover new talent," says Vajna. "When we read the script, we found the approach of Son Of Saul shockingly original. All five members of the film board voted unanimously for it. We thought it's worth taking the risk to give credit to a first feature based on such a strong concept."
Supporting ambition
Nemes is frustrated no one in Europe wanted to back his film before it was made. Now it has sold all over the world, with international rights handled by Paris-based Films Distribution. He rails against the play-it-safe, by-the-numbers approach he believes is taken by too many European funding bodies.
"It comes down to the question of supporting ambitious projects and supporting voices that are different in film," the director says. "Films look more and more the same. Projects that are more daring are pushed to the margin and cannot be made, or are very difficult to make. The sense of risk that should be inherent to film-making is counterbalanced by fear. The European film financing system is made in a way in which there is a tremendous resistance to taking risks."
"Everyone was telling me this was a risky film," says Sipos. "I didn't feel the risk. I felt the challenge." The producers deferred their salaries and cut a week out of the original production schedule to make the film for a modest $1.63m (€1.5m). Son Of Saul shot in 28 days in a 1930s former Soviet military base in Budapest that had similar architecture to the Auschwitz crematoriums.
Nemes set out to make a very intimate and particular film, one with a dream-like feel. Reflecting the composition of the prisoners and guards at the camp, many different languages (Hungarian and Yiddish among them) were spoken. To ensure authenticity, the film-makers worked with an expert on the history of Auschwitz and paid exhaustive attention to different accents.
The casting process was long and complex, with Nemes intent on working with actors who spoke the language of their character's nationality. Just as the film-makers were about to confirm another actor as Saul, they met with Geza Rohrig, a former kindergarten teacher, best known in Hungary as a poet and musician. Rohrig was trying out for a different role but the more the team watched the tests, the more they felt he should play Saul. It helped that he was so well prepared, having read widely about the lives of the Sonderkommandos and their work in the Nazi death camps. "We found a person who was Saul," says Sipos.
It was a point of principle for Nemes to shoot, edit and grade the film on 35mm rather than use digital. This lends Son Of Saul its graininess and texture, and he hopes the film's international distributors release it on at least one 35mm print in each territory. SPC releases the film in the US on December 18 and is showing it in selected cinemas on 35mm, as is Curzon Artificial Eye when it opens Son Of Saul in the UK on April 1, 2016.
"For me, the magic of cinema is inseparable from film, the celluloid, the chemical medium, the uncertainty of the image, the grain structure making it move from one image to the next," says Nemes of his love for 35mm. He describes the "so-called digital revolution" as a regression in cinema, something that takes away the medium's sense of wonder. Digital, he adds, allows for "inflation", encouraging directors to shoot too much and make their creative decisions on the job, rather than refining their vision before they arrive on set.
"In this film, we needed the depth, we needed the contrast, we needed the out-of-focus range that had to be very interesting and intense," he explains.
Berlin passes, Cannes says yes
The original intention was to launch Son Of Saul in Berlin, but the Berlinale did not want to give it a competition slot.
This is not as surprising as it sounds with the benefit of hindsight, given it is a first feature by an unknown Hungarian director on a difficult subject. Instead it was reportedly offered a berth in Panorama, widely recognised as the sidebar for new discoveries.
But the film-makers were holding out for a prestigious competition at a major festival so turned their attention to Cannes instead. This was a calculated risk, but they were vindicated when the festival put Son Of Saul in Official Competition. Like Berlin, however, Cannes had first offered the film a slot in Un Certain Regard.
Even before Cannes opened, the buzz around Son Of Saul was growing. After it won the Grand Prix, it received the blessing of Claude Lanzmann and was sold to Sony Pictures Classics for the US; it was clear that it was one of the films of the year and a major awards contender. Son Of Saul has since gone on to screen at major international film festivals including Sarajevo, Telluride, Toronto, New York, London and Chicago.
Ask Sipos to sum up the turbulent process of making and distributing the film, with all the reversals along the way finally followed by triumph, and he says: "It was a positive trauma."
Mozinet released the film in Hungary in June, selling more than 90,000 tickets; a very strong figure in a territory where a distributor can hope to garner 10,000 admissions at best for an arthouse film.
But this is a film with an impact that is extending far beyond box-office figures. Son Of Saul has sparked an intense national debate about Hungary's role in the Second World War and its reaction to the events of the Holocaust. Nemes hopes his drama may help shift attitudes in the country, at least a little. "People are speaking about it," he says. "It was much more successful in cinemas than had been expected. Maybe if I can make it less trendy for Hungarian schoolboys and schoolgirls at the age of 16, 17 and 18 to be neo-Nazis, then I will have succeeded a little bit.
"Hungary has not come to terms with the destruction of its Jews," the director adds. "Not only were the Jews murdered in 1944 but also the loss has not been understood. Hungary has not understood that by killing its own Jews, it killed its own future.
"The Hungarian 20th century was a disaster and it is not looking good for the next century either. People in Hungary hate each other."
Nemes says his next film, Sunset, will be set in Budapest in 1910, when the city was cosmopolitan, tolerant and full of inhabitants from different cultural and religious backgrounds. "[The Nazis] killed all of that. The 20th century transformed Hungary into an ethnically pure country in a way."
He is now writing the screenplay and plans to work again with his Son Of Saul producers and the Hungarian Film Fund. But he is not finished with Son Of Saul yet and hopes it has something to say to those propelling the resurgence of anti-Semitism in Europe: "Son Of Saul is not taking place in mythological times. [A repeat of those events] is a possibility in our civilisation," he laments.
Sole triumph: Hungary at the Oscars
Hungarian films have won their share of awards over the years but haven't had much joy at the Academy Awards.
Istvan Szabo's Klaus Mann adaptation Mephisto (1981) is so far the only Hungarian movie to win the best foreign-language film Oscar.
Szabo also received Oscar nominations for Colonel Redl (1985) and Hanussen (1988), as well as an earlier one for Confidence (1980).
There have been a handful of Oscar nominations for other directors but no win, although The Fly by Ferenc Rofusz was chosen as the best animated short film at the 1980 Academy Awards.