Stormy awards sees Greek Academy blast government.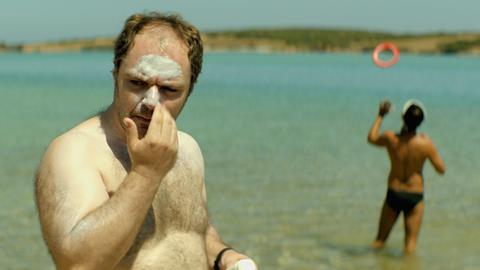 Argyris Papadimitropoulos's (Wasted Youth) drama Suntan was the big winner at the Iris Hellenic Film Academy Awards on Tuesday evening (March 21) winning six prizes out of the 11 for which it was nominated including best film and director.
The film, which played in the Rotterdam, Brussels, Edinburgh, SXSW, Odessa and Jeonju festivals, was also awarded best screenplay, best actor for Makis Padimitriou and best supporting actress for Elli Tringou.
The Faliro House, Marni and Oxymoron production is a bitter sweet drama about a middle-aged doctor on a Greek island whose life turns upside down when he gets embroiled with a group of hedonist tourists.
The film is widely tipped to be Greece's submission in the best foreign language category at next year's Oscars.
World sales are handled by US outlet Visit Films. Strand Releasing is the US distributor.
Also winning awards was Tasos Boulmetis' coming of age story Mythopathy, which won three awards including best supporting actor for Themis Panos.
Another coming of age drama, the Greek-Polish coproduction Park by Sofia Exarchou, was named best first film.
The Greek-Italian-French co-production The Last Resort by Thanos Anastopoulos and Davide del Degan was deemed best feature documentary. World sales by Wide House.
Ken Loach's feted I, Daniel Blake was awarded best foreign film while veteran stage and screen actor Kostas Voutsas received the Iris honoray award.
Threat to Film Centre
However, the awards gala was overshadowed by the Film Academy's reference to the fate of the government-supported Greek Film Centre (GFC).
Academy executives blasted the government during the event for the lack of a consistent cinema policy. Their outburst comes amid persistent rumours concerning the Centre's closure.
Culture minister and actress Lydia Koniordou was absent from the ceremony.
The Centre recently suffered a blow when the government scrapped a levy on cinema admissions which contributed almost 50% of its €6m annual budget.
Feuding between government agencies - among them the recently created ministry for audiovisual media and communication - as well as rumored rifts at the top levels of the GFC may prove fatal to the organisation, which is the only source, alongside public TV network ERT, of public funding for local productions.
The culture ministry was unavailable for comment when contacted by Screen.
Full list of winners
Best feature film, fiction
Suntan by Argyris Papadimitropoulos.
Produced by Faliro House productions, Marni Films, Oxymoron, producers Christos Konstantakopoulos, Faidra Vocali, Papadimitropoulos.
Best feature film, documentary
The Last Resort (I teleftaia paralia) by Thanos Anastopoulos and Davide del Degan.
Produced by Mansarda Productions (Italy), Fntasia Ltd (Greece), Arizona Productions (France), producers Nicoletta Romeo, Stella Theodoraki, Anastopoulos, Del Degan, Guillaume de Seille.
Best animation
Aenigma (Ainigma) by Antonis Nousias and Aris Fatouros
Director
Argyris Papadimitropoulos for Suntan
Screenplay
Argyris Papadimitropoulos and Syllas Tzoumerkas for Suntan
First time director
Sofia Exarchou for Park
Actress
Sofia Kokkali in The Thread (To nima) by Alexandros Voulgaris
Actor
Makis Papadimitriou in Suntan
Supporting actress
Elli Tringou in Suntan
Supporting actor
Themis Panou in Mythopathy (Notias)
Cinematography
Christos Karamanis for Suntan
Editing
Yannis Sakaridis for America Square (Plateia Amerikis) by Yannis Sakaridis
Production design
Spiros Laskaris for for Mythopathy (Notias)
Costumes
Youla Zoiopoulou for Roza of Smyrna ( I Roza tis Smyrnis) by George Kordellas
Music score
DrogATek for Spring Awakening (To xipnima tis anoixis) by Konstantinos Giannaris
Sound
Stefanos Efthimiou, Kostas Varybobiotis, Persefoni Miliou, Valia Tserou for Park
Make-up
Katerina Varthalitou for Mythopathy (Notias)
Special effects
George and Roulis Alahouzos, Kostas Kotzias for The Other Me (O eteros ego) by Sotiris Tsafoulias
Short film
Limbo by Konstantina Kotzamani
Best foreign film
I, Daniel Blake by Ken Loach
Elfiac honorary award
Kostas Voutsas