World premieres of Wim Wenders' Every Thing Will Be Fine, Oliver Hirschbiegel's Elser (13 Minutes) and Pablo Larraín's The Club added to programme.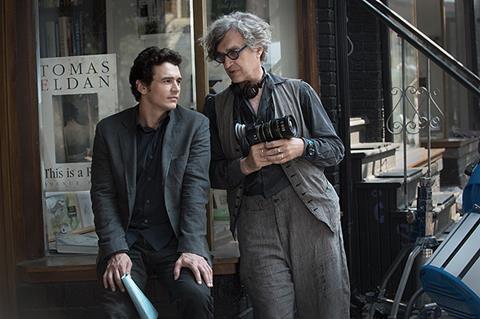 The 65th Berlin International Film Festival (Feb 5-15) has unveiled its full Competition line-up.
Some 21 of the 23 titles will be world premieres, and 19 features from across Europe, North America, the Middle East and Asia will compete for Golden and Silver Bears.
New additions include Wim Wenders' Every Thing Will Be Fine, which will play out of competition. The film, shot in 3D, stars James Franco as a writer who accidentally hits and kills a child while out driving. Co-stars include Charlotte Gainsbourg and Rachel McAdams.
As previously announced, Wenders will be awarded an Honorary Golden Bear for lifetime achievement and will have ten of his films screened as part of the Homage strand.
Also playing out of competition will be the world premiere of Elser (13 Minutes) from Oliver Hirschbiegel, the German director Oscar-nominated in 2005 for Downfall. The film centres on would-be assassin Georgie Elser, who attempted to kill Hitler on November 8 1939 in the Munich Bürgerbräukeller, where the Nazi leader left the scene only 13 minutes before the explosion.
Other notable additions include Pablo Larrain's The Club, the Chilean director's follow-up to the Oscar nominated No, which starred Gael Garcia Bernal.
The Award Ceremony will take place at the Berlinale Palast on Feb 14, closing with a screening of the winner of the Golden Bear.
The following films will complete the Competition programme:
Aferim! (Romania / Bulgaria / Czech Republic) WP
By Radu Jude
With Teodor Corban, Mihai Comanoiu, Cuzin Toma, Alexandru Dabija
El botón de nácar (The Pearl Button) (France / Chile / Spain) doc WP
By Patricio Guzmán
El Club (The Club) (Chile) WP
By Pablo Larraín
With Roberto Farias, Antonia Zegers, Alfredo Castro, Alejandro Goic, Alejandro Sieveking, Jaime Vadell, Marcelo Alonso
Elser (13 Minutes) (Germany) WP
By Oliver Hirschbiegel (Downfall)
With Christian Friedel, Katharina Schüttler, Burghart Klaußner, Johann von Bülow, Felix Eitner
Out of competition
Every Thing Will Be Fine (Germany / Canada / France / Sweden / Norway) WP
By Wim Wenders
With James Franco, Charlotte Gainsbourg, Rachel McAdams, Marie-Josée Croze
Out of competition
Ten no chasuke (Chasuke's Journey) (Japan) WP
By Sabu
With Ken'ichi Matsuyama, Ito Ohno, Ren Ohsugi, Yusuke Iseya, Hiromasa Taguchi, Tina Tamashiro, Susumu Terajima
Vergine giurata (Sworn Virgin) (Italy / Switzerland / Germany / Albania / Kosovo) WP
By Laura Bispuri (feature debut)
With Alba Rohrwacher, Lars Eidinger, Flonja Kodheli, Luan Jaha, Emily Ferratello
As previously announced, the programme also includes:
45 Years (UK)
by Andrew Haigh
Als wir träumten (As We Were Dreaming) (Germany / France)
by Andreas Dresen
Body (Poland)
by Malgorzata Szumowska
Cha và con và (Big Father, Small Father and Other Stories) (Vietnam / France / Germany / Netherlands)
by Phan Dang Di
Cinderella (US)
by Kenneth Branagh
Out of competition
Eisenstein in Guanajuato (Netherlands / Mexico / Belgium / Finland)
by Peter Greenaway
Ixcanul (Ixcanul Volcano) (Guatemala / France)
by Jayro Bustamante (feature debut)
Journal d'une femme de chambre (Diary of a Chambermaid) (France / Belgium)
by Benoit Jacquot
Knight of Cups (US)
by Terrence Malick
Mr. Holmes (UK)
by Bill Condon
Out of competition
Nobody Wants the Night (Spain / France / Bulgaria)
by Isabel Coixet – Opening film
Pod electricheskimi oblakami (Under Electric Clouds) (Russian Federation / Ukraine / Poland)
by Alexey German
Queen of the Desert (US)
by Werner Herzog
Taxi (Iran)
by Jafar Panahi
Victoria (Germany)
by Sebastian Schipper
Yi bu zhi yao (Gone with the Bullets) (People's Republic of China / USA / Hong Kong, China)
by Jiang Wen