MARCH 21 UPDATE: The live-action family tentpole crossed the milestone on Tuesday.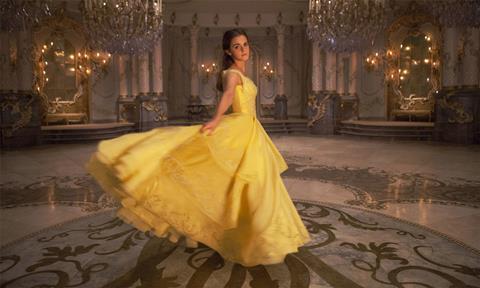 WALT DISNEY STUDIOS MOTION PICTURES INTERNATIONAL
The live-action family tentpole crossed the milestone on Tuesday.
Beauty And The Beast added $21.9m on Monday to reach $204.2m, while North America generated a further $13.4m for a $188.2m running total.
By Tuesday, the lead market China stood at $49.5m, followed by the UK on $26.6m, Mexico on $15.6m, South Korea on $12.8m, Brazil on $12.6m, Germany on $10.2m, Russia on $7.1m, Philippines on $6.8m, and Spain on $6.6m.
The film opens in France on Wednesday and Australia on Thursday.
MARCH 20 REPORT: Beauty And The Beast cast a spell over global audiences as it hauled in record-breaking $182.3m international and $174.8m North American debuts for $357.1m worldwide.
Disney's live-action remake of its beloved animation opened at number one in almost all markets, setting year-to-date best launches in the UK, Germany, Italy, Sweden, Brazil and Mexico, among others.
Beauty And The Beast starring Emma Watson and Dan Stevens scored the biggest Disney live-action debut in China as $44.8m captured a 67% share of the market.
It established the UK's biggest three-day opening weekend ever for a PG release and the fifth biggest three-day weekend on $24.3m, and set Disney Live Action opening weekend records in South Korea and Mexico each on $11.8m, and Brazil on $11m.
Germany generated $9.5m for biggest Disney Live Action Fairy Tales opening of all-time, the biggest March opening weekend of all-time, while Italy delivered $7.7m, Russia $6.5m and Spain $5.9m.
There were new Disney Live Action Fairy Tales records in Denmark, Norway, Austria, Finland, Kuwait, Czech Rep, Qatar, Romania, Turkey, Bulgaria, Lebanon, Serbia, Croatia, Egypt, Iceland, Estonia, Jordan, Slovenia, Bosnia/Herzegovina and Albania.
The film has yet to open in France, Australia and Japan.
Bill Condon's blockbuster grossed $8.5m internationally from 649 IMAX screens, making it the second biggest PG opening weekend behind last year's The Jungle Book and the third biggest international opening weekend in March after Batman v Superman: Dawn Of Justice and Logan. It took $3.4m in China and will open on 22 IMAX screens in nine territories next week.
WARNER BROS PICTURES INTERNATIONAL
UPDATED: Legendary-Warner Bros' Kong: Skull Island added $39.5m at the weekend as the latest 'MonsterVerse' instalment reached $151.6m.
The UK generated $3.3m for $13.5m and second place, and South Korea $2.5m for $11.1m. The tentpole ranks number one in France on $2.6m for $7.5m, and in Australia grossed $2.4m for $7.2m.
Brazil added $2m for $6.9m, while Russia took in $1.9m for a market total of $9.2m. Taiwan added $1.4m for $6.3m, Malaysia $1.6m for $5m, and Spain $989,000 for $3.2m.
Vietnam grossed $1.2m to beat Beauty And The Beast and reached $5.3m, ranking as the second biggest film of all time in the territory behind Furious 7.
Kong will roar into China and Japan this week.
The LEGO Batman Movie grossed $2.7m from 57 markets, bringing the international total to $120.1m. The UK is the animated film's top market on a $33m running total.
Mexico has grossed $8.3m, Germany $7.1m, Brazil $6.3m, China $5.9m, France $5.5m, Russia $4.8m, Spain $4.5m, and Italy and Poland both on $2.9m. The animation will release next in Australia on March 30 and Japan on April 1.
FOX INTERNATIONAL
UPDATED: Logan clawed his way to $30.8m from 82 markets this weekend, bringing the international total to $339.3m.
The X-Men spin-off recorded strong holds in several markets, including China on $6.3m to cross $100m and reach $100.9m, Brazil on $3.3m for $23.4m, Australia on $2.2m for $14.8m, and the UK on $2.2m for $25.3m. France added $1.8m for $11.9m, South Korea $1.3m for $15.3m, and Germany $1.2m for $8.1m. Japan receives Logan on June 1.
Hidden Figures added $3.6m from 44 markets for $48.8m. France took in a further $922,000 for $2.6m, while Australia added $800,000 for $11.7m, followed by Italy on $624,000 and the UK on $216,000 for $7.1m.
Badrinath Ki Dulhania from Fox International Productions and FoxStar generated $3.7m in India for $18.4m and stands at $18.4m internationally.
A Cure for Wellness grossed $575,000 from 20 markets for $13.3m and opened in Australia on $274,000. Italy and Spain open this week.
UNIVERSAL PICTURES INTERNATIONAL
UPDATED: Universal and Blumhouse's Get Out made its international debut in nine territories this weekend, adding $2.9m to the $133.1m North American haul for $136m worldwide. The UK opened at a strong at number three on $2.6m.
Illumination and Universal's Sing added $9.1m from 43 territories for $320.6m. The animated musical opened at number one in Japan on $6.3m and is the final theatrical release for the film. Russia held at number five in its third week on $1.5m for $16m.
M. Night Shyamalan's Split from Blumhouse Productions grossed $7.2m from 51 for $120.4m. The thriller opened in five territories this weekend. Russia arrived at number two on $4.2m.
There are two territories to release: Brazil this week and and Japan on May 12.
Fifty Shades Darker grossed $2.5m from 54 this for $260.4m. Germany held at number five in week six on $748,000 for $31.4m. The erotic drama debuts in Japan on June 23.
Legendary and Universal's The Great Wall added $636,000 from 36 territories for $284.9m. The Matt Damon historical fantasy stands at $329.7m worldwide. The final release is Japan on April 14.
Amblin Entertainment and Walden Media's A Dog's Purpose crossed $100m at the international box office. The family film added $492,000 from 15 territories for $19.9m from Universal territories. Combined with $8.3m from Mister Smith territories and $74m from China, where Huaxia Film distributes, the film stands at $102.3m internationally.
LIONSGATE INTERNATIONAL
The romantic musical La La Land grossed a further $3.7m from 64 markets in its 15th weekend of release. The international sum for Damien Chazelle's film stands at $277.1m. The UK is the top grossing market on $37.4m after 10 weeks. China follows closely on $35.8m after five. Japan has grossed $26.3m, while South Korea and France round out the top five markets on $24.6m and $19.3m, respectively.
Keanu Reeves action film John Wick: Chapter 2 has reached $68.3m internationally after adding $2.1m from 75 markets over the weekend. Italy debuted at number three on $750,000. The UK is the top market on $7.4m after five sessions, Germany follows on $7.3m after five. CIS has generated $6m, the Middle East $5.2m, and Taiwan ends its run on $2.6m. Spain will be the next major market to release the film on April 21.
PARAMOUNT PICTURES INTERNATIONAL
Horror reboot Rings grossed $1.1m from 31 markets, including a number two debut in Italy that brought in $837,000, raising the international total to $54m.
XXX: Return Of Xander Cage grossed $329,000 this weekend in 15 markets, bringing the Vin Diesel action film to $301m.