SCREEN SUBSCRIBERS: The blockbusters got bigger in 2015 and so did the box office, but how did the top 10 US films perform around the world?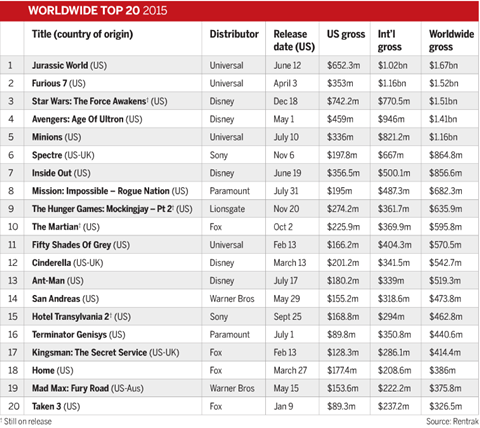 Audiences in the UK, Japan and, of course, China drove the international box office in 2015. The UK was among the top five international territories for each of the top 10 North American releases last year, and the biggest overseas territory for half of them. Indeed, three releases generated more than $100m apiece in the UK: Star Wars: The Force Awakens ($152.9m), Spectre ($144.7m) and Jurassic World ($100m).
But even those figures pale against China, which was the biggest territory for the five other films: Furious 7 ($373m), Avengers: Age Of Ultron ($225m), Jurassic World ($218m), Cinderella ($71.1m) and The Martian ($91m)*. The trend is clear: China is expected to overtake North America and become the number one market within the next three to five years.
Disney and Universal were the titans at the 2015 box office and accounted for the top six US releases. Disney's The Force Awakens notched up extraordinary numbers around the world in a short space of time at the end of the year and is now breaking records in China in 2016.
It was also a record-breaking year for Universal. Furious 7 was the biggest international performer on $1.16bn overall and the third biggest international release in history. Jurassic World is the fourth biggest with an international gross of $1.02bn.
The studio worked hard on the Chinese releases of the titles. "[China] is still very much an emerging market that has a long way to go," says Niels Swinkels, executive vice-president for international distribution at Universal Pictures International. The company only opened its own office in China in November 2014.
Swinkels recalls how Jurassic World star Chris Pratt returned from a press tour of China in awe of how a solid campaign could mobilise such a mighty market.
"The way the cinema audience informs itself is sophisticated," says Swinkels. "They're savvy in terms of finding out what's going on in social media."
The marketing campaign for the film in China sought to revive brand awareness of the Jurassic franchise and to highlight the science behind the story as well as the darker plot points to appeal to that audience.
Touring with key cast also paid dividends for Universal in the case of Furious 7, where local film-goers responded to the presence of Vin Diesel, Jason Statham and Michelle Rodriguez in support of the film. Awareness of the franchise played a big role in its success as well — the film went on to surprise everyone and out-gross the US market by around 10%.
Broad appeal
When it came to Minions, Swinkels and his team realised there was an opportunity to market the animation as a broad comedy rather than simply as a family film.
"When we looked at other animated franchises [of recent years], we saw they had grown because of the four quadrant appeal," says Swinkels. That meant the film would play against all kinds of competitors and dating had to be right.
As Universal had previously opened 2013's Despicable Me 2 in China on a staggered release that saw it go on to gross $602.7m worldwide, it tried a similar approach with Minions.
"We presented the biggest plan ever in a release, not only in terms of the push but the partnerships," says Swinkels. "The film had pretty much rolled out everywhere by the time we got to the China release in mid-September. We were bolstered by the incredible releases of Furious 7 and Jurassic World and built on a foundation.
"It was the biggest opening for an animated film ever in China [$20.1m]. We shared the market with Mission: Impossible — Rogue Nation and the local films. We were very happy with the result."
Minions finished on $67.3m in China and $821.2m internationally, the second biggest animated film of all time after Frozen ($875m).
Disney enjoyed similar success in China with Avengers: Age Of Ultron, which grossed $225m according to China's state agency SAPPRFT. The Marvel film also performed well in South Korea ($81.7m), where audiences have a well-documented love of action films and where the film was partly set and shot.
A local connection also gave a boost to the performance of 20th Century Fox's The Martian in China. It grossed $91m, due in part to the flattering portrayal of Chinese scientists in the story.
Boom in Latin America
Disney's Inside Out did well in Japan ($32.4m), where there is a strong local following for Pixar product and an ever-present eagerness to embrace emotionally resonant storytelling. The distributor pursued a
similar strategy for Cinderella, which took $47.2m in the territory, with audiences responding to the revisionist story and a (relatively) more positive female role model as the lead character.
Despite a strong dollar, US studios saw box-office growth on their releases in nearly all of the 15 biggest international markets. Although France remained flat, there is the beginning of a revival in Spain and Italy.
Beyond China, the boom region is Latin America, where the number of screens continues to grow. Swinkels points out the growth extends beyond the biggest territories of Mexico, Brazil and, to a lesser extent, Argentina and Colombia, to many of the region's smaller markets such as Venezuela and Chile. Venezuela was the fourth-biggest market for The Hunger Games: Mockingjay — Part 2, via local distributor Cine Blancica.
"Not that long ago, we dreamed of getting to 10% [of total international box office] for the region," says Swinkels. "For Minions,it's close to 25%. In that region cinema-going is very much an all-family experience."
China
Monster market
Local blockbusters and Hollywood behemoths propelled China to a record-breaking year at the box office in 2015. 2016 looks bigger still. Liz Shackleton reports
China's box office grew by 48.7% to hit a record $6.78bn (rmb44bn) in 2015, according to the state film regulator, with local films grossing $4.17bn (rmb27.1bn) or 61.58% of the total haul.
China's State Administration of Press, Publication, Radio, Film and Television (SAPPRFT) reported the year-on-year increase is the highest since 2011. If annual growth continues at the same rate or higher, China's box office will overtake the US (which stands at $11bn) in 2017 to become the world's biggest box-office market.
SAPPRFT also reported that admissions rose 51.1% to reach 1.26 billion in 2015 and that 8,035 new screens opened (around 22 every day) for a total of 31,627 screens by the end of 2015.
Edko Films' CGI-live-action hybrid Monster Hunt was the top-grossing film with $375m (at adjusted exchange rates), just squeezing past Furious 7 with $373m (according to SAPPFRT), and followed by Enlight Media's Lost In Hong Kong ($248m), Avengers: Age Of Ultron ($225m), local comedy Goodbye Mr Loser ($221m) and Jurassic World ($218m).
Christmas release Mojin: The Lost Legend ranked seventh in the year-end top 10 with $210m, followed by local films Pancake Man ($178m), From Vegas To Macau 2 ($150m) and animation Monkey King: Hero Is Back ($147m).
A total of 81 films surpassed the rmb100m ($15.38m) benchmark, including 47 Chinese titles.
The market has started 2016 at a breakneck pace. January releases include Star Wars: The Force Awakens, which garnered $53.2m on its first two days of release on January 9, a record opening-day gross for the territory, and Sherlock: The Abominable Bride, which opened on January 4 and took $20.4m including previews in its first week.
Kung Fu Panda 3 is expected to continue the success of the series when it opens on January 29. Big local films to open over Chinese New Year in early February include sequels From Vegas To Macau 3 and The Monkey King 2.
While local films have been bolstered by growing audiences in third- and fourth-tier cities, along with periodic blackouts on Hollywood films, SAPPRFT also noted the quality of Chinese films is improving:
"In 2015, more films achieved both outstanding box-office performances and critical acclaim."
Chinese films are also seeing an increase in overseas sales revenue, which grew by 48.13% to $415m (rmb2.77bn) in 2015.