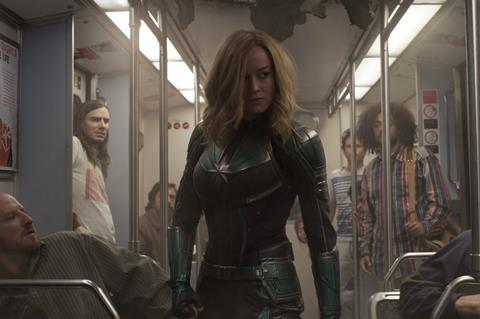 MARCH 15 UPDATE: Captain Marvel will surge towards $750m worldwide this weekend after Disney executives reported the Brie Larson tentpole hit $575.5m through the end of Thursday (14).
The 21st entry in Marvel Studios' $18bn-plus hit factory shot out of the gates last weekend in a $456.7m global launch, although executives are tempering expectations, given the tendency for considerable second-weekend box office drops for blockbusters of this size.
Captain Marvel opens in Japan on March 15 and as of Friday it stood at $378.7m internationally through Walt Disney Studios Motion Pictures International and $107.8m in China. South Korea has delivered $28.2m, the UK $22.2m, Brazil $17.7m, and Mexico $16.5m.
Also of note are $13.8m and $13.7m running totals in Australia and Indonesia, respectively, while Russia has generated $12.9m, France $11m, Germany $9.9m, India $9.6m, and Thailand $8.1m.
Best picture Oscar winner Green Book is on a roll after its Academy Awards triumph (when it also won for original screenplay, and supporting actor Mahershala Ali) and surged to $162.5m last weekend through Lionsgate and Amblin Partners. Currently on approximately $244m worldwide, the road movie with Viggo Mortensen and Ali appears to plenty left in the tank given last weekend's $28.1m international haul and a $200m-plus final international tally is not out of the question.
Alita: Battle Angel stands at $306.5m and remains a potent force for Fox International. The distributor has a busy release slate this weekend, launching the post-Second World War drama The Aftermath starring Keira Knightley, Alexander Skarsgaard and Jason Clarke day-and-date with North America in Taiwan, Singapore, Philippines and Belgium.
Family film The Kid Who Would Be King on $10.6m opens in Russia and Spain, while The Hate U Give debuts in Italy, and German romance Trautmann arrives in Germany.
From Universal Pictures International, DreamWorks Animation's How To Train Your Dragon: The Hidden World stands at $321.2m, and horror release Happy Death Day 2U $34.9m.
Historical drama Mary Queen Of Scots ventures into Japan, Hong Kong and Denmark, gay conversation therapy drama Boy Erased arrives in Mexico and Colombia, and the 25th anniversary re-issue of Schindler's List debuts in France.
From Sony Pictures Releasing International, the horror film Escape Room on $77.7m opens in Spain and South Korea, while family title A Dog's Way Home on $34.8m opens in Italy. Oscar-winning animation Spider-Man: Into The Spider-Verse has grossed $179.5m.
Comedy remake What Men Want starring Taraji. P. Henson has grossed an early $7.7m and opens in the UK through Paramount Pictures International, as well as Germany, Netherlands, Austria and Panama. Rose Byrne and Mark Wahlberg comedy Instant Family stands at $50.2m and arrives in Poland.
Family animation Wonder Park gets a decent push day-and-date with North America this weekend and will open in Brazil, Indonesia, India, Philippines, Thailand, Middle East, Singapore, South Africa, and others.
From Warner Bros Pictures International, Clint Eastwood's The Mule has reached $54.9m and ventures into South Korea. The Lego Movie 2: The Second Part stands at $68.1m, Creed II $98m, Aquaman $809.8m, and A Star Is Born $217.6m.