NOVEMBER 14 UPDATE: Marvel Studios' tentpole ruled its second session and helped Disney score its best year on $2.31bn, while Billy Lynn's Long Halftime Walk scored an excellent limited debut.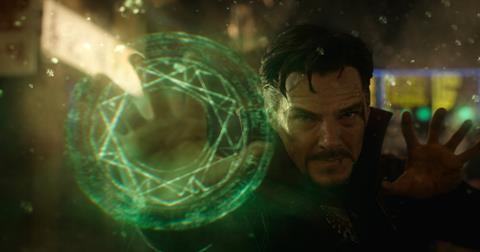 Executives at The Walt Disney Studios said the studio reached $2.308bn on Saturday to set a new in-house record that overtook the previous best of $2.279bn set in 2015.
Studio brass will be rubbing their hands in glee as both Moana and Rogue One: A Star Wars Story are still to come.
Doctor Strange fell 49.5% – the best second-weekend hold of the last ten Marvel Cinematic Universe titles – and used a confirmed $42.9m to surge to $152.9m in North America and $494m worldwide.
Meanwhile Dreamworks Animations' Trolls held firm at number two after a terrific 24.9% drop, adding $34.9m for $93.9m after two weekends through Fox.
Arrival, Denis Villeneuve's sci-fi drama starring Amy Adams and Jeremy Renner, debuted well at number three and exceeded expectations on $24.1m from 2,317 theatres.
The film reportedly cost $47m to produce, which financiers FilmNation and Lava Bear Films would have offset through international pre-sales when FilmNation launched pre-sales.
Paramount swooped on North American and Chinese rights at Cannes 2014 in a $20m pre-buy and will have invested marketing dollars on top of that, which makes $24m a solid if unspectacular start.
FilmNation and Lava Bear Films produced Arrival alongside 21 Laps Entertainment.
Ang Lee's Billy Lynn's Long Halftime Walk launched via Sony's TriStar Pictures label at number 32 on an excellent $114,129 from two theatres. It is understood that as of now there are only five theatres in the world capable of satisfying the war drama's stringent technical specifications: 3D, 4K and an ultra-high frame rate of 120fps.
In a recent preview where the film did not screen in 4K, Lee explained to a small group of reporters including Screen International that 2D versions would inevitably be made available when the film expands.
Former Screen Star Of Tomorrow Joe Alwyn plays a war hero who joins his unit on an over-the-top victory parade at a Dallas Cowboys American Football game. Kristen Stewart, Garrett Hedlund, Arturo Castro, Chris Tucker, Steve Martin and Vin Diesel also star.
Kimberly Elise, Omar Epps, Danny Glover and Mo'Nique star in Almost Christmas, a comedy-drama about a dysfunctional family that gathers for the holidays following the death of their matriarch. David E Talbert directs the film, which reportedly cost $17m to make and debuted therefore on a solid $15.1m at number four.
EuropaCorp debuted the thriller Shut In at number seven on a disappointing $3.5m from 2,058 venues. Naomi Watts plays an agoraphobic widow who must rescue a child in a winter storm.
Hacksaw Ridge directed by Mel Gibson and starring Andrew Garfield fell off a modest 30% in its second session and dropped two places to number five via Lionsgate to stand at $32.1m. The film cost approximately $40m after the benefits of soft money and Australian incentives. IM Global handles international sales.
Boo! A Madea Halloween ranks seventh and has generated an excellent $70.4m after four weekends, while Inferno placed tenth in its third weekend through Sony and has amassed a lowly $31.6m.
By the same stage The Da Vinci Code had generated $171.9m in summer 2006, which amounts to $205.9m when adjusted for inflation. Angels & Demons stood at $104.9m in summer 2009, which equates to $125.7m in real terms.
SPC launched Paul Verhoeven's drama Elle starring Isabelle Huppert as a rape victim out for revenge at number 40 on $50,934 from two sites.
The top 12 combined for $149.2m as box office dropped 18.5% against last weekend and gained 35.4% on the comparable session in 2015, when Spectre held on to pole position in its second weekend.
This week's wide releases are: Warner Bros' long-awaited Harry Potter prequel Fantastic Beasts And Where To Find Them starring Eddie Redmayne; Open Road's boxing drama Bleed For This starring Miles Teller and Aaron Eckhart; and STX Entertainment's teen drama The Edge Of Seventeen with Hailee Steinfeld, Woody Harrelson and Kyra Sedgwick.
Confirmed top 10 North America November 11-13, 2016
Film (Dist) / Conf wkd gross / Conf total to date
1 (1) Doctor Strange (Buena Vista) Walt Disney Studios Motion Pictures International $42.9m $152.9m
2 (2) Trolls (Fox) Fox International $34.9m $93.9m
3 (-) Arrival (Paramount) FilmNation $24.1m –
4 (-) Almost Christmas (Universal) Universal Pictures International $15.1m –
5 (3) Hacksaw Ridge (Lionsgate) IM Global $10.6m $32.1m
6 (6) The Accountant (Warner Bros) Warner Bros Pictures International $4.4m $77.6m
7 (4) Boo! A Madea Halloween (Lionsgate) Lionsgate International $3.5m $70.4m
8 (-) Shut In (EuropaCorp USA) EuropaCorp $3.5m –
9 (7) Jack Reacher: Never Go Back (Paramount) Paramount Pictures International $3.33m $54.6m
10 (5) Inferno (Sony) Sony Pictures Releasing International $3.26m $31.6m