Meanwhile Paramount's XXX: Return Of Xander Cage continues its march towards $300m.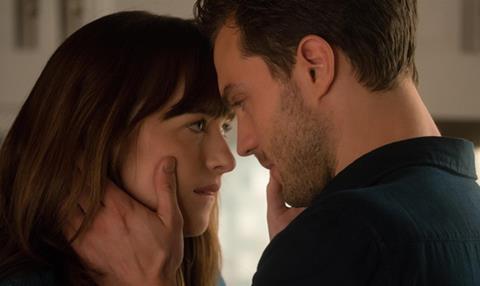 Universal Pictures International's box office champion Fifty Shades Darker added $11m since last weekend to push the erotic drama past the $200m international mark. The film now stands at $204.1m as it enters its third session.
The distributor's other offerings include Split on $74.1m and $200m worldwide, while Illumination Entertainment's animation Sing has reached $269m.
Historical fantasy The Great Wall and A Dog's Purpose stand at $79.3m and $13m, respectively, in Universal territories.
Paramount Pictures International executives will be pleased with the Vin Diesel action film XXX: Return Of Xander Cage, which stands at $274m heading into the weekend with no new openings.
Horror sequel Rings has $42.5m, while Arrival stands on $15.7m via Parmaount internationally. Also from Paramount Pictures International, Second World War spy thriller Allied has $77.6m, with the family-friendly offering Monster Trucks entering the weekend on $28.4m.
Disney's animated film Moana has grossed $331.2m and there are no new openings this weekend. The Benedict Cumberbatch-led Doctor Strange has $443.7m, with Rogue One: A Star Wars Story on $523m with all territories opened.
Fox International's horror A Cure For Wellness opened last weekend and currently stands at $5.6m. The film will open in seven territories this weekend, including the UK, Germany and Mexico.
Hidden Figures stands at $22.8m, furthering its position as the highest grossing best picture nominee at this year's Academy Awards. The film opens in 15 territories over the weekend.
Miss Peregrine's Home For Peculiar Children has reached $206.8m, while DreamWorks Animations' Trolls enters the weekend on $187.7m.
The Warner Brothers Pictures International animation The Lego Batman Movie heads into the weekend on $79m, while Ice Cube starrer Fist Fight has taken an early $2m and opens in Germany and Australia this weekend. Collateral Beauty staring Will Smith stands at $53.7m and opens in Japan on February 25.
Live By Night, Ben Affleck's prohibition era gangster film, has grossed $11.4m internationally and it opens in Brazil this weekend.
Lionsgate International Oscar-hopeful La La Land heads into the weekend with 14 Oscar nominations and high hopes after dancing past the $200m international milestone last weekend. The Ryan Gosling and Emma Stone musical stands at $206.1m and debuts in three over the weekend, including Japan.
Keanu Reeves hitman film John Wick 2 opens in four markets this week, including France and Mexico over the weekend. Its international running total is $31.8m.