Warner Bros' sci-fi soars to a stunning $9.9m (£6.2m) debut, including previews, from its 543 sites; StudioCanal sets second best year ever at the UK box office as Rush crosses £10m.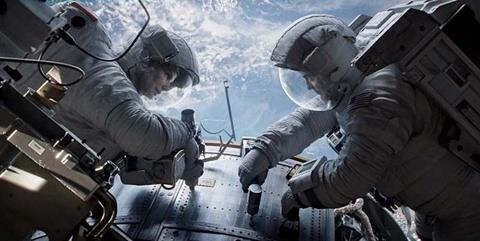 Continuing its fantastic international run, Gravity has landed at the UK box office, hammering Thor: The Dark World from the top spot on debut.
Warner Bros' critically acclaimed sci-fi posted an outstanding $9.9m (£6.2m) opening, including around $961,000 (£600,000) in previews, from its 543 sites at a mighty average of $18,381 (£11,478). $8.9m (£5.57m) of Gravity's entire opening came from 3D performances, a share of 89.5%.
The debut marks director Alfonso Cuarón's second-best UK debut, unsurprisingly behind Harry Potter and the Prisoner of Azkaban's $38.3m (£23.9m) debut which included $23.1m (£14.4m) in previews.
Discounting Harry Potter, Gravity is already Cuarón's best performer at the UK box office, surpassing Children of Men's entire UK run of $7.8m (£4.86m).
It's also one of the best debuts for an original sci-fi in recent years, surpassing the likes of Oblivion ($7.9m/£4.95m) and Elysium ($5m/£3.13m) as well as coming close to Prometheus' $10.6m (£6.6m) bow last year.
Also for Warner Bros, Woody Allen's best-ever UK performer Blue Jasmine added $94,500 (£59,000) for $7.96m (£4.97m) to date.
DISNEY
Last week's champion Thor: The Dark World fell to second as it dropped 47% week-on-week, excluding previews, to post a second weekend of $4.8m (£2.97m).
Disney's latest Marvel outing is now up to $22.4m (£13.97m) in the UK and will shortly surpass its predecessor's $22.4m (£14.04m) UK run. In terms of other Marvel outings, The Dark World's next target will be Iron Man's $27.9m (£17.4m).
Iron Man 3's $58.4m (£36.5m) will likely prove a target too far, but The Dark World has a great chance of ending its run as Marvel's third-best UK performer if it can chase down Iron Man 2's $33.9m (£21.2m).
Also for Disney, animations Planes and Monsters University have amassed $14.2m (£8.9m) and $49m (£30.6m), respectively.
FOX
Climbing one place to third following a sensational hold that saw it drop just 4%, Fox's Philomena took $2.2m (£1.4m).
An auspicious first week has Stephen Frears' based on real life drama at a ten-day tally of $7.6m (£4.8m), with £10m a definite possibility if it continues to post healthy midweek numbers thanks to critical acclaim and strong word-of-mouth.
That would also see Philomena become Frears' best-ever UK performer, currently The Queen's $15m (£9.4m).
Also for Fox, Turbo crossed the £10m mark in its fourth week after coasting to $920,000 (£574,853). The animation now stands at $16.7m (£10.4m) and in terms of DreamWorks Animations outings in the UK, will soon overtake Antz's $17.5m (£10.9m) tally.
SONY
Showcasing excellent resolve after dropping just 33% in its fourth weekend, Sony's Captain Phillips grossed $1.8m (£1.1m) to chart fourth.
Paul Greengrass' latest is now up to an impressive $21.5m (£13.4m) with £15m+ firmly in its sights. It is now Greengrass' second best UK performer, having surpassed The Bourne Supremacy's $18.7m (£11.6m) before the weekend.
Also for Sony, Cloudy with a Chance of Meatballs 2 rounded off this week's top five as it added $1.5m (£950,000).
As a result, the animated sequel has crossed the £10m mark in its third weekend and currently stands at $16.3m (£10.2m).
PARAMOUNT
Falling a slim 31% in its third weekend, Jackass Presents: Bad Grandpa took an additional $1.1m (£673,000) for $8.5m (£5.29m) to date through Paramount.
Bad Grandpa should become the best UK performer of the Jackass franchise by next weekend at the latest, with only Jackass 3D's $9.1m (£5.64m) to surpass.
EONE
Now in its third week of release, eOne's sci-fi adaptation Ender's Game stands at $4.5m (£2.8m) following a $277,000 (£173,230) weekend.
Also for eOne, critically acclaimed hit Prisoners has amassed a strong $11.6m (£7.2m), while Escape Plan added $149,000 (£93,137) for $4.3m (£2.7m) to date.
STUDIOCANAL
Having gone through the £10m barrier on Thursday night [Nov 7], StudioCanal's Rush is up to $16.1m (£10.02m) following this weekend.
With just China to release in terms of major markets, the UK performance of Ron Howard's biopic represents 27% of the international performance and almost 19% of the worldwide haul.
As a result of Rush's terrific run, StudioCanal has recorded its second highest year ever in terms of overall box office at $53.1m (£33.1m) to date. Other hits in 2013 included Alan Partridge: Alpha Papa ($10m/£6.22m) and I Give It A Year ($9.9m/£6.16m).
2011 is StudioCanal's best-ever year at the UK box office with $73.1m (£44.5m) as Tinker Tailor Soldier Spy led the way with $22.8m (£14.2m), while Unknown and Source Code provided $10.5m (£6.6m) and $9.7m (£6.1m), respectively.
ARTIFICIAL EYE
The Selfish Giant took a non-final $31,400 (£19,670) in its third weekend for a tally-to-date of $367,000 (£229,646) through Artificial Eye.
UPCOMING RELEASES
This week sees saturation releases for Fox's The Counsellor, Warner Bros' Don Jon and Entertainment's The Butler.
StudioCanal's In Fear, Eros' Ram-leela and Lionsgate's Dom Hemingway all receive wide releases, while Sony's Battle of the Year and Dartmouth Films' Utopia are among the films receiving a limited release.