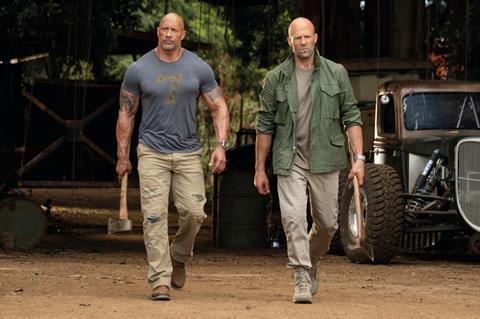 Universal's Fast franchise spin-off Hobbs & Shaw has enjoyed a terrific run thus far and studio executives can look forward to a $500m-plus international running total by the end of the weekend as the tentpole enters its second session in China.
Currently on $477.2m, the vehicle that unites the considerable powers of Dwayne Johnson, Jason Statham, Idris Elba and Vanessa Kirby has reached $628m at the global box office and will soar past $650m this weekend.
It delivered a record August launch of $100.1m in China last weekend and the territory is key. A strong second session must be on the cards for the latest entry in a franchise that has enthralled local audiences for the last few years.
Universal's The Secret Life Of Pets 2 stands at $259.1m, R-rated comedy Good Boys $8.8m, and Danny Boyle's counter-programming hit Yesterday $58.7m.
Gerard Butler action thriller Angel Has Fallen got off to a flying start last weekend and has earned $12.1m through Millennium Media licensees in the UK, Australia and one day in France, among others. This weekend the heat comes to Germany, Mexico, Italy, and Spain.
The franchise launched with Olympus has Fallen in 2013 and grossed $170m worldwide, of which $71.3m came from international (the North American balance accounted for $98.9m). 2016 release London Has Fallen reversed the trend as international over took North America, generating $143.2m versus $62.5m for a $205.8m global haul.
The third episode looks set to dominate North America in the Labor Day weekend that officially marks the end of summer and so far stands at $29.1m. International is looking good and there could be some solid numbers this weekend. London Has Fallen opened in Germany on $893,000, Mexico on $1.3m, Italy on $1.4m, and Spain on $919,000.
Sony Pictures Releasing International's Once Upon A Time… In Hollywood has climbed to $131.6m and opens in Japan, which has not been the most lucrative market for Quentin Tarantino in recent years. The Hateful Eight opened there on $415,000 through Gaga in February 2016 en route to $2.1m, while Django Unchained arrived on $684,000 via Sony in March 2013 and grossed $4.9m by the end of its run. Inglourious Basterds was the most rewarding of the recent oeuvre and opened through Toho-Towa on $1.4m in November 2009 for a $6.6m final gross.
The Angry Birds Movie 2 has reached $54.1m with a number of key markets to come in September and October, the first of which is family-friendly Mexico on September 6. Mexico was the original's sixth highest-grossing market in 2016. Spider-Man: Far From Home has grossed $737.2m.
Pixar's Toy Story 4 has scaled $608m through Walt Disney Studios Motion Pictures International and opens in Denmark and Sweden this weekend. Strong debuts would seem assured give that the third instalment debuted in the Scandinavian markets nine years ago on $1.1m and $1.6m, respectively. The Lion King stands at an extraordinary $1.017bn from its international markets.
Warner Bros Pictures International's horror Annabelle 3 has opened in all its markets and has managed $150.3m. It is the lowest in the series, after 2017's Annabelle: Creation finished on $204.4m, and 2014's Annabelle $172.8m.
Gurinder Chadha's Bruce Springsteen-flavroued coming-of-age drama Blinded By The Light stands at an early $3m and enters Italy this weekend. Crime drama The Kitchen continues to suffer from a poor North American performance and has reached $2.2m as it heads into Australia. Clint Eastwood's drama The Mule, which has amassed $69.4m, is back in action and opened in China this week. Executives will report numbers on Sunday.
From Paramount Pictures International, horror thriller Crawl has slithered to $27.1m, while family adventure Dora And The Lost City Of Gold stands at $14m, and Rocketman $92.7m.