OCTOBER 17 UPDATE: Seven years after Angels & Demons, the Tom Hanks and Ron Howard reunion delivered an estimated $50m from 53 markets via Sony ahead of the October 28 North American release.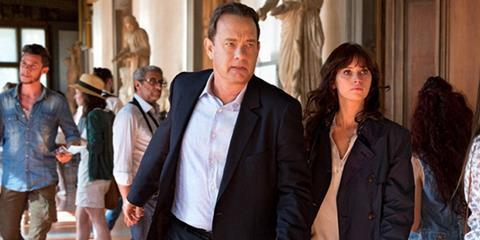 SONY PICTURES RELEASING INTERNATIONAL
Inferno ventured into its first markets in style, ranking number one in 45 led by $5m in Italy following the world premiere in Florence.
The action film, again starring Hanks as the globe-trotting academic Robert Langdon who gets pulled into another mystery, delivered $4.4m in Germany and Russia, $3.8m in the UK, $2m in Spain and $1.2m in the Netherlands.
Australia delivered $1.8m. Inferno grossed $9m across Latin America led by $4m in Brazil and $2.6m in Mexico. In southeast Asia, the thriller generated $6m, with $1.7m coming from Taiwan, $1.3m from India and $1m from Indonesia. Australia delivered $1.8m.
The Middle East produced $1.8m total as the UAE accounted from $1.1m from 80 screens.
Inferno delivered the second biggest October opening for an IMAX film on $2.6m from 239 screens.
The Magnificent Seven added $3.5m from 65 for $63.9m, Don't Breathe $3.4m from 33 for $58.9m, and Sausage Party $2.2m from 28 for $35.7m.
FOX INTERNATIONAL
UPDATE: Miss Peregrine's Home For Peculiar Children stayed strong as a $23.5m weekend gross boosted the children's fantasy saga to $131m from 77 markets.
Dominating the session were second-weekend holds in France on $3.4m for $9.3m and Russia on $3.3m for $11.4m.
South Korea generated $2.3m for $18.1m in the third weekend, while the UK added $1.7m for $11.5m. Germany grossed $1.8m for $5.2m after two.
In their third weekends, Brazil, Mexico and Australia added $1.4m, $1.2m and $737k for $8.2m, $9m and $7.2m, respectively. Spain has produced $5.3m after three.
Trolls opens in more than ten markets this week and Keeping Up With The Joneses in more than 20.
ASIA UPDATE
Bona Film Group's action thriller Operation Mekong directed by Hong Kong's Dante Lam added $21m for $138.1m. Showbox's Luck-Key, which screened in Busan and has sold to a slew of markets including JBG Pictures in North America, added $12.6m for $13.7m. Lee Gae-byok directed.
WARNER BROS PICTURES INTERNATIONAL
UPDATE: Storks grossed $11.4m from 59 markets and has amassed $72.5m. The animation debuted in the UK on $2.8m from 831 screens including previews, while France delivered $1.1m from 487 to rank fifth. Brazil grossed $483k for $4.8m and Mexico $672k for $7.1m.
The film opens in Italy this week and it has grossed $11.6m in China, $5.7m in Australia, Spain and Russia on $4.5m apiece and the UK on $2.7m.
Number one North American release The Accountant debuted day-and-date in ten mostly Asian markets on $3.2m from 1,323 screens led by a debut in Taiwan of $772k from 101.
South Korea delivered $355k from 380 and Hong Kong $329k from 45 screens for number one. This week brings debuts in Germany, Brazil and Spain.
Sully grossed $1.3m from 39 territories to reach $57.3m. Leading the way is Japan on $11.3m, followed by Australia on $9.5m, South Korea on $4.6m and the UAE on $3.4m.
MISTER SMITH ENTERTAINMENT
UPDATE: DreamWorks Pictures' The Girl On The Train added $9.1m from 29 territories as the thriller climbed to $33.2m.
Universal territories generated $521k from seven for an additional $2.2m and executives reported that Colombia stands at $430k after two weekends.
UNIVERSAL PICTURES INTERNATIONAL
UPDATE: Universal Pictures, Miramax and StudioCanal's presentation of Working Title's Bridget Jones's Baby earned a further $7.2m from 54 territories for $141.6m. This includes French box office.
The rom-com debuted top in Belgium on $575K from 82 and held firm at number five in the UK as $2.3m elevated the tally to $54m.
On Wednesday the film became the highest grossing Working Title release in the Netherlands, where it stands at $8.1m and has usurped the 17-year-old record of Notting Hill. The film opens this week in German-speaking Switzerland and Indonesia.
Illumination Entertainment and Universal's The Secret Life Of Pets used a $6m haul from 46 territories to climb to $492.5m. It added $3.2m in the second session in Italy for $9.7m and ranks second behind Inferno.
J.A. Bayona's A Monster Calls stayed top in the director's native Spain for the second weekend, adding $3.9m for $12.5m. The fantasy drama scored the biggest Wednesday gross of all time in Spain last week.
Jason Bourne took $1.5m from 13 for $248m as Japan produced $1.5m in the second weekend for $9.2m. The film ranks as the biggest international release overall in the franchise and the top territory grosses are China on $66.2m, the UK on $30.4m, South Korea on $19.1m, Australia on $16.7m, France $11.6m, Germany $9.2m, Spain $6.3m and the Netherlands $5.5m.
Laika Entertainment Kubo And The Two Strings grossed $1.1m from 26 for $17.5m.
Andrea Arnold's American Honey debuted in the UK on $212k from 96 cinemas. Universal holds rights in 12 territories and the early tally including Germany and German-speaking Switzerland is $329k from 194 venues.
WALT DISNEY STUDIOS MOTION PICTURES INTERNATIONAL
UPDATE: 2016 is now The Walt Disney Studios' best-ever year at the international box office with $3.57bn through October 16, surpassing last year's record,
Finding Dory added $6.4m from international waters to reach $525.9m. The Pixar hit became the third film of the year-to-date to cross $1bn worldwide last week and ranks as the fifth biggest international animation release.
Japan leads the way on $66m, followed by the UK on $55.3m, China on $38.4m, Australia on $36.2m and Brazil on $34.5m. Germany has generated $25.5m after three weekends.
LIONSGATE INTERNATIONAL
UPDATE: Deepwater Horizon grossed $5.7m for a $36.9m running total.
STX ENTERTAINMENT
UPDATE: R-rated hit Bad Moms brought in a further $2.4m from 61 markets as the tally climbed to $66m and the global haul reached $179.1m.
The film opened at number four in Italy on $775k for 255 and stands at $9.3m in Germany after four and $11.6m and $10.9m in Australia after ten and the UK after eight.