MARCH 6 UPDATE: Fox tentpole dominates as La La Land nears $400m worldwide and Resident Evil: The Final Chapter crosses $250m internationally.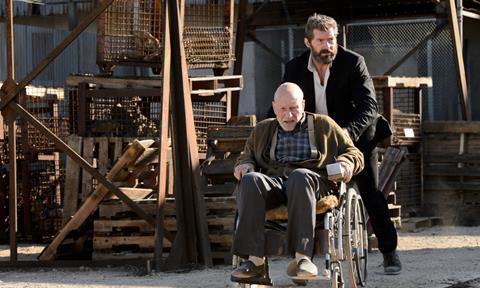 FOX INTERNATIONAL
UPDATED: The R-rated hit starring Hugh Jackman stormed to a confirmed $159m internationally – far higher than Sunday's original estimates – as the worldwide running total climbed to $247.4m.
The X-Men spin-ventured into 82 markets over the weekend day-and-date with the $88.4m number one North American opening, powered by a $48.8m launch in China. The UK followed on $11.8m, while Brazil delivered $8.9m and South Korea $8.1m.
Logan marks Hugh Jackman's final outing as Wolverine and also the final appearance by Patrick Stewart as Charles Xavier, was in fine fettle everywhere and opened to pin most markets.
The action-thriller debuted in Russia on $7.8m, Australia and France $5.9m apiece, Mexico $5.3m, Taiwan $4.6m, Germany $3.5m, India $3.4m, Indonesia $3m, Italy $2.5m, Spain $2.4m, Hong Kong $2.2m and Thailand, Philippines and Malaysia each on $2m.
Latin America delivered strong results, as Argentina produced $1.6m, Chile and Colombia $1.3m each and central America $1.2m.
It became the second biggest R-rated IMAX global release on $20m, just behind Deadpool.
Hidden Figures earned another $3.7m in 42 markets, taking the international total to $36.4m. Australia added $1.4m over the weekend for $8.9m, while the UK added $821,000 for $5.7m and Germany took in $365,000 for $3.1m. The historical drama gets its next release in France and Italy this week.
Assassin's Creed tracked down $1.9m during its weekend opening in Japan, bringing the Michael Fassbender starrer to $183.8m internationally following a $2.5m haul from seven.
A Cure For Wellness brought in another $1.2m from 29 markets. The international total for the horror film stands at $11.7m with 11 market releases still to come.
Viceroy's House arrived in the UK on $1.1m, and Bollywood release Jolly Llb 2 stands at $21.3m and $20.9m in India.
SONY PICTURES RELEASING INTERNATIONAL
UPDATED: Resident Evil: The Final Chapter pulled in $17.2m from 43 markets to bring the running total to $256.6m internationally.
Constantin Film's local partner Leomus Pictures distributes in China, where the horror-thriller added $16.8m in the second weekend for $137.9m.
Danny Boyle's sequel T2 Trainspotting grossed $3m from 32 markets, including nine new openings for $30.1m.
UNIVERSAL PICTURES INTERNATIONAL
UPDATED: Fifty Shades Darker crossed $350m worldwide at the weekend after taking in $10.6m for $246.4m. Combined with $109.9m from North America the worldwide total is $356.3m.
Germany returned a number two rank in the fourth week on $2.2m for $28.5m. The film held at number three in Brazil on $1.1m for $19.5m, while $1m in France after the same period elevated the tally to $22.1m. There were no new openings this weekend. The final release for the erotic drama will be Japan on June 23.
Illumination and Universal's Sing grossed $12m from 62 for $298.2m. Universal executives expect the animation will cross $300m at the international box office in the next few days. Sing opened in Russia at number two on $6.6m, while it placed number five in its third week in China on $1.8m for $27.4m. The last territory for the animated musical is Japan on March 17.
M. Night Shyamalan's Split from Blumhouse Productions added $8.2m in 53 for $105.7m. The film debuted in Paraguay on $16,000. France held at number three on $2.5m for $6.9m, with South Korea adding $1.6m for $10.9m. Mexico took $944,000 for $6.4m in its third weekend, while Argentina came in at number two in week two with $508,000 for a market total of $1.6m.
There are seven territories still to release: Bolivia, Chile, Russia and Ukraine on Mar. 16. Brazil and Ecuador open on March 23 and Japan on May 12.
Legendary and Universal's The Great Wall, which it was reported last week will lose $75m, grossed $6.4m in 46 territories for $108.8m over the weekend, rising to $278.8m factoring in the Chinese running total of $170m. The global haul has reached $320.2m.
Brazil is the top holdover after adding $1.6m for $6.9m after two sessions. Italy took in $865,000 for $2.7m. Universal's next and final release is Japan on April 14.
Amblin Entertainment's A Dog's Purpose has reached $101.3m worldwide. The international tally has reached $41.1m factoring in Universal's $1.5m weekend, the $17m debut in China through Huaxia Film Distributors and $6.7m from Mister Smith markets.
LIONSGATE INTERNATIONAL
UPDATED: La La Land capitalised on its six Oscars last weekend to generated $11.4m from 77 markets, and climb to $251.1m internationally and $396.8m worldwide. The Ryan Gosling and Emma Stone musical continued to charm audiences in Japan where it has taken $13.9m after two sessions.
There were strong holds in most major markets. The UK stands at $36.7m, China $33.2m, and South Korea and France $24m and $17.2m, respectively. Australia stands at $14.3m after ten weeks.
John Wick: Chapter 2 earned a further $5.6m from 79 markets. The international total stands at $61.5m and worldwide $144.5m. The action sequel has generated more than the predecessor did in most of its markets, or is on track to do so.
Top is the UK on $6.8m after three weeks. Germany follows closely behind on $6.1m. In their fourth week of release, Russia stands at $6m, the Middle East $4.9m, and Taiwan $2.7m. Italy will be the next major release on March 16.
WARNER BROS PICTURES INTERNATIONAL
UPDATED: The LEGO Batman Movie crossed $100m internationally after grossing $11.4m in 60 markets. The animated follow-up to The LEGO Movie currently stands at $109.3m.
China delivered a $3.5m debut, followed by $1.9m from the UK for $31.1m. As school holidays wrapped up in Germany the animation grossed $725,000 for $6.2m. Mexico generated a further $641,000 for $7.6m. Brazil and France round out the animation's top five markets on $5.9m and $5.3m, respectively. Spain has generated $4m and Holland $2.5m. The next market to open is Australia on March 30.
Collateral Beauty has grossed $55.5m and Fist Fight $6.7m.
PARAMOUNT PICTURES INTERNATIONAL
XXX: Return Of Xander Cage grossed $2m this weekend in 35 markets, bringing the international total to $293.1m. In its fourth weekend in China, the Vin Diesel-led action film added $1m for $157.8m.
Rings grossed $2.1m in 44 markets as the horror reboot climbed $51.4m. There are no new openings this weekend. The film's next major release will be Italy on March 16.
WALT DISNEY STUDIOS MOTION PICTURES INTERNATIONAL
Moana took in a further $2.4m from international markets, bringing the tally to $339.7m. The top three markets are France on $35.3m, China on $32.7m and the UK on $24.5m.