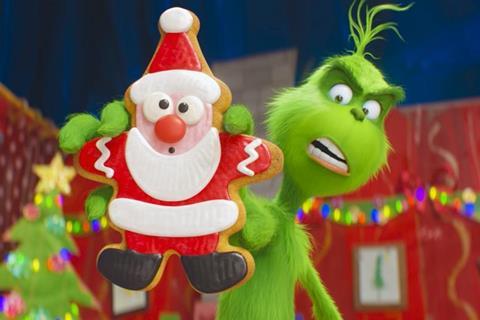 NOVEMBER 12 UPDATE: An impressive confirmed $67.6m North American debut saw Universal and Illumination Entertainment's family feature The Grinch snatch top spot from Fox's Bohemian Rhapsody as the Fox hit crossed $100m in its second weekend.
The Grinch opened in 4,141 theatres. Benedict Cumberbatch voices the curmudgeonly creation from the Dr. Seuss children's books, which also features Rashida Jones, youngster Cameron Seely, and narrator Pharrell Williams. By way of comparison, How The Grinch Stole Christmas voiced by Jim Carrey opened on $55m in November 2000, which adjusts for inflation to $79.9m.
There were two other debutants in the top 10. Paramount launched its World War Two horror Overlord, produced by J.J. Abrams, at number three on $10.2m, and Sony's The Girl In The Spider's Web starring Claire Foy as ace hacker Lisbeth Salander arrived in sixth place on $7.8m.
Bohemian Rhapsody fell 38.9% in its second weekend, ranking second on $31.2m for a $100.4m running total. The second session was harder on Disney's The Nutcracker And The Four Realms, which tumbled 50.4% to fourth place on $10.1m for $35.8m.
Sony launched awards season contender The Front Runner starring Hugh Jackman as the ill-fated 1980s US presidential hopeful Gary Hart at number 39 on $51,543 in four venues. Jason Reitman directed. The Orchard released Luis Ortega's Argentina's foreign-language Oscar submission El Angel at number 47 on $23,348 in two venues.
Box office for the top 12 generated $155.5m, up 16.5% on last weekend, and up 11.2% on the comparable session in 2017.
This week's wide releases are: Warner Bros' Fantastic Beasts: The Crimes Of Grindelwald starring Eddie Redmayne, Jude Law, Zoe Kravitz, and Johnny Depp; Paramount comedy Instant Family with Rose Byrne and Mark Wahlberg; and Fox's heist thriller from Steve McQueen, Widows.
Confirmed top 10 North America Nov 9-11, 2018
Film (Dist) / Conf wkd gross / Conf total to date
1 (-) Dr. Seuss's The Grinch (Universal-Illumination) Universal Pictures International $67.6m –
2 (1) Bohemian Rhapsody (Fox) Fox International $31.2m $100.4m
3 (-) Overlord (Paramount) Paramount Pictures International $10.2m –
4 (2) The Nutcracker And The Four Realms (Buena Vista) Walt Disney Studios Motion Pictures International $10.1m $35.8m
5 (4) A Star Is Born (Warner Bros) Warner Bros Pictures International $8.1m $178.1m
6 (-) The Girl In The Spider's Web (Columbia Pictures) Sony Pictures Releasing International $7.8m –
7 (3) Nobody's Fool (Paramount) Paramount Pictures International $6.6m $24.4m
8 (6) Venom (Columbia Pictures-Marvel) Sony Pictures Releasing International $4.9m $206.3m
9 (5) Halloween (Universal) Universal Pictures International $3.9m $156.9m
10 (10) The Hate U Give (Fox) Fox International $2.1m $26.7m