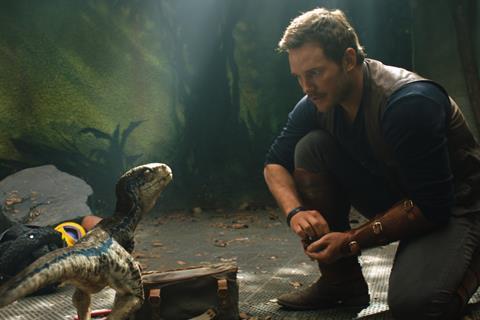 UK TOP FIVE
| Rank | Film / Distributor | Three-day gross (July 6-8) | Running gross | Week |
| --- | --- | --- | --- | --- |
| 1 | 'Jurassic World: Fallen Kingdom' (Universal) | £1.3m | £36.8m | 5 |
| 2 | 'The First Purge (Universal) | £1.2m | £1.8m | 1 |
| 3 | 'Ocean's 8' (Warner Bros) | £837,259 | £8.5m | 2 |
| 4 | 'Sicario: Day Of The Soldado' (Lionsgate UK) | £321,981 | £1.5m | 2 |
| 5 | 'Tag' (Warner Bros) | £250,623 | £1.1m | 2 |
Today's GBP to USD conversion rate - 1.33
Universal
Jurassic World: Fallen Kingdom stayed top of the UK box office for the fifth weekend. The film dropped a fairly slim 34% with £1.3m, taking it to £36.8m to date.
The First Purge, the fourth entry in the US dystopian franchise, opened to £1.2m from 483 sites for an average of £2,396. Including previews of £618,396 the film's total so far is £1.8m.
Considering the challenges, that's a pretty good opening for the film, measuring up to the UK openings of the previous three entries: The Purge (£1m), The Purge: Anarchy (£1.2m); and The Purge: Election Year (£807,803). Respectively, those films ended on £3.4m, £4.6m and £2.3m, meaning The First Purge should comfortably slot into the £2-3m range.
This weekend, the film was one of only two new entries in the UK Top 10 (the other being Picturehouse's event cinema release of Beatles Yellow Submarine in tenth).
Warner Bros
All-female heist comedy Ocean's 8 dropped one place to third this weekend, dropping 35% with £837,259. The film now sits on £8.5m to date, still some way off the franchise's previous lowest-grossing entry, Ocean's Twelve, which took £12.6m in the UK in 2005.
Tag also dropped one place in the chart, sitting fifth after dropping 47% in its second weekend. The comedy added £250,623 for £1.1m to date.
Lionsgate
In its second weekend, Sicario 2: Soldado fell 51% with £321,981. The film's running total is now £1.5m, leaving it a fair way off the original's UK total of £5m.
US sports comedy Uncle Drew, about a basketball tournament in Harlem, opened to £151,337 from 275 cinemas for a site average of £550. The film has grossed $30m to date in the US.
The Happy Prince added £34,681 in its fourth weekend, taking it to £651,731 to date, while documentary McQueen is up to £550,923 after adding £9,616 in its fifth weekend.
STXinternational
In its second weekend, Baltasar Kormákur's Adrift fell 43% with £229,682 for £978,350 to date.
Disney
Family comedy Patrick fell a slim 25% in its second weekend, adding £230,000. Running total is now £725,000.
Elsewhere, Solo: A Star Wars story added £90,000 for £19.3m to date, and Avengers: Infinity War is up to £70.7m after adding £43,000.
20th Century Fox
Bollywood release Sanju added £221,000 in its second weekend, a drop of 51%. The film now sits on £938,000.
Now in its eight week on release, Deadpool 2 is up to £32.3m. That's now less than £6m behind the original, which took £38.1m in 2016.
The Greatest Showman has now been on release in the UK for 28 weeks and is up to £46.9m.
Picturehouse Entertainment
A one-day eventised re-release of Beatles movie Yellow Submarine, marking the film's 50th anniversary, took an impressive £163,155 from 72 locations for a hefty £2,235 screen average. The film will play on general release from Friday and a sing-a-long version is set for August 3rd.
Altitude
Kevin Macdonald's feature documentary Whitney, about the late singer Whitney Houston, debuted in the UK with £115,000 from 227 cinemas (with a few left to report), for an average of £507. With previews, the film is up to £143,000.
That eclipses Nick Broomfield's Whitney Houston biopic Whitney "Can I be Me", which opened to £94,613 in June 2016, though in less than half the number of sites.
Altitude previously released music biopic Amy, which started with £523,192 and ended on £3.8m. A recent theatrical music documentary compariosn would be Grace Jones: Bloodlight And Bami, which opened with £96,621 in the UK in October 2017.
Paramount
Now in its ninth week, the family-friendly Sherlock Gnomes is up to £8.6m after adding £95,000.
Book Club has crossed £4m in the UK after adding £18,000 this weekend.
Vertigo
Oliver Parker's synchronised swimming comedy Swimming With Men, starring Rob Brydon, which premiered at the Edinburgh International Film Festival earlier this month, opened in the UK with a soft £59,301 from 136 sites for an average of £436. With previews, the film is up to £70,736 in its UK run so far.
With sites left to report, The Bookshop is up to £156,191 after adding £30,074 this weekend, while Overboard is on £89,715 after adding £13,659.
eOne
Family adventure comedy Show Dogs added £42,677 from 351 sites this weekend and is up to £3.1m in the UK.
Sony
Debra Granik's Leave No Trace added £36,000 in its second weekend, a slim drop of 29%. It now sits on a decent-looking £146,000 to date.
Curzon
Mary Shelley, Haifaa Al-Mansour's biopic of the 19th century England novelist starring Elle Fanning, opened in the UK with a soft £16,562 from 36 locations, an average of £460.
Elsewhere for Curzon, In The Fade is up to £58,792 in the UK, while L'Amant Double is now on £15,678.