EXCLUSIVE: UK distributor also acquires upcoming sports biopic Borg vs McEnroe, Directors' Fortnight title After Love and Scottish indie music doc Lost In France.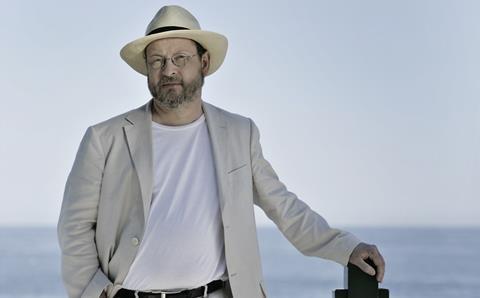 Curzon Artificial Eye has swooped on four buzz titles at the Cannes Film Festival, acquiring UK and Eire rights to Lars Von Trier's The House That Jack Built, Shia LaBeouf-starrer Borg vs McEnroe, Joachim Lafosse's After Love and Niall McCann's Lost in France.
The pre-buy of serial killer drama The House That Jack Built continues the distributor's long-standing relationship with the controversial Danish director, stretching back to Antichrist and includes Melancholia and Nymphomaniac Volumes I & II. The deal was negotiated with Susan Wendt at TrustNordisk.
The $9.8m project will shoot in Sweden this year, before a Copenhagen shoot in 2017. Zentropa producer Louise Vesth revealed details of the highly-anticipated feature to Screen in Cannes earlier this week, when several early deals were revealed.
The film, originally envisioned as a TV series, is told from the point of view of Jack, a serial killer who aspires to commit the perfect murder over a decade of practice. Set in Washington State during the 1970s and 80s, at a time before DNA evidence was used in murder cases, the feature has yet to be cast.
TrustNordisk had planned to start sales in earnest after the cast was announced, but found that buyers were eager to secure the next project from Von Trier.
Curzon Artificial Eye managing director Louisa Dent said: "We look forward to seeing what Lars does with The House That Jack Built with the usual mixture of high excitement and slight trepidation."
Ace deal
Janus Metz Pedersen's Borg vs McEnroe was acquired by Curzon Artificial Eye in a deal negotiated with Anita Simovic at Svensk.
The film, on which pre-sales were launched in Cannes, is set to star Shia LaBeouf as John McEnroe and centres on the famous 1980 Wimbledon final, often described as the greatest tennis match of all time.
Swedish newcomer Sverrir Gudnason is to play taciturn Björn Borg and Stellan Skarsgård his coach Lennart Bergelin.
Scripted by Ronnie Sandahl, the film will start shooting in autumn 2017 in Sweden, London, Monaco and New York.
"The matches between Björn Borg and John McEnroe are an integral part of the history of Wimbledon and the national consciousness and we believe the UK will be a key territory for the film," said Dent of the acquisition.
"Shia is one of the few actors that has the requisite personality to fill the shoes of John McEnroe. It's film about rivalry, friendship and the pressures of fame which will resonate even with those not already obsessed with the green lawns of SW19."
Impressed
Curzon Artificial Eye negotiated with Camille Neel at Le Pacte for Joachim Lafosse's After Love, which plays in Directors' Fortnight at this year's Cannes.
Bérénice Bejo and director/actor Cédric Kahn star in this French-language drama about a couple who, having decided to get divorced, are forced to continue living together in the house they spent their relationship renovating for financial reasons.
The Belgian director's credits include Venice competitor Private Property, Toronto selection The White Knights and Our Children, which won Un Certain Regard's best actress prize at Cannes for Emilie Dequenne in 2012. Les Films du Worso's Sylvie Pialat (Timbuktu, Stranger By The Lake) produced, in co-production with Belgium's Versus.
"After Love is a film that really impressed us during the festival and Joachim is a director that we greatly admire," said Dent.
In tune
Curzon Artificial Eye has also acquired Lost In France, directed by Ireland's Niall McCann (Art Will Save The World), which explores the rise of Scotland's independent music scene in the 90's through bands including the Delgados, Bis, Mogwai, Franz Ferdinand and Arab Strap.
The documentary, which is in post-production and will world premiere at Edinburgh International Film Festival next month, features a re-staging of a legendary festival (inMauron, Brittany) - a concert that reconnects the main characters on stage for the first time in many years.
The deal was negotiated with producers Paul Welsh (Edge City Films, Glasgow) and Nicky Gogan (Still Films, Dublin).
"EIFF will be the perfect launch for Lost in France and we're eager to bring the film to music fans across the UK and Eire," said Dent.
Strong track record
Curzon Artificial Eye has a strong track record with pre-buys. Last year, the distributor picked up Cristian Mungiu's Graduation and the Dardenne brothers' The Unknown Girl as well as Xavier Dolan's It's Only The End of The World - all of which are in Competition at this year's Cannes.
"It's been a busy Cannes and we're delighted to be welcoming back a number of familiar faces, as well as bringing in some very talented new names, to the Curzon Artificial Eye slate," added Dent.