Previously announced event for TV series will run alongside MipTv.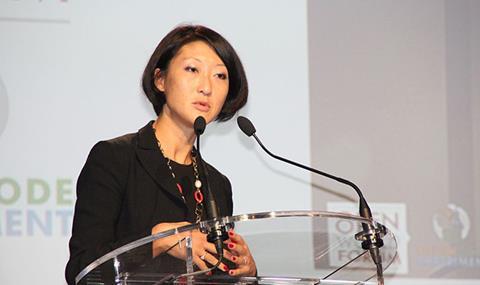 Former French minister of culture and communication Fleur Pellerin has been announced as the president of the inaugural International Cannes Festival of Series, which will make its debut in April 2018.
"I'm honoured for the trust given to me and will carry with passion the ambitions of this rendezvous, for both professionals and the public, so that it imposes itself on the international calendar," Pellerin said in a statement put out by Cannes city hall.
Her appointment was proposed by the mayor of Cannes David Lisnard, the driving force behind the festival, the statement added.
The drama festival is being devised in partnership with Reed Midem, organiser of the TV and content markets MipTV and MIPCOM as well as French pay-TV group Canal+ and will run alongside MipTv in April.
Pellerin said the creation of the festival was timely and built on one her ambitions when she was minister of culture.
"There are no leading international events about TV series, even though this form of production has become very important in the realm of creative and broadcasting production," she claimed, despite the existence of TV events in Cannes, Monte Carlo and Paris in France alone.
"As minister of culture, I wanted France to take on the opportunity and create a reference in that field. The mayor of Cannes, David Lisnard, had already been working on this idea for many years. The grand project that he is offering today is therefore the result of a profound reflection on both the artistic and the logistic sides."
Pellerin was minister of culture for a little over a year from August 2014 until the beginning of 2016, when she was unexpectedly replaced by the current minister of multure Audrey Azoulay in a cabinet reshuffle.
Prior to that position, she was a junior minister for small and medium-size businesses, innovation and the digital economy, during which time she became one of France's first representatives to meet with Netflix CEO Reed Hastings, on the fringes of the Consumer Electronics Show (CES) in Las Vegas in 2014.
Following her departure as minister of culture in 2014, she founded Korelya Capital Investment funds, an equity fund aimed at entrepreneurs and start-ups in France's tech sector.
Lisnard said Pellerin's appointment marked a continuity with discussions begun with Pellerin in 2014.
"Fleur Pellerin was immediately receptive to the idea of this festival. She was the first to grasp its importance for France and its cultural promotion," he said. "We had several meetings in Paris and in Cannes on this project and I discovered an honest, attentive, open-minded personality."
"Today, Fleur Pellerin is brilliantly succeeding in the private sector. She combines three skills particularly relevant to the presidency of the association which is organizing our festival: her excellent knowledge of the cultural scene, her entrepreneurial experience, and her international approach," he added.
The extent to which the festival's launch is a rebranding exercise for Mip remains to be seen as content and structure details have not yet been made clear.