Studio which has hosted Sony's Outlander [pictured] gets council approval for expansion.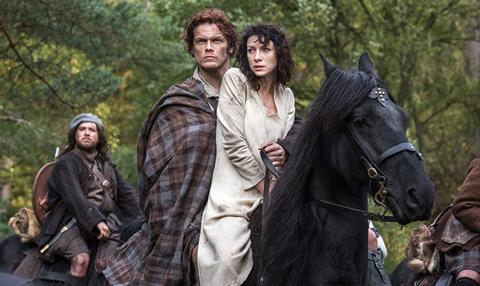 Wardpark Studios, the converted studio site between Glasgow and Edinburgh which has played host to two seasons of Sony-Starz TV series Outlander, has been granted planning permission by the local council for additional studio space.
The initial planning permission for the expanded facility - which will be private and publicly backed - means that changes can be made to the site to make space for a new sound stage.
Terry Thomson, chairman of Wardpark Studios Limited, said: "This planning permission means we can move forward with the initial preparatory work to create new site access, car parking and building alternations.
"The entire complex is currently let to Sony for Outlander, so we're seeking their co-operation to start these works as soon as possible without disrupting their filming schedules.
"We're committed to making this expansion happen. When the development is complete, we'll have added a further 30,000 square feet across two new 50 foot-high sound stages, bringing our total facility to 78,000 square feet across six sound stages.
"We still have work to do before we can fully embrace the expansion project. We need to finalise our business plan, confirm some commercial arrangements to ensure we can fund the development, and agree the potential package of public sector support.
The announcement is a boost for the local industry which still remains hungry for a bespoke studio facility.
The application for Pentlands Studio, a separate, entirely private, bespoke film studio to the south of Edinburgh, is still under consideration by ministers.