C3 Entertainment, Grand Peaks Entertainment and The Exchange are preparing the big-screen return of the iconic property, which will be available to buyers on the Croisette next week.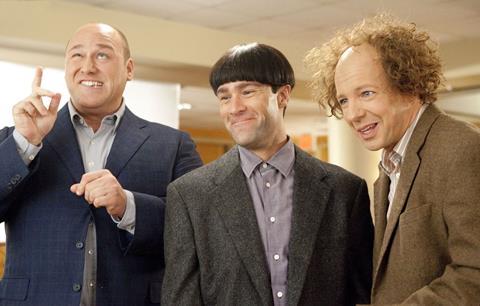 The partners have repurposed The Three Stooges as an action-comedy and will welcome back Sean Hayes, Will Sasso and Chris Diamantopoulos, who reprise their roles as Larry, Curly and Mo last seen in Fox's 2012 release directed by the Farrelly brothers.
The producers said they would shortly announce a cast addition in the form of a "major action star".
Cameron Fay has been hired to write the screenplay and most recently wrote Brother In Laws for Paramount and has Cosmic in development at Walden Media.
The Three Stooges brand owner C3 will produce alongside Grand Peaks and worldwide sales agent The Exchange. C3 will also oversee licensing, merchandising and promotions.
Pablo Velez of C3 will produce alongside Grand Peaks CEO Alan Simpson and Nat McCormick of The Exchange. Simpson and McCormick will provide development financing through their Exchange Peaks Capital fund.
C3 CEO Earl Benjamin and Robert Benjamin will serve as executive producers with The Exchange CEO Brian O'Shea and Jeff Bowler.