EXCLUSIVE: The edgy distributor has struck a deal with the producers in conjunction with eOne Films International to take Matt Shakman's contemporary thriller off the table heading into Toronto.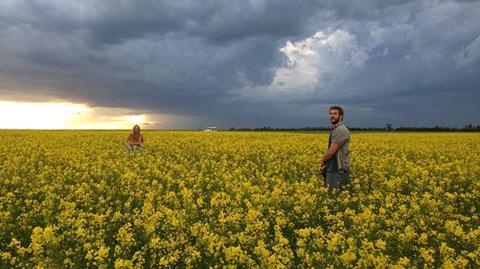 Cut Bank premiered at the Los Angeles Film Festival earlier this summer and will receive its international premiere north of the border, where eOne Films International will continue to court non-US buyers.
A24 plans a 2015 release on the thriller, its latest collaboration with DIRECTV after Enemy and Life After Beth.
Liam Hemsworth stars alongside John Malkovich, Billy Bob Thorton, Bruce Dern, Teresa Palmer, Michael Stuhlbarg and Oliver Platt.
Shakman directed from a screenplay by Robert Patino about a small-town mechanic with dreams of living in the big city who stumbles upon evidence of murder.
Kilburn Media and the Edmonton Economic Development Corporation financed the production, which shot on location in Edmonton, Alberta.
Producers are Laura Rister, Edward Zwick, Mickey Barold, Mark Manuel, Ted O'Neal and Dan Cohen.
Shakman hailed his cast, producers and backers and the "smart, eclectic taste" of A24. He added: "[T]heir passion and plan for the film felt like the ideal way to bring it to the world."
WME and Principato-Young Entertainment represent Shakman, while WME and 3 Arts handle Patino.
Cut Bank is scheduled to premiere in the Contemporary World Cinema programme on Sept 10.