EXCLUSIVE: Bella Thorne, Rupert Grint, Jerry Ferrara titles among deal.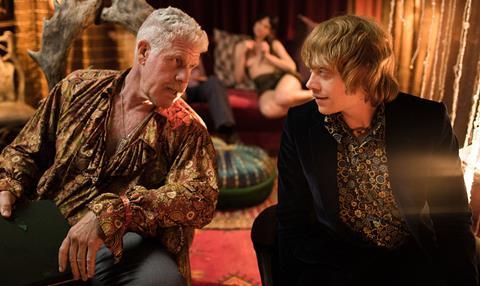 UK distribution outfits Icon Film Distribution (IFD) and Alarm Pictures have struck a deal for IFD to represent all future Alarm Pictures titles for digital, TV and other home entertainment exploitation.
The first titles scheduled for a Q1, 2016 release through IFD's digital partners include SXSW comedy Moonwalkers, starring Rupert Grint, Ron Perlman and Robert Sheehan, thriller Big Sky with Bella Thorne, and drama Club Life, featuring Jerry Ferrara, Jessica Szohr and Busta Rhymes.
Also on the slate are Dead Within, The Nymphets, Jamie Marks Is Dead, After The Fall and Enter The Dangerous Mind.
Alex Mandell, former Paramount and Wrekin Hill executive, and founder of Alarm Pictures, said: "I am incredibly excited to being working with the Icon team on my growing and rapidly expanding slate of content. 2016 is due to be a very busy year for Alarm and I am delighted that Icon are my partners."
Sophie Wong, head of TV and digital sales at IFD added: "We are delighted to be working with Alex at Alarm Pictures on such an exciting line-up of distinctive films for the TV and digital platforms which will complement Icon's own upcoming film slate."
Previous releases by Alarm Pictures include Faults, Elephant Song and Ping Pong Summer.
In Moonwalkers - from comedy writer Dean Craig and director Antoine Bardou-Jacquet - a CIA agent and rock manager team up to help an actor posing as Stanley Kubrick fake the moon landings.
Kyra Sedgwick and Frank Grillo star alongside Thorne in Big Sky, about a teen and her mother traveling to a treatment centre for agoraphobia who must fight for their lives when a gunman attacks them in a remote desert.
Entourage's Ferrara and Gossip Girl's Szohr star alongside rapper Busta Rhymes in Club Life, in which a night club promoter tries to make a name for himself in New York City.
Icon's digital partners include iTunes, Sky Store, Virgin Movies, Blinkbox, Google Play, Amazon, Xbox Video, Wuaki, Talk Talk and Volta.