EXCLUSIVE: Arrow strikes for Gillies MacKinnon rom-com starring Gregor Fisher, Eddie Izzard and Ellie Kendrick; marks company's first English-language US release.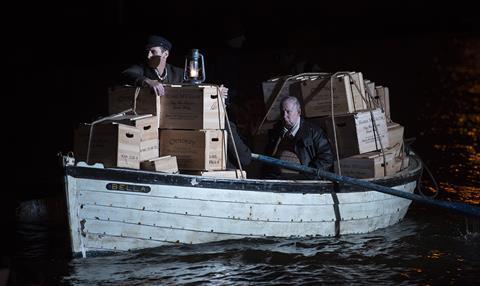 Arrow Films has picked up North American and UK distribution rights to Whisky Galore from GFM Films.
The purchase marks UK-based Arrow's first English-language release in North America.
The company is lining up a summer 2017 launch in both markets.
Gillies MacKinnon's completed rom-com starring Gregor Fisher, Eddie Izzard, Ellie Kendrick, Sean Biggerstaff, Naomi Battrick and Kevin Guthrie is a remake of the original 1949 film by Alexandar Mackendrick.
Based on Sir Compton Mackenzie's book, the Edinburgh debut charts the story of Scottish islanders who try to plunder cases of whisky from a stranded ship.
The deal was brokered for GFM Films by partner Fred Hedman who commented: "We are sure audiences across the UK and North America will love this fun, heart-warming tale that offers audiences much needed warmth and entertainment in today's unsettling times."
Commenting on the acquisition, Arrow Film's Tom Stewart said: "Arrow Films are delighted to be bringing this wonderfully charming and fresh re-telling of the British Classic film to audiences in both U.K./Eire and the US and Canada in 2017. We're also very happy to be forging a strong relation with all the team over at GFM Films."
Arrow launched US classics/cult label Arrow Video around two years ago and the company is in the process of tying up alliances with local partners in the market.