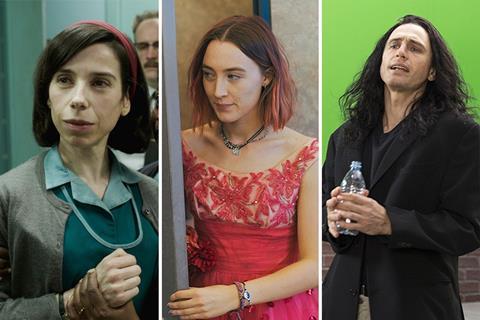 The Shape Of Water
Guillermo del Toro's achingly beautiful fairytale dominated the conversation at Venice, where it screened on the first Saturday. The Golden Lion cemented what many already thought: The Shape Of Water is lining up for an across-the-board awards campaign when Fox Searchlight release the film in the US on December 8, from best film and director to screenplay (also del Toro) and, particularly, actress for Sally Hawkins.
Sweet Country
Warwick Thornton's blistering, slow-burn follow-up to Samson And Delilah (2009) won the Platform award at Toronto and the Grand Jury Prize at Venice and, amongst some muscular outliers, packs the strongest wallop. Bryan Brown, Sam Neill and Hamilton Morris headline this powerful Outback Western of racism and revenge, which Memento is selling internationally.
Lady Bird
Acquired by Focus Features somewhere between its Telluride and Toronto screenings, Greta Gerwig's solo directorial debut is a "rollicking, surefooted, semi-autobiographical coming-of-age charmer," according to Screen's critic, with all the potential to become an indie crowd pleaser. Once again, the film's Irish star Saoirse Ronan has whipped up plenty of awards chatter.
I, Tonya
Margot Robbie produces and stars in this comi-tragic story of the trailer-trash figure skater Tonya Harding – a girl, we see, who never had a hope between her deranged, abusive mother (Allison Janney) and violent husband Jeff Gilooly, played by Sebastian Stan. Full marks to director Craig Gillespie for a tight, shocking delivery of Steven Rogers' screenplay, amid down-at-heels '80s trappings (the hair!). Neon snagged US rights at Toronto.
Custody
The debut of the year as France's Xavier Legrand take on a horribly-real story of domestic terrorism – a continuation of sorts of his short Just Before Losing Everything – and turns it into a breathtaking, can't-look-away drama. Denis Menochet is unforgettable. Celluloid Dreams is handling sales.
The Disaster Artist
His output may be wide and variable but James Franco certainly hits the bullseye with this endearing tribute to bad filmmaking, his version of Ed Wood. Screening at Toronto following its SXSW debut earlier in the year, this is the hilarious story of Tommy Wiseau (Franco), his best friend Greg Sistero (Franco's brother Dave) and the making of 2003's cult classic The Room. Franco directs, Warner Bros distributes internationally and the US opening through A24 is scheduled for awards-friendly early December.
Three Billboards Outside Ebbing, Missouri
Martin McDonagh's follow-up to Seven Psychopaths stars Frances McDormand as a strong-minded, foul-mouthed working-class woman who thirsts for justice for her murdered daughter. Winner of the best screenplay prize at Venice and the coveted audience award at Toronto, this seems set for awards and commercial play when it bows November 10 in the US on limited release.
The Guardians
Fans of classical, stately, French cinema need look no further this year than the seductive The Guardians, which stars Nathalie Baye, her daughter Laura Smet and arresting newcomer Iris Bry. Xavier Beauvois (Of Gods And Men) controls a deliberate narrative: with the men all gone to fight on the Western front, the women left behind must tend to the land. But there are simmering class tensions at play. Pathe International have rights.
Journey's End
Director Saul Dibb delivers a surprisingly fresh and relevant take on the 1928 stage play. The situation remains the same – the trenches of the First World War in the run-up to Operation Michael – but the staging brings it all back to life. Officers Sam Claflin, Asa Butterfield and, most poignantly, Paul Bettany count down the hours to their certain death. Sales are handled by Metro International Entertainment.
C'est La Vie!
With deft hands and a joyous air, the French filmmaking team behind Intouchables decamp to a 17th-century chateau where Maitre d' Max (Jean-Pierre Bacri) is trying to manage a wedding with a groomzilla, a depressed waiter, a hot-tempered manager and an impossible wedding singer named James (a scene-stealing Gilles Lellouche). Hilarity ensues in what will undoubtedly be another hit for writer-directors Olivier Nakache and Eric Toledano. The film will also play San Sebastian, with Gaumont handling international sales.
…and five that are bubbling under
Jim & Andy: The Great Beyond
Unmissable documentary about how Jim Carrey transformed himself into Andy Kaufman for the Milos Forman feature Man On The Moon back in 1999.
Tueurs (Above The Law)
Hard-boiled, low-budget, high-octane Belgian cop drama co-written and -directed by ex-gangster Francois Troukens.
The Third Murder
Japan's Hirokazu Kore-eda turns a new page to a legal drama, and the result is just as engaging as ever.
Ex Libris: New York Public Library
Time flies when you're with Frederick Wiseman, even more so in New York's public library system.
Disobedience
Sebastian Lelio proves himself adept in the Hasidic Jewish community of north London's borough of Hendon in this drama starring Rachel Weisz and Rachel McAdams.