First-round voting for the Oscars, Baftas and Golden Globes is looming fast. Screen International presents an essential guide to the titles likely to be in the running across the categories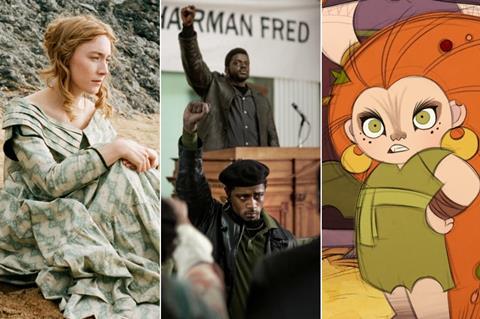 Thanks to the Covid-19 pandemic, the 2021 Bafta Film Awards have been pushed back to April 11, and the US Academy Awards to April 25 — more than two months later than the early-February slots for the 2020 cere­monies.
However, first-round voting opens for the Baftas on January 12 and closes on January 26 — dates that are now looming. The narrow coterie of Golden Globes voters will already be busy watching contenders ahead of their nominations announcement on February 3 (scroll down for list of key dates).
With the British academy making it clear that voting is a responsibility as much as it is a privilege, and with voters expected to immerse themselves deeply in the titles submitted for consideration, Screen International offers what it hopes is a timely guide.
We are not suggesting that viewing should be limited to the following 50 titles — and, indeed, many are not yet on the Bafta viewing portal, and some await confirmation of UK release — but we hope our list will help concentrate minds of voters, regardless of their country of residence or in which awards scheme they vote. Also, scroll down further to find out the top 10 performances, documentaries and UK indies to watch.
In a year when the impact of the autumn festivals on awards season has been less overwhelming than usual, we expect the rich field of Sundance 2020 — or even 2021 — premieres, many of them directed by women, to make more of the running. And with studios delaying titles to next year, the contenders promoted by the streamers, notably Netflix, look set to have a significant effect on the races. Happy viewing.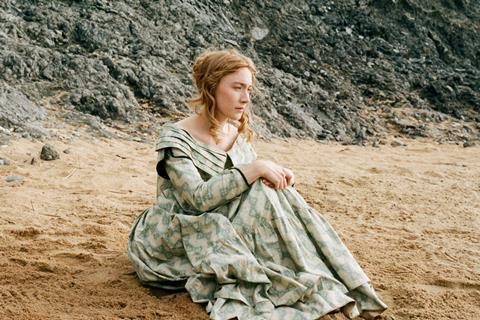 Ammonite
Dir. Francis Lee
Lee — a Bafta outstanding British film nominee with his low-budget debut feature God's Own Country — steps up to bigger scale and cast names with this 1840s-set drama about real-life English fossil hunter Mary Anning. Oscar and triple Bafta winner Kate Winslet stars opposite multiple Oscar and Bafta nominee Saoirse Ronan in a fictionalised romantic drama that was selected for Cannes, Telluride and Toronto, and released by Neon in the US. Producers Iain Canning and Emile Sherman of See Saw Films won the best picture Oscar for The King's Speech.
Another Round
Dir. Thomas Vinterberg
Awarded the Cannes 2020 official selection label before its Toronto world premiere, Another Round has picked up prizes at San Sebastian, London and Ghent. An international feature contender — it is Denmark's entry at the Oscars — Another Round may also see a glass raised to Mads Mikkelsen in the best actor category, as one of four school teachers testing the theory that life is better lived when a little drunk. Vinterberg previously received Bafta nominations for The Celebration and The Hunt.
The Assistant
Dir. Kitty Green
Following acclaim at Telluride, Sundance and Berlin, this fiction feature debut from Green (docs include Casting JonBenet) has already picked up a best feature nomination at the Gothams. The producer roster for this drama — about an assistant to a bullying, predatory film executive — includes James Schamus, an Oscar nominee in various categories for Crouching Tiger, Hidden Dragon and Brokeback Mountain. Bleecker Street released in the US back in January.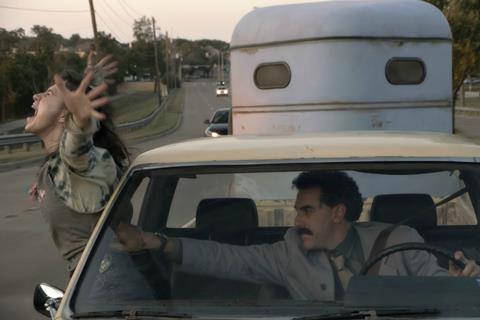 Borat Subsequent Moviefilm
Dir. Jason Woliner
Amazon Studios will hope political goodwill towards Sacha Baron Cohen's clueless Kazakh correspondent can spur this sequel to greater heights than his 2007 Golden Globe best actor — comedy/musical win for the first film. Filmed both before and during the pandemic, Borat returns to the US to deliver a gift to outgoing vice president Mike Pence. Look out for one of the gutsiest performances of the year from Bulgarian newcomer Maria Bakalova as his eager daughter Tutar, a supporting actress contender.
Boys State
Dirs. Amanda McBaine, Jesse Moss
This Sundance 2020 documentary grand jury prize winner sees McBaine — who has served in producer capacities on several Moss-helmed features — earn joint director credit with him. The film follows a number of teenage boys among the thousand participating in the titular annual Texas event, in which the youngsters create platforms to vie for elected offices that mirror the state's actual government. A24 and Apple, which jointly acquired the film out of Sundance for $12m, released in the US in August.
Cherry
Dirs. Anthony Russo, Joe Russo
In their first outing since helming the final two Avengers films to a combined $4.8bn worldwide cinema gross, the Russo brothers tapped Spider-Man himself, Tom Holland, for the story of an army medic who becomes a bank robber to fund his PTSD-induced drug addiction. A third sibling, Angela Russo-Otstot, adapted Nico Walker's novel alongside Jessica Goldberg. Apple picked Cherry in September, scheduling a launch in US cinemas on February 26, 2021 before it goes out globally on Apple TV+ on March 12.
Collective
Dir. Alexander Nanau
Romania's entry to the international feature film category has been building momentum since playing Venice, Toronto and IDFA in 2019, and this year earned a European Film Awards nomination in the documentary category. Nanau's film follows a team of journalists investigating corruption involving Romanian hospitals and their suppliers — a fraud that significantly added to the death toll after a 2015 fire at the titular Bucharest nightclub. Participant and Magnolia Pictures released the film in the US in November.
Crip Camp
Dirs. Nicole Newnham, Jim LeBrecht
Executive produced by Barack and Michelle Obama through their Higher Ground label, this propulsive film has topped best-of lists since it opened the US documentary competition at Sundance in January before premiering on Netflix. Directed by Newnham with activist LeBrecht, this story of a summer camp in the Catskills for teens with disabilities and how it led to a civil-rights revolution is anchored by some extra­ordinary footage from 1971 and '72. Another Obamas-supported film, American Factory, won the documentary Oscar in 2020.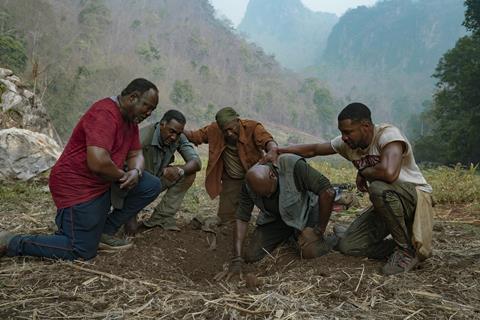 Da 5 Bloods
Dir. Spike Lee
Originally set to play out of competition at Cannes, Lee's latest joint was Netflix's most-streamed title on its June week of release. It sees four African American veterans — the 'Bloods' — return to Vietnam in search of both buried treasure and the remains of their fallen squad leader. Regular collaborator Delroy Lindo stands out on screen, while in best picture, director and original screenplay categories, Lee is looking to add to four previous Oscar nominations and one win, for BlacK­k­Klansman in 2019.
The Dig
Dir. Simon Stone
BBC Films developed Moira Buffini's adaptation of John Preston's novel about the 1939 excavation of medieval remains at Sutton Hoo, Suffolk — but it was Netflix that made the film, with Australian director Simon Stone (Yerma at London's Young Vic theatre). Bafta voters will be paying special attention to Ralph Fiennes as self-taught excavator Basil Brown and Carey Mulligan as the site's owner Edith Pretty. Bafta's outstanding British film category will likely also provide a happy hunting ground.
Everybody's Talking About Jamie
Dir. Jonathan Butterell
Originating at Sheffield's Crucible Theatre in 2017 before transferring to London's West End, and now produced for the big screen with backing from Film4 and New Regency, this musical about a teen who dreams of becoming a drag queen has retained its key creative talent (writers Tom MacRae and Dan Gillespie Sells, and director Butterell) the whole way through. Disney's late-February US release will qualify it for Oscars and — crucially — the Golden Globes, while Bafta voters will pay attention to a local title with big ambition. Max Harwood, a Screen Star of Tomorrow in 2020, headlines.
The Father
Dir. Florian Zeller
Zeller's stage play La Père began in Paris in 2012, reached London (in a translation by Christopher Hampton) in 2015 and Broadway by 2016 — and was also loosely adapted into French film Floride (2015). Zeller makes his feature directing debut with a film that played Sundance and Toronto, before picking up the audience award at San Sebastian. Anthony Hopkins (as a man with dementia) and Olivia Colman (as his daughter) lead the likely cast nominees. Sony Pictures Classics releases in the US on December 18.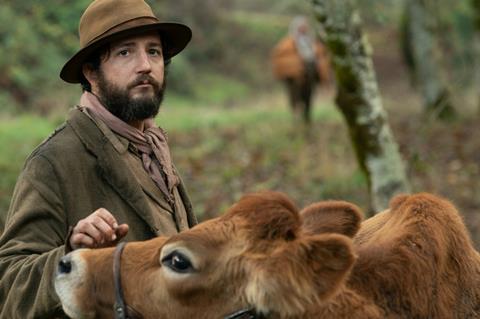 First Cow
Dir. Kelly Reichardt
A fixture on the Independent Spirit and Gotham nomination lists with previous pictures, Reichardt (Certain Women, Meek's Cutoff) could secure her first Oscar nomination with this slow-burning, warmly received tale of friendship and baking in the 1820s American northwest. Its most likely categories are adapted screenplay, with Gotham nominee John Magaro an outside contender for best actor slots. First Cow, which screened in Telluride and Berlin, picked up the jury prize at Deauville.
The Forty-Year-Old Version
Dir. Radha Blank
Multi-hyphenate breakthrough talent Radha Blank took home the directing prize following this film's premiere at Sundance; she also featured on Palm Springs International Film Festival's list of 10 directors to watch. But it is her original screenplay, which follows the travails of a struggling New York playwright (Blank) as she negotiates middle age, which seems most likely to factor on awards lists. With Gotham nods for screenplay and breakthrough director, the film looks like an Independent Spirit contender.
I'm Thinking Of Ending Things
Dir. Charlie Kaufman
Oscar and Bafta-nominated for his screenplays for Being John Malkovich, Adaptation and Eternal Sunshine Of The Spotless Mind, Kaufman won the Bafta for all three and the Oscar for the latter film. For this Netflix-produced adaptation of an Iain Reid novel, it is again Kaufman's writing that will likely be his best chance for awards notice. Lead actors Jesse Plemons and Jessie Buckley could likewise figure, most likely Buckley, who plays a woman whose visit to her boyfriend's parents prompts an existential crisis.
John Lewis: Good Trouble
Dir. Dawn Porter
Documentary maker Porter was an Independent Spirit nominee for Gideon's Army in 2014, and won a special jury prize at Sundance in 2016 with Trapped. But it is this film about US civil rights leader Lewis — who served 17 terms in the House of Representatives, and died in July — that could garner the filmmaker even more prestigious awards attention. CNN Films is among the backers, while Participant and Magnolia Pictures bought US rights, releasing in July.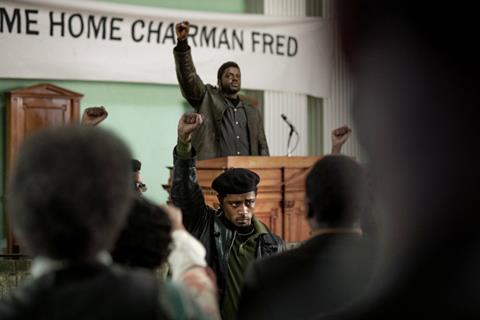 Judas And The Black Messiah
Dir. Shaka King
King won the Independent Spirits' Someone To Watch award in 2014 with debut feature Newlyweeds — a suitably prophetic choice given the buzz on his Warner Bros-backed follow-up about a paid FBI informant (Lakeith Stanfield) going undercover as a member of the Black Panther party to collect evidence against Illinois chapter head Fred Hampton (Daniel Kaluuya). Voters will also be paying attention to Dominique Fishback for her role as Hampton's fiancée Deborah Johnson. Warner Bros plans a qualifying US release in February.
Let Them All Talk
Dir. Steven Soderbergh
Billed as a comedy, but leaning towards drama, this piquant, breezy feature stars Meryl Steep as a distinguished author who travels to the UK on board the Queen Mary 2 cruise ship with her nephew (Lucas Hedges) and two former best friends (Dianne Wiest, Candice Bergen) to accept an award. Apart from helping to rehabilitate the beleaguered cruise industry, this is a contender in the original screenplay category (Deborah Eisenberg), for Streep's performance, but especially for Bergen in candid support.
The Life Ahead
Dir. Edoardo Ponti
Sophia Loren was the first actor to win an Oscar for a performance in a foreign-language film — in 1962, with Vittorio De Sica's Two Women — and was nominated again in 1965 for De Sica's Marriage Italian Style. She is back in contention with her son Ponti's take on Romain Gary's 1975 French novel The Life Before Us, previously adapted into 1977 film Madame Rosa. Netflix acquired rights in February to this tale of a Holocaust survivor and former prostitute giving shelter to a 12-year-old Senegalese asylum seeker in Bari, southern Italy.
Ma Rainey's Black Bottom
Dir. George C Wolfe
Wolfe picked up an Emmy nomination and a DGA win for 2005 TV movie Lackawanna Blues, adapted by Ruben Santiago-Hudson from his own 2001 stage play. The director teams up with the same writer on this Netflix-backed adaptation of the August Wilson stage play about real-life 'Mother of the Blues' Ma Rainey. The producer team includes Denzel Washington, returning to the Wilson creative well after directing 2016's Fences. Chadwick Boseman, who died in August, and Viola Davis lead the likely cast nominees.
Malcolm & Marie
Dir. Sam Levinson
After striking gold in black-and-white with Roma, Netflix returns to monochrome — with this film and also Mank. The streamer picked up worldwide rights in a reported $30m Toronto deal to romantic drama Malcolm & Marie, which dissects a promising filmmaker's relationship with his girlfriend. Levinson created hit HBO teen drama Euphoria for A24; he reunites with that show's star Zendaya, who is considered the film's best chance of awards glory alongside co-lead John David Washington.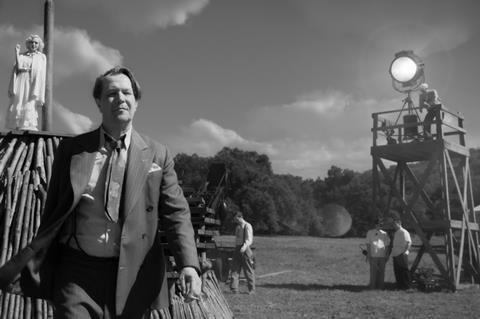 Mank
Dir. David Fincher
Fincher was nominated in the director category of Oscar and Bafta for both The Curious Case Of Benjamin Button and The Social Network, winning the Bafta for the latter. He is a contender again with this Netflix-backed black-and-white drama about Herman J Mankiewicz's fevered writing of Citizen Kane and events that inspired it. Amanda Seyfried, Gary Oldman and multiple craft HoDs are in the running, while Fincher's late father Jack Fincher could figure for original screenplay.
The Mauritanian
Dir. Kevin Macdonald
Macdonald — who won the best documentary Oscar in 2000 for One Day In September and best British film Baftas for Touching The Void (in 2004) and The Last King Of Scotland (2007) — is back on the awards radar for this drama following a long-term Guantanamo Bay detainee (Tahar Rahim) as he fights for justice. Adapted from Mohamedou Salahi's memoir Guantanamo Diary, the film (previously known as Prisoner 760) also features Jodie Foster, Shailene Woodley and Benedict Cumberbatch, and is set for a February US release via STX.
The Midnight Sky
Dir. George Clooney
Clooney has notched up eight Oscar and nine Bafta nominations variously for acting, writing, directing and producing, winning the top prize at both for Argo, as well as a supporting actor Oscar for Syriana. That track record naturally puts him in the conversation again for this Netflix-backed post-apocalyptic sci-fi drama about a lonely scientist in the Arctic trying to warn a space mission not to return to toxic Earth. Mark L Smith (The Revenant) adapts from Lily Brooks-Dalton's 2016 novel Good Morning, Midnight.
Minari
Dir. Lee Isaac Chung
Writer/director Chung won Sundance's audience award and grand jury prize for the US dramatic competition for his Plan B Entertainment-produced, A24-distributed autobiographical drama about a Korean American family seeking to transform their lives by buying a small Arkansas farm. Youn Yuh-jung — who plays the family's grandmother — is shaping up as a supporting actress front runner, and the Gothams (which combine lead and supporting in the same category) nominated her in actress.
Miss Juneteenth
Dir. Channing Godfrey Peoples
One of many Sundance premieres in contention this year, writer/director Peoples' Texas-set drama sees a bar waitress (Nicole Beharie) pushing her teenage daughter to participate in the titular pageant that could win her an academic scholarship to a historically black college. The film picked up Gotham nominations in actress (for Beharie) and breakthrough director — and those categories look its best shots at the likes of the Independent Spirits and perhaps more. Vertical Entertainment released in the US in June.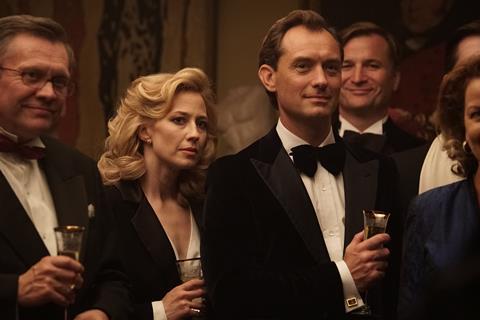 The Nest
Dir. Sean Durkin
Durkin's first — and most recent — feature as director, Martha Marcy May Marlene, was an international festival darling; nine years later, The Nest is a stubbornly enigmatic film that creeps close to horror but darts away quickly. As an elusive pater­familias in the 1980s "greed is good" era, Jude Law is all smooth surface and toxic interior, while Carrie Coon, who has never before figured in major film awards lists, is hard, vulnerable and compulsive. Expect to see both in acting categories.
Never Rarely Sometimes Always
Dir. Eliza Hittman
Writer/director Hittman's admired follow-up to Beach Rats (2017) segued from Sundance to Berlin, netting a special jury award at the former and jury grand prix Silver Bear at the latter. Newcomer Sidney Flanigan is a contender in the actress race as a 17-year-old travelling from Pennsylvania to New York City with her cousin in order to have an abortion — she is Gotham-nominated in the breakthrough actor category, as is the film in best feature. Focus Features released in the US in March.
News Of The World
Dir. Paul Greengrass
The combined might of Oscar-nominated and Bafta-winning director Greengrass (United 93, Captain Phillips) and double Oscar-winning star Tom Hanks make this a major contender. Greengrass and Luke Davies' adaptation of Paulette Jiles' 2016 novel sees Hanks' Civil War veteran take charge of a young girl (Helena Zengel, who picked up several festival gongs for her role in 2019's System Crasher) — providing multiple awards opportunities for this Universal/Netflix release.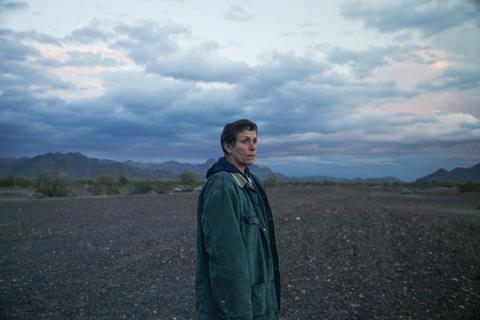 Nomadland
Dir. Chloe Zhao
Zhao's The Rider was much fancied as a plucky outsider in the 2018 Oscar and Bafta races, but in the end had to settle for more independent-flavoured awards opportunities. Her follow-up, adapted by Zhao from Jessica Bruder's non-fiction book about modern American nomads, is now considered a frontrunner in major categories, including Frances McDormand nicely in the mix for actress. Disney's Searchlight Pictures backed the film, and released for an awards-qualifying run in the US in early December.
On The Rocks
Dir. Sofia Coppola
Coppola earned three nominations apiece from the US and UK academies in 2004 for writing, directing and producing Lost In Translation, and none since — despite awards campaigns for the likes of The Beguiled. Her latest — which sees a novelist (Rashida Jones) enlist her art-dealer father (Bill Murray) to help her snoop into a possible marital infidelity — probably has its best chances at the Golden Globes. Apple and A24 backed the film, releasing it in US cinemas and via streaming in October.
One Night In Miami
Dir. Regina King
Kemp Powers' 2013 stage play depicted a pivotal meeting between four African American icons — Malcolm X, Sam Cooke, NFL footballer Jim Brown and Cassius Clay — in a Miami hotel room, the night before Clay became Muhammad Ali. Powers adapts for the screen, while Oscar-winning actress Regina King directs. Among the four co-leads, Kingsley Ben-Adir (as Malcolm X) and Leslie Odom Jr (as Cooke) are fancied strongly in lead and supporting actor. Amazon Studios releases theatrically on December 25, and on Prime Video from January 15.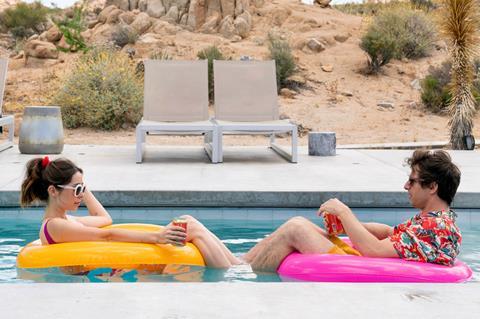 Palm Springs
Dir. Max Barbakow
Neon and Hulu fell hard for this Groundhog Day -inspired romantic comedy, shelling out $17.5m at Sundance. Andy Samberg stars as a wedding guest condemned to repeat his day, who then pulls two others (JK Simmons and Cristin Milioti) into the same loop-trapped existence. Golden Globes voters could prove receptive to this off-kilter indie pic, thus setting it on a road to further awards attention. Hulu released details of major subscriber engagement this summer for its pricey investment.
Pieces Of A Woman
Dir. Kornel Mundruczo
Vanessa Kirby, who won the best actress prize at Venice for her performance as a woman who loses her child during a traumatic home birth, is strongly favoured for more awards attention, with Ellen Burstyn also in the running as supporting actress. The Boston-set drama, which Netflix acquired out of Venice, also brings Hungarian director Mundruczo and screenwriter Kata Weber into the awards conversation. The pair also co-wrote Mundruczo's previous two films, Jupiter's Moon and White God. The latter won Cannes' Un Certain Regard award in 2014.
The Prom
Dir. Ryan Murphy
Matthew Sklar, Chad Beguelin and Bob Martin's stage musical was nominated for seven Tonys in 2019, but came away with nothing. Murphy's Netflix-backed film version — about a bunch of self-involved Broadway actors converging on smalltown Indiana to highlight the plight of a lesbian teen who has been prevented from taking her girlfriend to the prom — could yield Meryl Streep her 22nd Oscar nomination. The Golden Globes could prove fertile ground for the film, and the craft categories are also in the mix.
Promising Young Woman
Dir. Emerald Fennell
Following its Sundance premiere, this Focus-backed debut feature from writer/director Fennell (who has writing and executive producer credits on TV's Killing Eve) is returning to the minds of voters, ahead of a December 25 US release. Carey Mulligan stars as a coffee shop server who dropped out of medical school after a traumatic event, and now — with ruthless smarts — has the opportunity to right the wrongs of the past. Fennell's zeitgeisty original screenplay and Mulligan's performance are likely to hold most sway with voters.
Quo Vadis, Aida?
Dir. Jasmila Zbanic
Zbanic won the Golden Bear at Berlin for her debut feature Grbavica in 2006; her films since then have circled the Bosnian war, but Quo Vadis, Aida? plunges directly into it and the mounting horror of Srebrenica as witnessed by the camp's interpreter, Aida (Jasna Djuricic). Competing at Venice, it was a surprise to see this come away with no silverware. Quo Vadis, Aida? could achieve an Oscar nomination for international feature, with an outside chance for Djuricic to be in the mix should US distribution fall into place.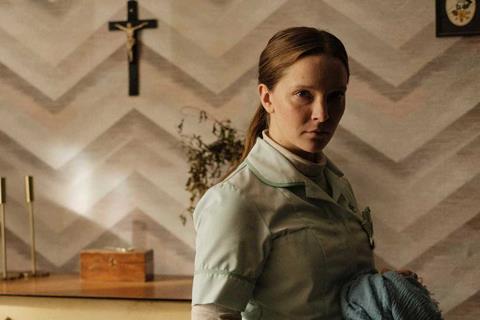 Saint Maud
Dir. Rose Glass
Backed by the BFI and Film4, the debut of UK writer/director and 2018 Screen Star of Tomorrow Glass caused palpitations in the US. A24 (Oscar pedigree through Moonlight, The Florida Project, Room) picked it up from a 2019 Toronto Midnight Madness launch — though the pandemic has delayed the US release — while Studiocanal grossed an impressive $1.1m (£835,000) at UK cinemas in October. Morfydd Clark excels as a palliative care nurse absorbed with religious fervour, with equal appreciation for Glass's directing.
Shirley
Dir. Josephine Decker
Like Never Rarely Sometimes Always, this US indie drama segued from Sundance to Berlin, netting the US dramatic special jury award at the former. Decker (Madeline's Madeline) directs Sarah Gubbins' adaptation of Susan Scarf Merrell's novel about horror writer Shirley Jackson and her professor husband taking in a newlywed couple as house guests — with Elisabeth Moss (in the title role) likely representing the film's best chance of awards recognition. Neon released in the US in June.
Soul
Dir. Pete Docter
Docter, who did the Oscar-Bafta-Globe hat-trick on Up and Inside Out, has wanted to accentuate original films since taking the Pixar reins in 2018. He makes a strong start with the story of a jazz musician's soul striving to return to his body, in the company of an untethered infant soul. The Disney animation is co-directed and co-written by Kemp Powers (One Night In Miami), and it has both best picture and original screenplay potential, beyond the animation wheelhouse.
Sound Of Metal
Dir. Darius Marder
A critical favourite following its premiere at Toronto 2019, this portrait of a heavy-metal drummer forced to come to terms with his sudden hearing loss won the Golden Eye for best international feature at Zurich Film Festival. Riz Ahmed's central performance has already earned him a Gotham nomination for best actor and it is this, together with the film's sound design, that will likely be singled out for awards attention.
Supernova
Dir. Harry Macqueen
Following his writing and directing calling-card debut feature Hinterland (2014), actor-turned-filmmaker Macqueen tempted two major stars — Colin Firth and Stanley Tucci — to play the couple at the heart of this sophomore drama, which received backing from BBC Film and the BFI. Studio­canal, which pre-bought for the UK, releases on March 5, while it goes out through Bleecker Street in the US on January 29. Both actors are fancied, but Tucci, who is being pushed in the supporting categories, faces a less competitive field.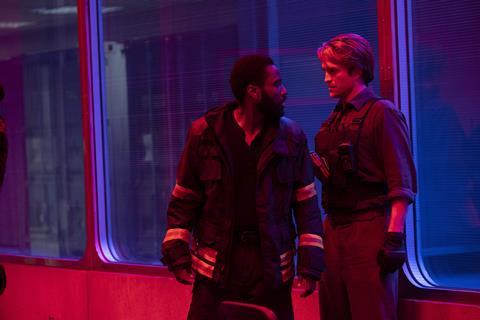 Tenet
Dir. Christopher Nolan
Last blockbuster standing: Nolan's latest popcorn-pusher, starring John David Washington and Robert Pattinson, was the only major studio film released in many territories this summer after multiple delays. At time of writing it has grossed $358m worldwide including $57m in the US. But with Covid-19 rendering such comparisons moot, will voters credit Warner Bros for standing by the theatrical experience? If so, expect to see Tenet pop up in technical categories, for its depiction of a spy on a mission in multiple directions through time.
Time
Dir. Garrett Bradley
Winner of Sundance 2020's directing award for documentary, this debut non-fiction feature from Bradley (following dramatic works, tele­vision and shorts) follows Sibil 'Fox' Richardson over many years as she fights to free her husband, serving a 60-year prison sentence. While this year's documentary category is as crowded as ever with excellent titles, Time's formal inventiveness, poetic tone and monochrome aesthetic may help it stand out. Amazon Studios released it theatrically and on Prime Video in October.
The Trial Of The Chicago 7
Dir. Aaron Sorkin
This Netflix title is a prominent challenger in multiple categories including film, director and original screenplay — and could hold a best supporting actor race of its own, with Sacha Baron Cohen, Mark Rylance, Yahya Abdul-Mateen II and Frank Langella out in front. Sorkin won the adapted screenplay Oscar and Bafta for The Social Network; here he adds his customary wit and dialogue to the notorious proceedings taken against eight protest leaders following the 1968 US Democratic National Convention.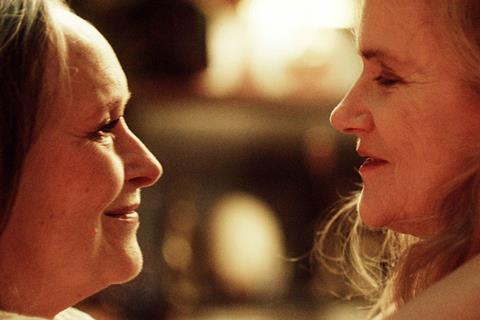 Two Of Us
Dir. Filippo Meneghetti
A Toronto 2019 premiere, Meneg­hetti's tender drama overcame formidable opposition from the likes of Gagarine to be selected as France's submission to the international feature film category. The likeable tale shows how a long-secret love between two next-door neighbours (Martine Chevallier and Germany's Barbara Sukowa) faces hurdles when one of them suffers a severe health incident, and her family is oblivious to the claims on her heart of the other. Magnolia Pictures releases in the US on February 5.
The United States Vs Billie Holiday
Dir. Lee Daniels
It has been 11 years since Daniels' Oscar and Bafta nominations for Precious, and this biographical drama — adapted from a chapter of Johann Hari's non-fiction book Chasing The Scream: The First And Last Days Of The War On Drugs — puts him back in the mix. Grammy-nominated singer Andra Day, performing the role of jazz artist Billie Holiday as she is targeted by a Federal Department of Narcotics sting operation, offers the hottest awards prospect. Paramount releases in the US in February.
The White Tiger
Dir. Ramin Bahrani
Bahrani earned four Independent Spirit nominations and one win across features Man Push Cart (2007), Chop Shop (2009) and Socrates (2019), and looks set to engage wider awards bodies with his self-penned adaptation of Aravind Adiga's 2008 Booker Prize-winning novel. Adarsh Gourav is attracting attention in a breakthrough lead role as an initially dutiful servant to a rich employer, who is inspired to consider his own hopes and dreams. Netflix will release in select cinemas in December and stream in January.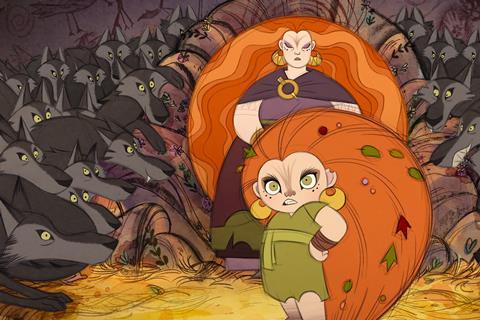 Wolfwalkers
Dirs. Tomm Moore, Ross Stewart
Director Moore was Oscar-nominated for The Secret Of Kells and Song Of The Sea, the first two films in an Irish folklore trilogy that is completed by this animated fantasy about a huntsman's daughter who befriends a mysterious girl living wild in the woods. Third time could be the charm for this picture, which premiered in Toronto and won the AFI audience award. GKIDS gave a limited cinema release in North America before a quick segue to Apple TV+ in December.
The World To Come
Dir. Mona Fastvold
Following her 2014 debut The Sleepwalker, Fastvold (who co-wrote TheChildhood Of A Leader and Vox Lux with partner Brady Corbet) has delivered a much-admired love story set in 1850s frontier America. A strong performance by lead actress Katherine Waterston is ably supported by Vanessa Kirby, also in the awards frame for Pieces Of A Woman, and Casey Affleck, who produced. Jim Shepard's adaptation of his own short story with Ron Hansen (The Assassination Of Jesse James By The Coward Robert Ford) is another awards possibility.
10 UK indies to see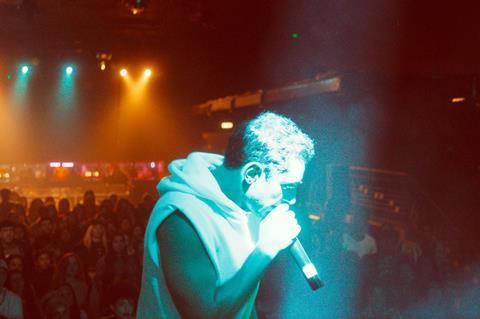 Calm With Horses
Screen Stars of Tomorrow Cosmo Jarvis and Barry Keoghan star in Nick Rowland's Ireland-set slow-burn thriller, which scooped 10 nominations at this year's British Independent Film Awards.
County Lines
Henry Blake's gritty drug-dealing drama — which stars Conrad Khan and Harris Dickinson, both possible for this year's Bafta EE Rising Star Award — is inspired by his work at a pupil referral unit.
Herself
Clare Dunne writes herself a powerful lead role in this Dublin drama about a mother of two, living in temporary accommodation, who builds a house. Phyllida Lloyd (Mamma Mia!, The Iron Lady) directs.
His House
Remi Weekes' horror has been building buzz since its Sundance debut, and stars Sope Dirisu and Wunmi Mosaku as South Sudan immigrants to the UK, plagued by an evil presence in the house they are allocated.
Limbo
Ben Sharrock's drama — following the lives of asylum seekers despatched to live on an unspecified fictional Scottish island — premiered at Toronto and then scooped a prize at San Sebastian.
Mogul Mowgli
Riz Ahmed — also in the mix for Sound Of Metal — stars in, co-writes and produces this tale of a British Pakistani rapper whose upcoming tour is torpedoed by illness. Bassam Tariq directs and co-writes.
Nowhere Special
James Norton stars in Uberto Pasolini's heartbreaking true story about a dying father looking for a family to adopt his son. Curzon bought the UK.
The Reason I Jump
Jerry Rothwell's immersive documentary — winner of the audience award for Sundance's world cinema doc section — explores the experiences of nonspeaking autistic people around the world.
Rocks
Sarah Gavron's London teen drama — scripted by playwright Theresa Ikoko and TV scribe Claire Wilson — is powered by a young cast of non-professionals.
White Riot
It's an even stronger documentary field than usual this year, but Rubika Shah's account of the Rock Against Racism movement (1976-1982) – which picked up prizes at BFI London, Berlin, Krakow and IndieLisboa film festivals – shouldn't be overlooked.
10 documentaries to see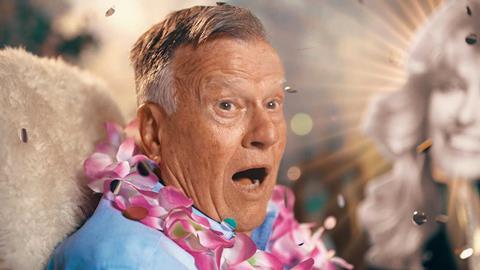 All In: The Fight For Democracy
Lisa Cortes and Liz Garbus chart the fightback against US voter suppression, focusing especially on Stacey Abrams, whose 2016 defeat for Georgia governor spurred a drive to register voters.
Athlete A
Bonni Cohen and Jon Shenk follow journalists at TheIndianapolis Star as they uncover a doctor's sexual abuse of young female US gymnasts.
Dick Johnson Is Dead
Winner of a special jury award at Sundance highlighting innovation in nonfiction storytelling, this film sees Kirsten Johnson (Cameraperson) helping her father prepare for the end of his life.
The Dissident
Bryan Fogel — who won the documentary Oscar for Icarus in 2018 — investigates the shocking murder of The Washington Post journalist Jamal Khashoggi at the Saudi consulate in Istanbul.
Gunda
Russian filmmaker Viktor Kosakovskiy's black-and-white, dialogue-free film about life on a pig farm.
MLK/FBI
Set for release by IFC Films in the US following play at Toronto and New York film festivals, Sam Pollard's film explores the US government's surveillance and harassment of Martin Luther King Jr.
Notturno
Gianfranco Rosi — who earned a documentary Oscar nomination in 2017 for Fire At Sea — offers an immersive portrait of those trying to survive conflicts in the war-torn Middle East.
On The Record
Kirby Dick and Amy Ziering explore rape allegations against former hip‑hop mogul Russell Simmons, levelled by former Def Jam A&R executive Drew Dixon and other women.
The Painter And The Thief
Benjamin Ree scooped the world cinema documentary special jury award at Sundance for this film recording the unlikely collaboration between a Norwegian art thief and his victim.
The Truffle Hunters
Another Sundance doc, Michael Dweck and Gregory Kershaw celebrate a dying breed of Italian forest foragers and their truffle-snuffling hounds.
10 performances to tempt voters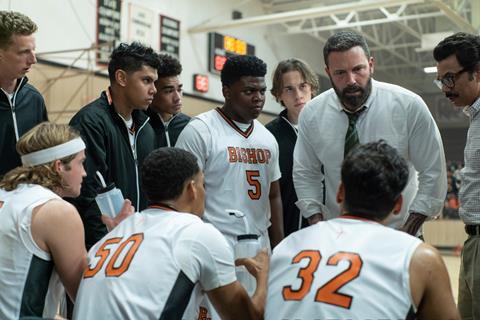 Ben Affleck inThe Way Back
Affleck — an Oscar winner for writing and producing, but never nominated as an actor — plays a troubled former basketball prodigy getting a shot at redemption in Gavin O'Connor's high-school drama.
Glenn Close inHillbilly Elegy
Awards buzz faded on Ron Howard's family tale, but do not count out the veteran actress — who has been Oscar-nominated seven times for acting, most recently withThe Wife, but has never won.
Eva Green inProxima
Opinions may divide on Alice Winocour's drama about astronauts preparing for a year-long mission on the International Space Station, but Green's performance bagged her a César nomination.
Julianne Moore inThe Glorias
Moore leads the pack of actresses playing Gloria Steinem in Julie Taymor's biographical drama, which also features Alicia Vikander, Janelle Monáe and Bette Midler in the cast.
Ntare Mwine inFarewell Amor
An Angolan immigrant is joined by his wife and daughter in the US — after 17 years — in this debut from writer/director Ekwa Msangi.
Michelle Pfeiffer inFrench Exit
Pfeiffer, seeking her fourth Oscar nomination, stars in Azazel Jacobs' comedy-drama about a Manhattan socialite relocating to Paris.
Eliza Scanlen inBabyteeth
Australia's Scanlen (Greta Gerwig's Little Women) captivates as an ill teen experiencing first love in Shannon Murphy's coming-of-age tale.
Anya Taylor-Joy inEmma.
The 2017 Bafta EE Rising Star nominee could have a busy Golden Globes this year — both for her hit Netflix show The Queen's Gambit and this Jane Austen adaptation by Autumn de Wilde.
Marisa Tomei inThe King Of Staten Island
TheMy Cousin Vinny Oscar winner shines as a longsuffering mum in Judd Apatow and Pete Davidson's collaboration about a firefighter's son with a serious case of arrested development.
Mark Wahlberg inJoe Bell
Oscar-nominated in 2007 as supporting actor in The Departed, and in 2011 for producing The Fighter, Wahlberg is back in the mix in Reinaldo Marcus Green's true tale of an anti-bullying crusader.