With international hit Parasite gaining momentum into awards season, South Korean sales agents come to AFM full of confidence.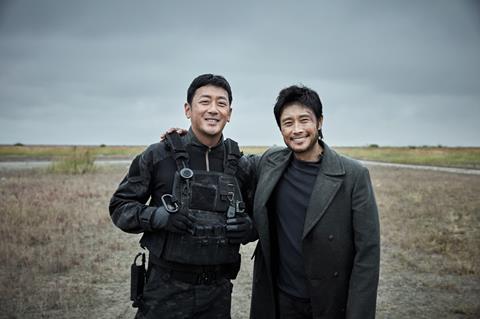 South Korean cinema has had a watershed year, with Bong Joon Ho's Parasite picking up the Palme d'Or in Cannes and jumping past 10 million admissions at home soon after its local release. Opening internationally, the film has also been breaking records and picking up buzz as an Oscar contender for more than just the international feature category.
South Korea had other local hits such as Extreme Job, which clocked up more than 16.2 million admissions and sits atop the Korean box-office chart for the year. Behind it in second place is Avengers: Endgame, which opened on April 24 and has taken 13.9 million admissions.
Also notable this year, Train To Busan actor Ma Dong-seok (aka Don Lee) has joined the Marvel cinematic universe after being cast in The Eternals. The prolific actor features in two of the Korean projects profiled here and hitting AFM: disaster thriller Ashfalland coming-of-age drama Start-Up.
South Korean sales agents will be showcasing other hot new features such as Ryoo Seung-wan's Mogadishu, Chung Ji-young's Black Money and a pair of comedies starring Na Moon-hee, the irrepressible old lady from hits such as Miss Granny and I Can Speak.
The 8th Night
Dir Kim Tae-hyoung
This fantasy thriller stars Lee Sung-min (The Witness), Park Hae-jun (Bring Me Home), Kim You-jung and Nam Da-reum, and features demonic beings that have been locked up in caskets for 2,500 years. When the monks protecting the vessels realise a creature has awakened, they must set out to find the one born to stop it.
Contact Hana Choi, kth
Ashfall
Dirs Lee Hae-jun, Kim Byung-suh
This disaster action drama stars Lee Byung-hun, Ha Jung-woo, Ma Dong-seok (aka Don Lee), Jeon Hye-jin and Bae Suzy. When Korea's tallest volcano — which is situated on the border between China and North Korea — erupts unexpectedly, the peninsula is left in chaos. A seismologist (Ma) suggests a way that could potentially stop a further explosion, while the help of a rogue North Korean officer (Lee Byung-hun) is sought to stop the imminent devastation. Currently in post-production, the film is set for local release later this year.
Contact CJ Entertainment
Black Money
Dir Chung Ji-young
Cho Jin-woong from The Handmaiden and Lee Hanee from Extreme Job star in Chung's crime drama, in which a prosecutor accused of sexually harassing a suspect who committed suicide sets out to prove his innocence, uncovering a tangled web of corruption. The film is set for release in Korea in late November.
Contact Contents Panda
The Closet
Dir Kim Kwang-bin
This horror mystery stars Ha Jung-woo as a recently bereaved husband who moves to the countryside with his daughter, where she starts to exhibit disturbing behaviour. When she disappears behind her large closet without a trace, he seeks help from Kyung-hoon (played by Kim Nam-gil), who insists they must journey into the dark realm to find his daughter. The film is in post.
Contact CJ Entertainment
Gang
Dir Jo Bareun
A world premiere at the recent Busan International Film Festival, Jo's feature debut is an action comedy set in a Korean high school. Known as the worst school in the country, some of its students have set up a fight club in the basement, where the only rule is that whoever wins becomes top dog for the year. The film stars Cha Jihyeok (Dokgo Rewind), Cho Seongi, Ok Yunjung (One Punch), Baek Jaemin and Lee Jeonghyeon (The Divine Fury).
Contact Finecut
Honest Candidate
Dir Chang You-jeong
Chang's comedy stars Ra Mi-ran (The Dude In Me), Kim Moo-yeol and Na Moon-hee (Miss Granny) in the tale of a female politician whose election campaign was progressing nicely until a visit to her reclusive grandmother leaves her cursed to tell only the truth. The film is set for local release in spring 2020.
Contact Contents Panda
A Little Princess
Dir Huh In-moo
Na Moon-hee, Kim Su-an and Chun Woo-hee star in this comedy about the exploits of Mal-soon, a tough grandmother in a Busan shanty town whose life is changed when a 12-year-old girl appears with her baby sister on her back, claiming to be the offspring of Mal-soon's runaway daughter. The film is set for local release on November 27.
Contact M-Line Distribution
Mogadishu
Dir Ryoo Seung-wan
Shooting has just started on Veteran director Ryoo's latest action drama, starring Kim Yoon-seok (1987: When The Day Comes), Zo In-sung (The Great Battle) and Huh Joon-ho (Default). In the late 1980s, North and South Korea were engaged in a diplomatic skirmish over their campaigns to join the United Nations. But when South and North Korean embassy diplomats find themselves trapped in Somalia's capital Mogadishu after civil war breaks out in 1990, these sworn enemies are forced to depend on each other to escape the chaos.
Contact Lotte Entertainment
Start-Up
Dir Choi Jung-yol
Starring Ma Dong-seok (aka Don Lee), Park Jeong-min, Jung Hae-in and Yeom Jung-ah, this drama follows Taek-il as he leaves home in defiance of his mother who wants him to go to college. While he finds a job as a delivery man for a Chinese restaurant, his friend Sang-pil starts out in the world of private loans with dreams of getting rich quick. As the two boys become adults, they come to experience a world that doesn't go their way. The film is set for local release in spring 2020.
Contact Contents Panda