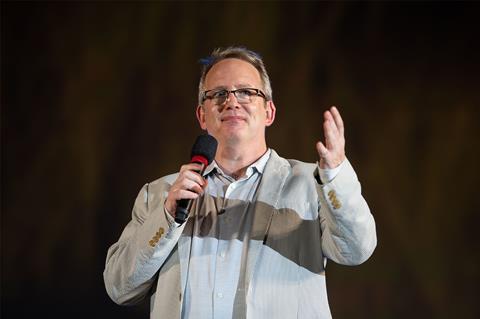 Amazon Studios head of motion picture production Ted Hope was at the Locarno film festival last week to collect the Raimondo Rezzonico price for producers who best epitomise the indie ethos.
The award recognised his many success as an independent producer with his production company Good Machine, such as Ang Lee's early films Eat Drink Man Woman and The Ice Storm, Todd Solondz' Happiness and Todd Fields' In the Bedroom.
It also honours his work at Amazon (which he joined in 2015), such as The Big Sick and Manchester By The Sea. The company's upcoming projects include Pawel Pawlikowski's Cold War, Luca Guadagnino's Suspiria, Mike Leigh's Peterloo and Felix Van Groeningen's Beautiful Boy.
Screen spoke to Hope at the Swiss festival about recent staffing changes at the company, and what's next for Amazon's film strategy.
How has your role changed since Jason Ropell left? [Hope and Matt Newman are now interim co-heads of the film department]
This is my second leadership change since I've been there. What's exciting is that for everyone who's been running the film side it's always been about singular bold visions, [so] nothing's changed. They asked me to try and make great movies that people love. Chris Bird [Worldwide Head of Film Licensing] and I work together in parallel tracks.
What impact has Jennifer Salke made since she replaced Roy Price as head of Amazon Studios in February?
It's still to be determined. I really like her, that's the best I can do right now. We talk about opportunity and what's there. I think that Jen's history has also been one of singular voices and a high-quality bar, but it's been with really popular shows. I can only benefit from that but it's a different business TV and movies.
Do you think that the types of films Amazon are involved in will change, or get more commercial?
Right now, I honestly don't expect things to change that much, other than the opportunities that we've had will only continue to grow. If you look at The Big Sick, or Manchester By The Sea, or even the films that haven't worked as well, I've always believed that there's a bigger audience than has previously been recognised for films that deliver transformative experiences. Both of those films way overperformed industry expectations.
We're super fortunate as consumers to live in an era of entertainment abundance. The film industry used to be structured around scarcity, we kept people from seeing things and people had to learn to like what they got. Now you have two global streaming platforms and also more than 10 other companies that have declared their interest in moving into that realm. We're right at the tip, the very beginning of that 'problem' of abundance.
I personally use theatrical as a key differential in that realm. When you look at what works theatrically you start to see that a different sort of movie, when supported adequately, can deliver a bigger return than we previously thought. Because it has that level of success… we take bigger bets in that realm, so those types of movies can resonate even more.
So, you see the volume of 'high-quality' films made by Amazon increasing?
Audiences are built by a consistent supply of quality goods in an environment they trust. So, if you deliver a transformative experience on an annual basis, people will want it on a semi-annual basis and so on. The better food I have the more I like to eat, and I think that's going to be true on the movie side.
There are some people who are talented in a specific genre, some who can work across multiple genres, some people work really well in high volume capacity. The emerging eco-system that utilises global streaming platforms is accommodating all of those [types of artists].
Is Amazon still committed to theatrical distribution?
There should be no strict rules. There are different strategies for different films.
Cinema is that dialogue between the audience and the screen, that's where it exists – when you start to think about how to give them not just an experience that they learn to like but truly giving them something more it changes.
I see it working with artists in an empowered situation because we have so much money. What I'm most pleased with in my time at Amazon is that many filmmakers will say it's been their best professional experience solely because, not just me but throughout the company, we're there to connect with them to support their story within set parameters. When that works we get better movies.
Has the recent diversity debate, fuelled by Weinstein scandal, changed how you do business?
We want to make something that is culturally relevant, you can't deny that is part of the dialogue. [This] opens up the doors to a much more diverse group of films than anyone got to make five years ago, that's exciting. People also recognise that in this world of abundance, to tell a story in a fresh way you need to get new creators, that also opens the door to whole bunch of different voices.
Our slates, in terms of what's in development, feature a much wider group of storytellers than I ever thought would be possible, without having an agenda. The agenda is to make movies that matter. It's exciting that the gatekeepers have changed.
I might be a white straight male who's had tremendous privilege in his life, but I don't like what a traditional studio exec would like. Its completely changing who we are asking to make the comprises, its healthy that people like me are having to walk in other people's shoes in the cinema.