Australian festivals are increasingly high-profile launch pads, and their funding streams are taking local projects to the next level. By Sandy George.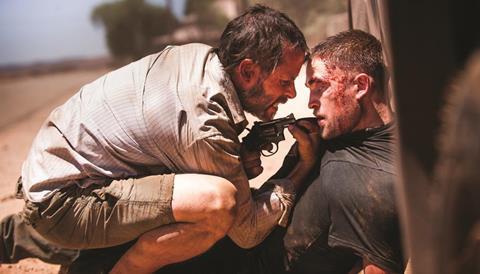 "Arthouse films may be struggling [in cinemas] but film festivals are hugely popular," says film-maker Robert Connolly about the current situation in Australia, where local films in particular are benefiting from home festival support.
Adelaide Film Festival director Amanda Duthie says: "The Australian and South Australian films we show are always the best attended; not just those we invested in but all of them did well."
As implied, Adelaide acts as more than just a platform. Like Melbourne International Film Festival (MIFF) it invests in local films and, like Sydney, it stages an international competition. Recent Adelaide winners include Reha Erdem's Jin and Denis Villeneuve's Incendies.
Spear, the feature debut of Stephen Page, director and choreographer at Bangarra Dance Theatre, received investment through Adelaide's HIVE, a fund for artists from disciplines other than film. In production now, it is about Aboriginal clans in an apocalyptic world.
Through the main fund, Adelaide also backed and launched Rolf de Heer's Charlie's Country, which went on to Cannes. It uses creative criteria such as bold and innovative storytelling, and also requires projects to contribute culturally and economically to South Australia. The investment limit is generally $137,000 (a$150,000) but the projects are usually small, modestly budgeted films.
"You can't quantify the commercial benefit but it's definitely there," says Connolly about festivals as launch pads. He secured Premiere Fund finance from MIFF for titles including The Turning and children's film Paper Planes, which has a January 15 release through Roadshow.
MIFF's opening and closing night films this year were both Australian - Predestination and Felony - but neither were financed out of its Premiere Fund. As the oldest festival in the country, MIFF is much-admired and this year held an innovative Critics Campus.
'You can't quantify the commercial benefit but it's definitely there'

Robert Connolly, film-maker
Paper Planes won the inaugural $89,000 (a$100,000) Film Prize - Australia's largest award - at CinefestOz Film Festival, based in Western Australia. The event shows Australian and French films - because of historic links to that country - although the French side of the festival is a little under-developed.
Some Australian media players have been quick to criticise the cinema performance of homegrown films without acknowledging their festival popularity. That said, the industry is grappling with how to release local films.
"We are trying to work out how to get to audiences that want Australian films, as it doesn't seem to be in theatres the way it used to be. There's a mythical idea we can have a 30%-40% market share and it's just not going to happen. We have to look at innovative distribution platforms and hybrid models," says Screen Australia chief executive Graeme Mason.
Some producers are already looking at their options: immediately after Kasimir Burgess's Fell screened in competition at Sydney Film Festival, it was available for two days via the Sydney and Adelaide festival websites.
Connolly is also exploring innovative distribution options under his Cinema Plus banner.
Sydney, which is not much younger than Melbourne, does not use investment to secure Australian films but its competition gives it leverage. This year's local titles were Ruin, The Rover and Fell but it was Luc and Jean-Pierre Dardenne's Two Days, One Night that took the Sydney Film Prize. Festival director Nashen Moodley has not radically veered from predecessor Clare Stewart's path and as usual there were plenty of international directors in the foyers of the gorgeous State Theatre.
Connolly believes the Australian production industry is polarising: producing small, innovative films or big multiplex pictures but little in between. Therefore festival support for the former is good news for director Stephen Lance, whose debut My Mistress was a CinefestOz finalist and who one senior Australian film executive said "may be our next Baz" (Luhrmann).
"Australian films will attract an audience if they're unique enough. It's about fostering original voices and encouraging brave new cinema to woo back audiences," says Connolly.
Australian festivals
Adelaide Film Festival
Oct 2015
Backs Australian films with AFF Investment Fund
$23,000 (a$25,000) international competition
adelaidefilmfestival.org
Brisbane Asia Pacific Film Festival
Nov 29-Dec 14, 2014
Serves as the judging platform for the Asia Pacific Screen Awards (being presented on Dec 11)
brisbaneasiapacificfilmfestival.com
CinefestOz Film Festival
August 26-30, 2015
Regional event in Western Australia for local and French films
$92,000 (a$100,000) Australian film competition
cinefestoz.com
Melbourne International Film Festival
July 30-Aug 16, 2015
Premiere Fund for Australian films
Major financing market
miff.com.au
Sydney Film Festival
June 3-14, 2015
$55,000 (a$60,000) international competition
sff.org.au