With a month to go until Cannes Film Festival reveals its 2018 line-up, Screen explores what could debut in Official Selection or one of the parallel sidebars this May.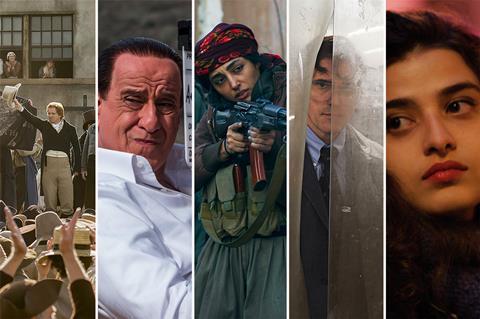 Cannes Film Festival's 71st edition, running May 8-19, will unfold against the backdrop of a turbulent and politically-charged time for cinema. As the #MeToo and Time's Up movements lead the charge against sexual harassment and gender discrimination, the phenomenal box-office success of Black Panther has further pushed the case for racial diversity on the big screen
It remains to be seen whether the winds of change blowing from across the Atlantic will be embraced by Cannes with increased gender parity in Official Selection and Un Certain Regard – a move that would break with the festival's 70-year tradition of male-dominated line-ups. Such a revolution would, however, be timely, as this year marks the 50th anniversary of the volatile civil unrest and popular protests which paralysed France and the festival in 1968.
North America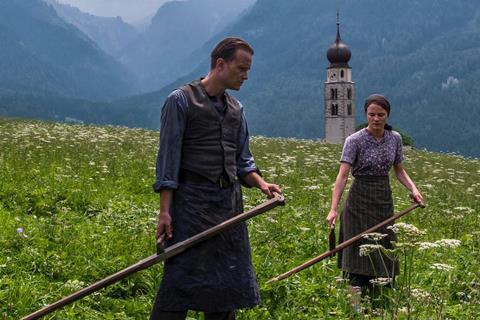 Seven years after he won the Palme d'Or for The Tree Of Life, all eyes are on whether Terrence Malick will finish his ninth narrative feature Radegund, which stars August Diehl as an Austrian conscientious objector in the Second World War, in time for Cannes. Fellow festival favourite Xavier Dolan, whose last two films Mommy and It's Only The End Of The World both played in Competition, would seem primed to return with The Death And Life Of John F. Donovan but the film is thought to be heading for autumn festivals instead.
Elsewhere, Belgian filmmaker Felix van Groeningen's Beautiful Boy, starring Steve Carell and Timothee Chalamet as a father and son struggling with addiction, Tim Sutton's Donnybrook and Call Me By Your Name director Luca Guadagnino's Suspiria remake could also make an appearance. Teen comedy Eighth Grade, the feature directorial debut of The Big Sick actor Bo Burnham, is thought to be heading for Directors' Fortnight.
Other potential titles out of North America include Jake Scott's The Burning Woman, a thriller starring Sienna Miller; Joel Edgerton's Boy Erased; Karyn Kusama's modern western Destroyer; Hold The Dark from Cannes regular Jeremy Saulnier; Christina Choe's Nancy; and Jordana Spiro's Night Comes On. Julian Schnabel's At Eternity's Gate, which stars Willem Dafoe as Vincent van Gogh and Oscar Isaac as Paul Gauguin, is currently in post, and could well be ready for Cannes.
Possible titles for out of competition play include Solo: A Star Wars Story, Ocean's 8, The Incredibles 2, Jurassic World: Fallen Kingdom and Sicario 2: Soldado.
UK & Ireland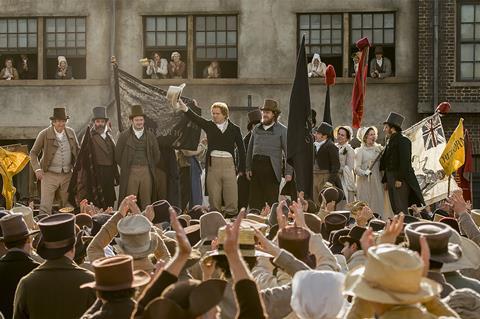 The UK had a strong presence in 2017 topped by joint best screenplay winners Lynne Ramsay's You Were Never Really Here and Yorgos Lanthimos's The Killing Of A Sacred Deer. While Lanthimos's follow-up, bawdy period drama The Favourite, is believed to be aiming for an autumn debut, there are plenty of UK titles thought to be heading for the Croisette. Among titles tipped for a possible Cannes splash are Joanna Hogg's romantic mystery The Souvenir: Part 1, executive-produced by Martin Scorsese and starring Robert Pattinson, Tom Burke, Ariane Labed and Richard Ayoade, and Mike Leigh's Peterloo, about the infamous massacre during a peaceful rally in Manchester in 1819. Terry Gilliam is also reputed to have secured an out-of-competition slot for The Man Who Killed Don Quixote, two decades after he started trying to get the project off the ground.
Other potential entries include the untitled project from Four Lions director Chris Morris; hybrid period drama Fanny Lye Deliver'd from Thomas Clay, whose last two films Soi Cowboy and The Great Ecstasy Of Robert Carmichael also premiered at Cannes; Chanya Button's literary romance Vita And Virginia; Lenny Abrahamson's gothic horror tale The Little Stranger; Adewale Akinnuoye-Agbaje cross-cultural drama Farming, starring Kate Beckinsale, Damson Idris and Gugu Mbatha-Raw; and Peter Strickland's In Fabric.
Some of these titles are, however, believed to be aiming for an autumn berth, as is the case for Josie Rourke's Mary Queen Of Scots, Carol Morley's neo-noir Out Of Blue and Ralph Fiennes's The White Crow.
Potential UK documentaries include Asif Kapadia's Maradona, which would be a good fit, given the director's long-standing relationship with the festival and Thierry Frémaux's love of soccer; Kevin Macdonald's Whitney, about late megastar Whitney Houston; and Tim Travers Hawkins's XY Chelsea. It is not certain, however, whether any of them will be out of post-production in time. Similarly, The Eyes Of Orson Welles by Mark Cousins seems an obvious selection for Cannes Classics if ready.
France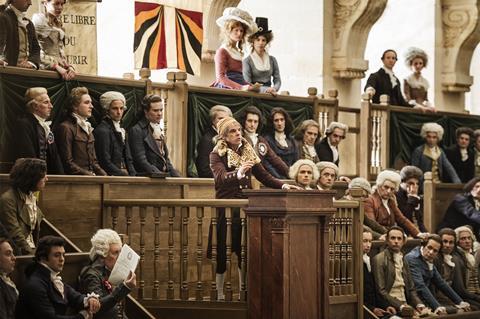 Pierre Schoeller, whose last feature The Minister went down a storm in Un Certain Regard in 2011, is being tipped for a Competition slot with his lavish French Revolution drama One Nation, One King, starring an ensemble cast including Louis Garrel, Laurent Lafitte and Denis Lavant.
Other potential Competition titles include Stéphane Brizé's At War, which reunites the director with Vincent Lindon who stars as a union leader fighting a factory closure; Jacques Audiard's English-language western comedy The Sisters Brothers starring John C. Reilly and Joaquin Phoenix; Olivier Assayas's Non-Fiction, set against the backdrop of the literary world; and Guillaume Nicloux's To The Ends Of The Earth.
Buzz is strong around Eva Husson's contemporary tale Girls Of The Sun, starring Golshifteh Farahani as the commander of a Kurdish female battalion fighting extremists; Claire Burger's C'est Ça L'Amour, her first solo feature after co-directed debut Party Girl which opened Un Certain Regard in 2014 and won the Caméra d'Or; Philippe Faucon's star-crossed migrant love story Amin; Yann Gonzales's Knife + Heart, starring Vanessa Paradis as a gay-porn producer in late 1970s Paris; and Mia Hansen-Love's Maya starring Roman Kalinka as a war reporter who is taken hostage while on assignment in Syria and then heads to India on his release to recover from the experience.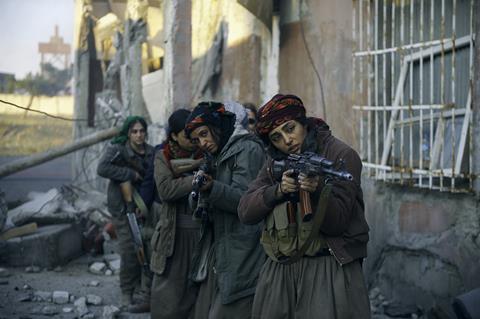 Emmanuel Mouret's Mademoiselle De Joncquières and Sébastien Marnier's School's Out may also secure a slot, while hopes are high that Claire Denis will finish her sci-fi tale High Life, starring Robert Pattinson, Mia Goth and Juliette Binoche, in time for a Cannes splash.
There is also a question mark around whether Jean-Luc Godard will return to the Palais des Festivals with his long-awaited The Image Book, 50 years after he shut the festival down alongside Claude Lelouch at the height of the 1968 protests.
Other French titles in the frame, perhaps for a parallel sidebar, include Benoît Delépine and Gustave Kervern's quirky I Feel Good starring Jean Dujardin as a freeloading slacker; Valeria Bruni-Tedeschi's The Summer House; and Cédric Anger's Paris Pigalle, starring Gilles Lellouche and Guillaume Canet as two police investigators who get caught up in the porn industry.
A host of strong first-time films are also vying for a Cannes debut, including Marie Monge's Treat Me Like Fire, set against the underground gambling scene in Paris and starring Tahar Rahim and Stacy Martin; Antoine Raimbault's murder trial drama Conviction; Margaux Bonhomme's Head Above Water, starring Diane Rouxel as young woman who takes on the care of her mentally and physically challenged sister; and Lou Jeunet's racy Belle Epoque romance Curiosa, set against the backdrop of the erotic photography scene of the time. Also up for possible contention are Jean-Bernard Marlin's Sheherazade, revolving around a bunch of delinquent youths in the city of Marseilles, and Romain Laguna's Les Reptiles in which a meteorite sparks a strange chain of events in the countryside around Béziers and Sète in southwestern France.
Germany & Austria
German titles with Cannes potential include Sebastian Schipper's English-language debut Roads and Margarethe von Trotta's Ingmar Bergman – Legacy Of Defining Genius.
Out of Austria, Markus Schleinzer, whose debut film Michael was a Palme d'Or contender in 2011, could return with his second feature Angelo, based on the true story of a young African boy brought to Europe at the age of 10 to work as a servant in the Viennese court.
Russia
Kirill Serebrennikov has submitted his latest feature Leto (The Summer), set against the backdrop of the Perestroika and Leningrad rock scene in 1983. It is unclear whether the filmmaker – whose The Student premiered in Un Certain Regard in 2016 – would be able to attend himself, given he is still under house arrest on disputed corruption charges. Other potential Russian titles include documentarian Victor Kossakovsky's BFI-backed Aquarela, exploring the power of water, and Yuri Bykov's thriller The Factory, about a group of factory workers who go to war against a local oligarch and his heavies.
Ukraine
Cannes habitué's Sergei Loznitsa's fourth feature Donbass, an exploration of the themes of war and peace, would be an obvious selection, but the film may not finish post-production in time for Cannes.
Benelux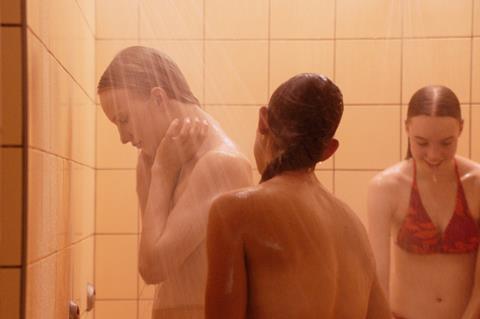 Flemish hopefuls include Lukas Dhont's Girl, about a 15-year-old transgender girl undergoing gender realignment treatment; Koen Mortier's Angel, a fictional account of the death of Belgian cyclist Frank Vandenbroucke, recounted by the Senegalese prostitute who loved him in his final days; and Hellhole by Bas Devos, following a doctor doing house calls against the backdrop of the Brussels security lockdown in June 2016.
Potential Cannes debuts from Belgium's French-speaking community include Olivier Masset-Depasse's suburban psychological thriller Mothers' Instinct; Joachim Lafosse's mother-and-son tale Keep Going about a horse-trekking trip across Kyrgyzstan; Guillaume Senez's Nos Batailles, about a trade union rep and absent father left in charge of his children after his wife walks out; and Dany, the directorial debut of actor François Damiens who also stars as an ex-convict searching for his estranged son.
Out of the Netherlands, Take Me Somewhere Nice, the debut feature of Bosnian-Dutch filmmaker Ena Sendijarevic, whose short Import played in Directors' Fortnight, is creating good buzz. Other potential titles include Esther Rots's Retrospekt (previously titled Mette), about a happily married woman whose life unravels after she intervenes in a marital dispute that spins violently out of control.
Italy
Italy could put in a strong showing this year. Industry buzz is that a special cut for Cannes of Paolo Sorrentino's Silvio Berlusconi biopic Them, starring Toni Servillo as the controversial Italian statesman, will feature somewhere in Official Selection.
Other Italian hopefuls include Alice Rohrwacher's time-travel tale Lazzaro Felice; Valeria Golino's drama Euphoria, co-starring Riccardo Scamarcio and Valerio Mastandrea as two estranged brothers forced together by circumstances; Matteo Garrone's revenge drama Dogman; and Andrea Caccia's dialogue-free Gold Is All There Is, which follows five men at different stages of their lives. Also in the Cannes conversation is The Guest, Duccio Chiarini's bittersweet comedy drama about a university researcher who is kicked out by his girlfriend after a pregnancy scare throws their relationship into question.
Spain
Iranian director Asghar Farhardi's Spain-set Everybody Knows, starring Penelope Cruz, Javier Bardem and Ricardo Darin, has strong Competition buzz. Paris-based Memento Films Distribution has scheduled a May 9 release in France, suggesting a Palais des Festivals debut.
Other films with strong Spanish connections that could be ready in time include Victor Moreno's The Hidden City, exploring the subterranean world of any big city; Alvaro Brechner's Memories From The Cell, starring Antonio de la Torre as former Uruguayan president Jose Mujica who was imprisoned for 12 years following a military coup; and Jaime Rosales's Petra.
Central & Eastern Europe
Pawel Pawlikowski's Polish-French-language Cold War, a love story set against the backdrop of 1950s Poland, Paris and Berlin, is seen as a leading contender for a Competition slot. Poland's hopes are also pinned on Raúl De La Fuente and Damian Nenow's Another Day Of Life, an adaptation of Polish journalist Ryszard Kapuscinski's book about his time spent covering the civil war in Angola in the 1970s.
Agnieszka Smoczynska's second film The Fugue, about a woman who regrets becoming a mother, is also ready. The director's debut picture The Lure, about singing carnivorous mermaids, premiered at Sundance in 2016.
Hungary's László Nemes is also expected to return to Competition with Budapest-set costume drama Sunset, his second feature after Cannes Jury Prize winner and Oscar-winning debut Son Of Saul.
Potential titles out of Bulgaria, currently in the festival spotlight after Adina Pintilie's Berlinale Golden Bear win for Touch Me Not, include Nadejda Koseva's surrogate mother tale Irina, while buzzy titles out of the Balkans include Serbian director Ognjen Glavonic's The Load, about a truck driver trying to travel from Kosovo to Belgrade to deliver a mysterious package at the height of the NATO bombing of Serbia in 1999.
Nordics
Will this be the year that Danish director Lars Von Trier is finally welcomed back into the Cannes fold, seven years after being declared "persona non grata" by the festival for Nazi comments? His psychological drama The House That Jack Built, starring Matt Dillon in the title role alongside Riley Keough, Uma Thurman and Ed Speleers, is ready, and Frémaux reportedly wants him back.
Other Danish productions with Cannes potential include Janus Metz and Sine Plambech's documentary Between Two Worlds, following four Thai-Danish marriages over the course of ten years. Metz's multi-prize-winning Armadillo kicked off its career in Cannes in 2010, winning the Critics' Week grand prize.
Potential Cannes titles out of Sweden include Peter Grönlund's second feature drama Goliath about the son of a drug dealer trying to escape the family business; Johannes Nyholm's relationship drama Koko-di, Koko-da; and Anna Odell's as-yet-untitled project, details of which are under wraps.
Jane Magnusson's Bergman: A Year In A Life, commissioned for the centenary of the birth of Ingmar Bergman, should be a shoo-in for Cannes Classics with its timely examination of the Swedish auteur's complicated personal life.
Icelandic hopefuls include Benedikt Erlingsson's drama A Women At War, about a woman on an environmental mission to protect the Highlands of Iceland, and Kristín Jóhannesdóttir's revenge drama Alma, starring Snæfrídur Ingvarsdóttir and the late Emmanuelle Riva. It marks a return to filmmaking for Jóhannesdóttir who was last in Cannes in 1992.
Norwegian productions taking aim at Cannes include Mats Grorud's feature-length animation The Tower, about three generations of a Palestinian family living in a refugee camp in Lebanon.
Australia
Potential titles out of Australia include Jennifer Kent's The Babadook follow-up The Nightingale, an 1825-set period thriller about a woman who takes revenge on the man who murdered her family.
Latin America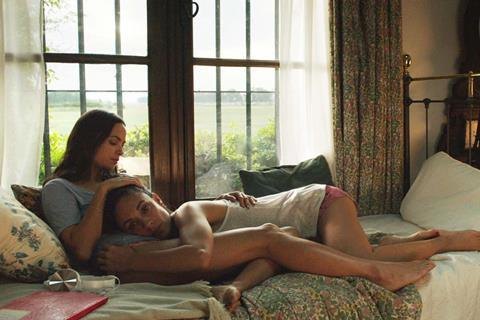 Buzzy titles out of Colombia include husband-and-wife team Ciro Guerra and Cristina Gallego's Birds Of Passage, about an indigenous Wayuu family that gets involved in Colombia in the 1970s, and Alejandro Landes' child-soldier drama Monos.
Argentine hopes are pinned on filmmaker Pablo Trapero's La Quietud, starring Bérénice Béjo as a woman who returns home to the family estate from France following her father's death, reopening old wounds in the process. Director Benjamin Naishtat, whose 2010 short El Juego screened in Official Selection, could also return with third feature Rojo.
Mexico could be out in force with Alfonso Cuaron's family saga Roma, set in Mexico City in the 1970s, and Carlos Reygadas's Where Life Is Born, about a man coming to terms with the fact his wife has fallen for another man.
Buzz is also good on Chilean director Dominga Sotomayor's picture-locked drama Late To Die Young, about a group of teenagers growing up in an alternative community in the foothills of the Andes in the 1990s. Brazilian filmmaker Gabriel Mascaro's "erotic gospel film" Overgod could also be ready in time.
Another potential inclusion is the Ecuadorian film Son Of Man, co-directed by Jamaica Noproblem and Pablo Agüero, about a teenager living in the US who is summoned adventurer father who he barely knows to accompany him on an expedition deep in the Ecuadorian jungle to find the lost treasure of the last Incan emperor, Atahualpa.
Asia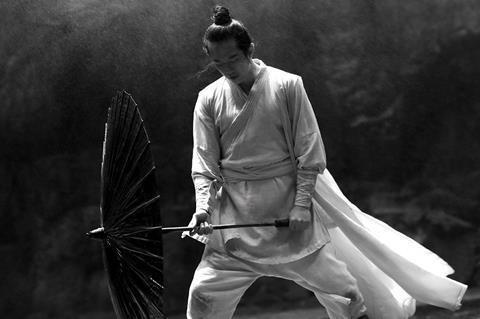 China could be present with Jia Zhangke's Ash Is Purist White, Bi Gan's Long Day's Night Into Night, which is rushing through post-production, and Zhang Yimou's Shadow. Japanese titles in the mix include Koji Fukada's The Man From The Sea, Naomi Kawase's Vision, starring Juliette Binoche as a journalist on the trail of a rare herb in rural Japan, and, potentially, Hirokazu Kore-eda's Shoplifters, although that may not be ready in time.
Also out of China, there is Joan Chen's English, set against the backdrop of the Cultural Revolution, Jiang Wen's Hidden Man, about a young swordsman in 1930s China trying to solve a five-year-old murder case, and Zhai Yixiang's Mosaic Portrait, following a journalist as she delves in to the controversy surrounding a teenager's pregnancy.
Korean hopes are pinned on Lee Chang-dong's Burning, co-written by the director and Oh Jung-mi and based on the short story Barn Burning by Japanese writer Haruki Murakami. It is Lee's first film in eight years since the Cannes Best Screenplay Award winner Poetry.
Thai director Phuttiphong Aroonpheng's Manta Ray (previously known as Departure Day) is also generating Cannes buzz. It follows a Thai fisherman on the Thailand-Myanmar border who helps save a member of the persecuted Rohingya people when he washes up on the shore.
Middle East & Turkey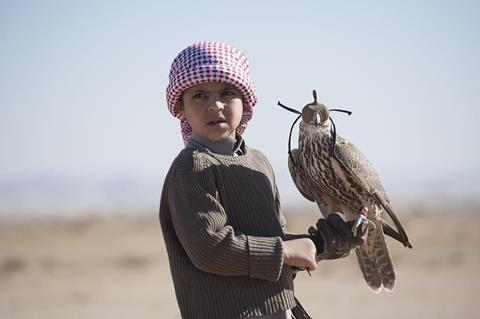 As Saudi Arabia lifts its 35-year ban on public cinemas, the country could make its Cannes debut with the meditative work Joud directed by Andrew Lancaster for the King Abdulaziz Center for World Culture.
Tunisian director Mohamed Ben Attia's drama Weldi, about a father who goes in search of his Isis recruit son, is currently in post and aiming for Cannes.
Other potential titles out of the region include Syrian filmmaker Gaya Jiji's My Favourite Fabric, capturing life in pre-revolutionary Damascus through the eyes of a stifled young woman who finds liberation in a friendship with a local brothel madam, and Israeli director Nimrod Eldar's The Day After I'm Gone, revolving around a single father and his daughter.
Out of Egypt, Egyptian-Austrian director Abu Bakr Shawky's drama Yomeddine, about a man raised in a leper colony who sets off across Egypt with his beloved donkey in search of this family, is also aiming to set down in Cannes, as is Palestinian director Sameh Zoabi's comedy Tel Aviv On Fire, about a young Palestinian producer working on an Israel spy romance who becomes locked in a web of intrigue.
Turkish director Nuri Bilge Ceylan's upcoming film The Wild Pear Tree is seen as a strong contender for Competition. It is his eighth film after 2014 Palme d'Or winner Winter Sleep.
Serhat Karaaslan's Passed By Censor, about a prison officer who falls for the wife of an inmate, will also be ready in time.
Iraqi-Kurdish director Hiner Saleem's Who Killed Lady Winsley?, revolving around an investigation into the death of a famous American novelist on the Turkish island of Büyükada by a famous detective, is also in post-production and could be a candidate.
A potential submission out of Lebanon is Nadine Labaki's provisionally-titled third film Capharnaüm, revolving around the issue of children's rights, if ready.
Africa
Rwandan director Joël Karekezi's Congo-set lost soldier drama The Mercy Of The Jungle and Kenyan filmmaker Wanuri Kahiu's Rafiki, about two girls who form an unlikely friendship when their fathers run for opposing parties in local elections in Nairobi, could be two African films making it to the Croisette.
India
Potential titles out of India include Ivan Ayr's Soni, exploring the country's patriarchal gender politics through the experiences of a Dehli policewoman. It is produced by Kartikeya Singh, who brought Gurvinder Singh's The Fourth Direction to Cannes in 2015.
There is also buzz around ambitious fantasy epic Tumbad, set against the backdrop of colonial India in the 1930s and '40s, which has been five years in the making. It is the debut feature of Rahi Anil Barve, whose credits include Manjha, and is produced by Recyclewala Films, the joint company of actor Sohum Shah, who appears in the film, and Anand Gandhi.
Other titles in the frame include Tamil director Vetri Maaran's Vada Chennai, a fresco of the recent history of the city of Chennai starring southern Indian cinema star Dhanush that is expected to have a running time of four to five hours. Directors' Fortnight – which championed Gangs Of Wasseypur – seems like a perfect home for the ambitious work.
Animation
This could be a strong year for feature-length animation with a crop of works coming to fruition in time for Cannes. Among them are Mats Grorud's The Tower, Michel Ocelot's Dilili In Paris and Mamoru Hosada's Mirai No Mirai.
Contributors: Martin Blaney, Jeremy Kay, Gabriele Niola, Jean Noh, Vladan Petkovic, Liz Shackleton, Silvia Wong