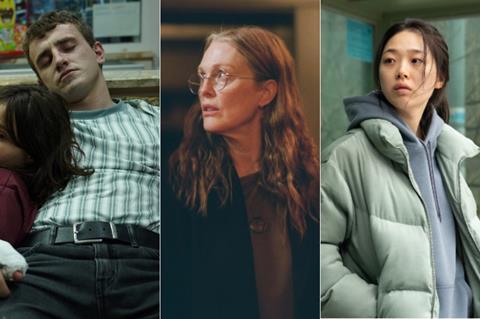 Screen staff preview each of the titles in the Cannes Critics' Week section, which this year includes films from Jesse Eisenberg, Charlotte Wells and July Jong.
Aftersun (UK-US)
Dir. Charlotte Wells
Scottish writer/director Wells' feature debut unravels around Sophie as she processes her complex relationship with her father through memories of a holiday they shared 20 years prior. Francesca Corio and Celia Rowlson-­Hall star as the young and adult Sophie respectively, with Paul Mescal playing Sophie's father. The film took part in the 2020 Sundance Institute directors and screenwriters labs, and is produced by Amy Jackson of Unified Theory Productions and Adele Romanski, Barry Jenkins and Mark Ceryak of Pastel, with backing from BBC Film, BFI and Creative Scotland in association with Tango.
Contact: Charades
Alma Viva (Port-Fr-Bel)
Dir. Cristele Alves Meira
Portuguese-French actress turned director Alves Meira presented her shorts Campo De Viboras and Invisivel Heroi in Cannes Critics' Week in 2016 and 2019 respectively, and now returns with her debut feature, co-written with Laurent Lunetta. The film follows a sensitive young girl trying to come to terms with the death of her grandmother. The director took inspiration from the summers she spent in Tras-Os-­Montes, her mother's village in Portugal. France's Fluxus Films, Portugal's Midas Filmes and Belgium's Entre Chien et Loup produce.
Contact: Kinology
Everybody Loves Jeanne (Fr-Port)
Dir. Céline Devaux
Irreverent French actress and comedian Blanche Gardin stars in the latest from Devaux, a 2017 Venice Horizons winner with her short You Will Be Fine (Gros Chagrin) and previously best known for her animation work. Gardin plays Jeanne, a brilliant and popular French businesswoman in her late thirties who seems to have the world at her fingertips, but in fact is deeply in debt. As she tries to hold her life together, she is in dispute with 'Little Ghost', her inner voice (shown in animated form). Receiving a special screening in Critics' Week, the film is produced by France's Les Films du Worso and is a co-­production with Portugal's O Som e a Furia.
Contact: Elle Driver
Imagine (Iran)
Dir. Ali Behrad
There is a flavour of Jim Jarmusch's Night On Earth to this Iranian drama (whose local title is Tasavor) about a taxi driver in Tehran, roaming the streets after dark, in love with a woman he cannot have. Leila Hatami leads the cast alongside Mehrdad Sedighian. Young Iranian director Behrad, following up on his 2020 short Herman, has an unusual background for a filmmaker, having graduated in engineering. Imagine is also notable as the first Iranian title in Critics' Week in two decades. Producer Javad Noruzbegi is also in Cannes this year with Saeed Roustaee's Competition title Leila's Brothers.
Contact: Hengameh Panahi, Celluloid Dreams
Love According To Dalva (Bel-Fr)
Dir. Emmanuelle Nicot
The feature debut of writer/director Nicot (2016 short Snatched, aka L'Arr­ache), Love According To Dalva is the story of the eponymous 12-year-old (played by newcomer Zelda Samson) who finds herself placed into state care after her father is arrested. Produced by Julie Esparbes for Belgium's Hélicotronc and Delphine Schmit of France's Tripode Productions, the project won the Eurimages co-production development award at the Rome Mercato Internazionale Audiovisivo (MIA) co-production market and pitching forum last October.
Contact: mk2 Films
Next Sohee (S Kor)
Dir. July Jung
Writer/director Jung made her feature debut in Un Certain Regard in 2014 with A Girl At My Door, starring Doona Bae, and returns this year with her second feature — also starring Bae — as the closing film for Critics' Week. Kim Si-eun plays a gutsy vocational school student who lands a prized internship at a major internet provider's call centre, but it turns out to be an over-pressured nightmare that leads to her death. Bae stars as the detective who investigates. South Korea's TwinPlus Partners and Crank-up Film produce.
Contact: Finecut
The Pack (Col-Fr)
Dir. Andres Ramirez Pulido
Bearing a distinguished short-film track record that saw Eden premiere at the Berlinale in 2016 before playing Busan and Cairo, followed by Damiana in Cannes' shorts competition a year later, Bogota-born Ramirez Pulido heads to the Croisette with his feature debut. The Pack (La Jauria) takes place at an experimental juvenile reform centre in the jungle where a youngster's past catches up with him when a former criminal accomplice arrives. The feature received support from the CNC, GAN Foundation, FDC Proimagenes and the Hubert Bals Fund, and won the Mactari Special Award at this year's Cinélatino, Rencontres de Toulouse. Producers are Colombia's Valiente Gracia and France's Alta Rocca Films.
Contact: Agathe Mauruc, Pyramide
Sons Of Ramses (Fr)
Dir. Clément Cogitore
French video artist and filmmaker Cogitore returns to Critics' Week after making waves in 2015 with Afghan war drama The Wakhan Front. His new film, receiving a special screening, touches on mysticism and social inequality: Ramses (fast-­rising, César-­nominated Karim Leklou) is a clairvoyant, hustler and poet based in the Goutte d'Or district of Paris who pretends he can contact the dead, but when some delinquent youths from Tangier disrupt the neighbourhood, he has a real vision. The film (known in French markets as Goutte d'Or) is produced by Jean-Christophe Reymond through Paris-based Kazak Productions, in co-production with France 2 Cinéma.
Contact: mk2 Films
Summer Scars (Fr)
Dir. Simon Rieth
Prolific young French director Rieth, whose six short films have screened on the international festival circuit, presents his feature debut Summer Scars (Nos Ceremonies). It concerns two brothers harbouring dark secrets about an incident from an idyllic summer years before, when they played dangerous games of death and chance. An encounter with their childhood sweetheart brings troubling memories to the surface. Ines Daien Dasi produces for Les Films du Poisson, in co-­production with Manuel Chiche for The Jokers subsidiary Spade; The Jokers distributes in France.
Contact: Flavien Eripret, Wild Bunch International
When You Finish Saving The World (US)
Dir. Jesse Eisenberg
Eisenberg has appeared twice as an actor in Cannes selections — 2015's Louder Than Bombs and 2016's Café Society — and earns his first slot as director with his well-received feature debut and Sundance opening night film. The first production from Emma Stone's Fruit Tree banner stars Julianne Moore as Evelyn, who runs a shelter for abused women, and Finn Wolfhard as her geeky, ambitious musician son Ziggy. A24 distributes the dramatic comedy in the US and handles international sales.
Contact: A24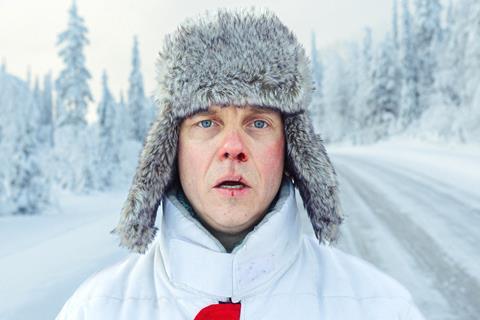 The Woodcutter Story (Fin-Den-Neth-Ger)
Dir. Mikko Myllylahti
The Happiest Day In The Life Of Olli Mäki co-writer Myllylahti makes his feature-directing debut with this dark comedy starring Jarkko Lahti as a woodcutter who mysteriously retains his cool when his serene existence in an idyllic village is shattered by a series of tragic events. Myllylahti's short film Tiikeri played in Critics' Week in 2018 and he also participated in its Next Step first feature development programme with The Woodcutter Story, winning the top prize in 2019. Jussi Rantamaki and Emilia Haukka produce for Helsinki-based Aamu Film Company, which has credits including Olli Mäki and Compartment No.6.
Contact: Totem Films
Profiles by Nikki Baughan, Charles Gant, Melanie Goodfellow, Tara Judah, Melissa Kasule, Jeremy Kay, Geoffrey Macnab, Lee Marshall, Wendy Mitchell, Jean Noh, Jonathan Romney, Michael Rosser, Mona Tabbara, Silvia Wong.