As the Croisette welcomes buyers on the lookout for hot arthouse, genre, fiction and documentary titles, Screen profiles a selection of this year's need-to-know projects.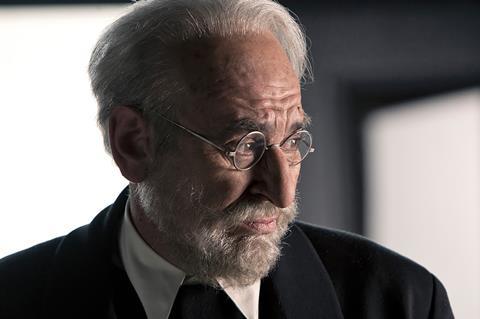 Spain
Madrid-based Latido Films is at Cannes with The Weasel's Tale, a black comedy by Oscar-winning director Juan José Campanella (The Secret In Their Eyes) which will have market screenings on May 17 and May 19. The Argentina-Spain co-production tells the story of a retired film star who shares her mansion with other veteran colleagues: an actor, a screenwriter and a director. Oscar Martinez (The Distinguished Citizen), Graciela Borges (The Quietude) and Clara Lago (At The End Of The Tunnel) star. Latido's slate also includes sci-fi thriller The Platform, the debut feature of Galder Gaztelu-Urrutia; Gerardo Herrero's The Goya Murders, about a serial killer who uses his victims' bodies to recreate scenes from Goya's paintings; and Mexican filmmaker Arturo Ripstein'sDevil Between The Legs. All three are in post-production.
Film Factory Entertainment is out to tempt buyers with While At War. The film from one of Spain's most international directors (The Others, The Sea Inside) is a true-life drama featuring Spanish-Basque writer Miguel de Unamuno, set at the start of the Spanish civil war. Karra Elejalde (Even The Rain) stars and the picture is in post-production, scheduled for local release on September 27. Film Factory's slate also includes Heroic Losers, a comedy drama about a group of small-town folk out to rescue, rather than rob, the money held in their local bank. Sebastian Borensztein directs Ricardo Darin and his son Chino Darin (El Angel). The film is in post.
Filmax International has new promo material for Turu, The Wacky Hen, an animated feature inspired by a popular children's song in Spain and Latin America. The film is scheduled for a Christmas 2019 release. The sales outfit is also market screening I Can Quit Whenever I Want, a remake of the 2014 Italian comedy Smetto Quando Voglio. The remake has been a box-office hit in Spain since its release in April, taking $9.3m (€8.3m) to date. Carlos Theron directs the story of three out-of-work university professors who find a way to make ends meet, Breaking Bad style.
Elisabet Cabeza
Italy
True Colours' market slate is led by Don't Stop Me Now, a comedy from Like A Cat On A Highwaycollaborators Riccardo Milani (director and co-writer) and Paola Cortellesi (lead actress and co-writer), about an unassuming woman who claims to be an accountant but is in fact a spy. The Rome-based sales company is also kickstarting sales on Leonardo D'Agostini's The Champion, a football-themed drama from producers Matteo Rovere and Andrea Paris (Romulus & Remus).
Rai Com is kicking off sales on Ordinary Happiness, the latest film by Daniele Luchetti (Our Life), about a man who, following his sudden death, is granted an extra 90 minutes on Earth to achieve what really matters in life. The company is also launching sales on Gabriele Salvatores' Volare, which stars Valeria Golino and Claudio Santamaria and is in post-production.
Intramovies is bringing to market Israeli comedy drama Golden Voices from writer/director Evgeny Ruman. The film tells the story of two great voiceover artists from the Soviet Union trying to start a new life in Israel.
Actor Valerio Mastandrea (Perfect Strangers) makes his directorial debut with Laughing, which is being sold by Minerva Pictures. The film is a drama about a woman mourning the loss of her husband, surrounded by friends and family in the hours before his funeral.
Vincenzo Mosca's TVCO is bringing The Revolution by director Joseph Troia, the politically charged story of two boys and a girl who, inspired by the values of left-wing Italian intellectuals from the 1970s, live isolated from the world and technology.
Elio Germano, who won Cannes' best actor award in 2010 for Our Life, is starring in Fandango'sThe Man Without Gravity, a fantasy comedy from director Marco Bonfanti about a man who has not been subject to the laws of gravity since his birth.
Vito Robbiani's documentary I Am Mariam Bin Laden leads Coccinelle's Marché line-up. The film follows a Saudi woman determined to swim across the English Channel.
Santiago Loza's ACID selection Brief Story From The Green Planet heads up Open Reel's slate. It is the story of a waitress, a dancer and a trans woman trying to take an alien back to the place it first appeared.
Gabriele Niola
Nordics
TrustNordisk has three new promos: Malgorzata Szumowska's Ireland-set, English-language thriller The Other Lamb, which stars Raffey Cassidy, Michiel Huisman and Denise Gough; Niels Arden Oplev's Daniel, a drama based on the true story of a Danish photographer who was held hostage by Isis; and Joachim Heden's suspense drama Breaking Surface, which is shooting now and stars Moa Gammel and Madeleine Martin as two sisters fighting for survival on a diving trip. TrustNordisk also continues pre-sales on Mikael Hafstrom's The Perfect Patient, about a journalist investigating Sweden's worst serial killer. The cast includes David Dencik and Alba August.
Denmark's LevelK will host the first market screenings of psychological thriller The Exception, directed by Borgen's Jesper W Nielsen. The powerhouse female cast includes Sidse Babett Knudsen and Danica Curcic. LevelK is also starting pre-sales on Breeder, Jens Dahl's forthcoming horror film about a young couple trapped in a nightmarish experiment to find the solution for eternal youth. The project, which starts shooting in September, will be presented as part of the Marché's Frontieres Proof of Concept Presentation on May 18. Also new to LevelK's slate are documentary Fat Front, about activists promoting body positivity, and Australian family film H Is For Happiness.
Helsinki-based The Yellow Affair has J-P Valkeapaa's Dogs Don't Wear Pants premiering in Directors' Fortnight. Pekka Strang stars as a widower whose life is changed by a dominatrix. The sales outfit also has Elizabeth Sankey's essay film Romantic Comedy.
SF Studios has Grandpas, a Spanish-language comedy-drama directed by Santiago Requejo. Carlos Iglesias, Roberto Alvarez and Ramon Barea star as three older men who set up a daycare centre instead of retiring. SF is also selling Kasper Torsting's First World War-set Danish drama A War Within (previously titled In Love And War) — the film's international version will have its market premiere. SF also hosts the first market screening for Norwegian adventure biopic Amundsen.
Michael Werner's Stockholm-based Eyewell will present two new titles: The Birdcatcher's Son, a period drama set in the 1800s in the Faroe Islands, and Thomas Salme's drug baron documentaryRescued From Hell.
Wendy Mitchell
Germany, Russia, Benelux, rest of the world
The Match Factory is representing several titles in official selection, among them Karim Aïnouz'sInvisible Life, which screens in Un Certain Regard and has been pre-selling briskly in advance of Cannes. The German sales powerhouse is also selling Marco Bellocchio's Competition title The Traitor, and Abel Ferrara's Tommaso starring Willem Dafoe, which is in Special Screenings.
Beta Cinema's slate includes The Bike Thief, a modern-day drama in the vein of Vittorio De Sica's neo-realist classic Bicycle Thieves. Directed by Matt Chambers and starring Alec Secareanu (God's Own Country) and Anamaria Marinca, it is the story of a Romanian immigrant whose livelihood as a pizza delivery driver depends on his moped. His world threatens to fall apart when it is stolen. Currently in post, Beta will promo the film in Cannes. The company will also begin sales onCorvidae, Joe Marcantonio's drama starring Jack Lowden and Tamara Lawrance, about a young woman struggling after the death of her boyfriend. Also featured on the Beta slate are Sharon Maymon and Tal Granit's Tribeca premiere Flawless, a poignant drama about 17-year-old girls navigating high school, and Katja Benrath's Rocca Changes The World, billed as a modern-day Pippi Longstocking.
Berlin-based M-Appeal has acquired world sales rights to No Hard Feelings by Faraz Shariat. The film follows the journey of three migrant friends trying to integrate into western society who create long-term bonds stronger than the struggles they experience.
Munich's Arri International has a teaser for family animation The Ogglies, directed by Toby Genkel and Jens Moller, and promos for live-action family films The Fantastikids and The Three!!!. It will also market premiere hostage thriller The Last Berliner, directed by Gregor Erler, about a tenant who refuses to vacate his flat in the last unrenovated building in a trendy Berlin neighbourhood.
Films Boutique has Un Certain Regard selections Adam by Maryam Touzani and Freedom by Albert Serra as well as Johnny Ma's Chinese opera drama To Live To Sing, which is in Directors' Fortnight, and Amin Sidi-Boumediene's Abou Leila, in Critics' Week.
Picture Tree International is introducing musical romance A Piece Of My Heart, based on the musical work of Tomas Ledin, who toured with ABBA as a backing vocalist and once represented Sweden in the Eurovision Song Contest. In post-production, it is directed by Edward Af Sillen and tells the story of a driven Stockholm businesswoman startled to learn her teenage sweetheart is set to marry one of her childhood friends — and that she has not been invited to the wedding. Picture Tree is also presenting Martin Schreier's comedy-drama Traumfabrik, set in the early 1960s and about a heady romance between an extra at the DEFA studios in Babelsberg, East Germany and a French dancer named Milos. Tom Zickler produces through his new company, also called Traumfabrik, which has Studio Babelsberg as a shareholder.
Berlin-based Pluto Film is giving a market premiere to Anatol Schuster's comedy-drama Ms Stern, about a 90-year-old survivor of the Holocaust who is unable to choose her own fate. Pluto is also handling Bénédicte Liénard and Mary Jimenez's By The Name Of Tania, about the sexual exploitation of underaged girls in the gold-mining region of Peru.
Alongside market premieres for thriller The Collini Case and 3D animated feature Bayala — A Magical Adventure, Munich-based Global Screen will be introducing buyers to new 3D family drama Stitch Head, based on a book by UK author Guy Bass. Global Screen also has Christian Alvart's thriller Free Country and Chilean drama The Rifleman from debut director Juan Ignacio Sabatini, inspired by the true story of an unlikely assassination attempt against Chilean dictator Augusto Pinochet.
Sola Media is bringing to market Andrea Eckerbom's drama Forgotten Christmas — about a village that forgets Christmas. It is also introducing buyers to animated feature The Elfkins, about gnome-like creatures who have been living underground, hiding away from "ungrateful and mean" humans. Tobis Film is releasing the latter in Germany in January 2020.
Media Luna has snapped up international rights to adventure epic The Steed by Erdenebileg Ganbold. Set during the years when the Russian Revolution was spilling over into the vast majestic lands of Mongolia, it is based on the award-winning poem Brown Horse by the
Mongolian national poet laureate Ch Lkhamsuren. The film will have its market premiere in Cannes.
From the Netherlands, Nelleke Driessen's Amsterdam-based Nine Film will introduce buyers to Number 10, the latest feature from Dutch filmmaker Alex van Warmerdam. Starring Tom de Wispelaere, it is the story of Gunter, a four-year-old boy found roaming in the forests who grows up to be a stage actor and family man before discovering he comes from a distant planet — and has to go back. The film is shooting later this year. Graniet Film is lead producing with co-production partners including Czar Film in Belgium and Heino Deckert in Germany. Former Fortissimo executive Driessen is also representing Mitra by Kaweh Modiri, about an Iranian academic living in Amsterdam who discovers disturbing new evidence about her daughter's death, and Barzakh by Palestinian director Laila Abbas, about two women who find their father dead in his house on the outskirts of Ramallah and discover he had much more money than they realised.
Also from the Netherlands, Incredible Film has Stijn Coninx's thriller Don't Shoot starring veteran Flemish star Jan Decleir, which looks at the aftermath of the Brabant killings, a notorious 1980s crime spree in the Belgium province. The film was one of Belgium's top box-office hits last year with more than 400,000 admissions.
Dutch Filmworks, also a prominent distributor in the Benelux, is handling Belgian animated feature The Daily Fable in the market.
Dutch Features is pre-selling Norbert ter Hall's Promise Of Pisa, about two Moroccan brothers from the poorest part of Amsterdam who follow divergent paths. While one wins a place at a prestigious music academy, the other is sent to prison.
From Russia, Art Pictures Studio has several new projects including Attraction 2, the sequel to Fyodor Bondarchuk's 2017 sci-fi blockbuster, which posted more than 4 million admissions in Russia. Bondarchuk also directs the next chapter, which takes place three years later and is a co-production with Vodorod. The company also has another Vodorod co-production, skating melodrama Ice 2, which will be directed by Zhora Kryzhovnikov. The first film grossed more than $26m at home and achieved more than 6 million admissions.
Russian animation specialist Wizart is continuing to build on the success of its Snow Queenfranchise and will be selling a TV spin-off series. Also on its Cannes slate are ambitious new versions of the Brothers Grimm fairlytales. The first film in the planned franchise is Hansel And Gretel, directed by Aleksey Tsitsilin, which will be completed by autumn 2020.
New Europe Film Sales' slate includes Corpus Christi from Jan Komasa, the story of a young delinquent who dreams of becoming a priest. When sent to a small town for an internship, he takes over the local parish and tries to transform the community in the town. New Europe is also selling Hlynur Palmason's Icelandic noir A White, White Day.
Austrian documentary specialists Autlook is pushing the award-winning For Sama from Syrian filmmaker Waad al-Kateab. The film is in official selection following its grand jury winning premiere at SXSW. Autlook is also giving market debuts to Jawline, a frank and revealing look at the reality of teenage social media stardom, and Stuffed, a documentary on taxidermy.
Vienna-based EastWest is beginning sales on The Accidental Rebel by Randa Chahoud, a drama about a young musician who flees the Syrian civil war to attend university in Germany but is lured back after his brother is captured by the army.
Budapest-based Luminescence is continuing to handle big-budget Russian fare and has two new projects involving leading Russian producer Sergey Selyanov. One is $22m sci-fi adventure Spaceball, directed by Dzhanik Fayziev, who also produces with Selyanov through his company CTB. Its local release is set for October this year. The other is feature animation Nutcracker And The Magic Flute, which is due to be released in 2021. Luminescence is also handling Vasily Rovensky's animated sequel Big Trip 2: Special Delivery.
Geoffrey Macnab