China's box-office growth slowed over the summer, but there are signs the deceleration is part of a natural progression towards a more rational and mature market.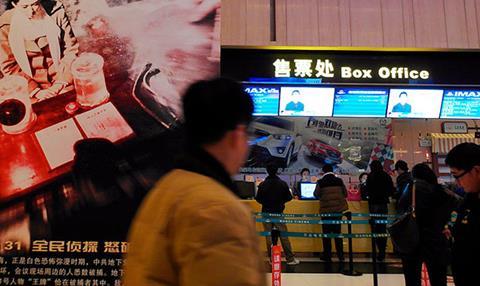 This was the summer when the unthinkable happened. Growth at the Chinese box office, arguably the engine room of the global box office, at least for a few dozen Hollywood tentpoles each year, started to slow down.
The year got off to a strong start — box office increased 51% to hit $2.23bn in the first quarter of 2016, thanks to Disney's Zootopia and a trio of local Chinese New Year releases, including Stephen Chow's $503m juggernaut The Mermaid. But warning bells started ringing in April when Batman v Superman: Dawn Of Justice dropped 85% in its second week and was unceremoniously yanked from screens.
Throughout the rest of the second quarter, US studio films such as China-backed Warcraft, Captain America: Civil War and The Jungle Book performed well, but nowhere near the $373m grossed by Furious 7 in the second quarter of 2015. The summer months, when release slots are usually reserved for local movies, were even weaker, with just a handful of domestic hits, including Time Raiders with $149m and Skiptrace with $132m — but again nothing on the level of last year's Monster Hunt ($375m) or Lost In Hong Kong ($248m).
It soon became apparent that both local and imported movies were performing below expectations, despite the fact the number of screens is still growing rapidly — from 32,000 at the start of the year to nearly 38,000 at the end of September. By the end of the first half, growth had slowed to 21%, and following an abysmal September, slid even further during the first three quarters to 8.3% and a cumulative total of $5.28bn (RMB35.4bn).
These would be enviable results in other territories, but in a market that has become accustomed to breakneck growth, prompted a period of soul-searching about what had gone wrong. In 2015, China's box office grew 49% to $6.8bn, so it was predicted to reach $7.5bn-$9bn (RMB50bn-RMB60bn) this year and overtake North America in 2017. Some big films are scheduled for December, including Zhang Yimou's action adventure The Great Wall, starring Matt Damon and Andy Lau. But hitting forecasts now seems unlikely unless we see some major surprises before the end of the year.
There are several reasons for the slowdown — including China's weakening economy and the increase in screens in less affluent third and fourth-tier cities — but the two factors most often cited are the quality of the product and the end of online ticketing subsidies. "The content was just not as attractive this year for either local or imported movies," says Luke Xiang, vice president of online ticketing giant WeYing Technology. "If you look at the North America market, Hollywood films were also slowing down there compared to last summer, while Chinese films were being rushed into production to capitalise on market growth."
Beyond pricing
Xiang also points to the decision of online ticketing platforms — including Weying's Yupiao (previously known as Wepiao), Alibaba's Taobao Piao Piao and Maoyuan — to end the practice of buying tickets from exhibitors and selling them to consumers at a steep discount. "All the major platforms have been subsidising ticket sales for the past few years because they were engaged in a battle for market share," Xiang explains. But when losses started piling up, and the tech giants felt they'd stabilised their user base, the heavy discounting slowed substantially from May. "We're now seeing more activities around the marketing of films, rather than just using pricing to drive audiences to the cinema," Xiang says.
By the end of the summer, it had become clear the online ticketing wars had distorted the market by inflating box-office sales but driving down average ticket prices. "When the subsidies stopped, a lot of cinema managers, especially in the smaller cities, were too scared to raise prices back to the usual levels," says Jimmy Wu, chairman and CEO of upscale exhibitor Lumiere Pavilions.
Wu adds there has been an upside to the ticketing wars in that they've "awakened the audience's awareness to the convenience of buying tickets online". Almost 80% of tickets are now sold online in China, compared to around 30% in the US. But there's been a price to pay for the entry of the digital giants. "The ticketing subsidies may have created a price value expectation that will take some time to unwind," says Rance Pow, president of theatrical consultancy Artisan Gateway. Meanwhile, it also emerged this year that some producers and distributors were also buying and discounting tickets — in their case attempting to boost the box office of their own films, in order to push them up the rankings on ticketing sites and increase the price of ancillaries. Chinese authorities have cracked down on this practice by issuing penalties and fines.
Now that legal discounting, along with more dubious ticket-buying activities, has declined significantly, we are starting to get a clearer picture of the real shape of the market. We're also seeing the Chinese audience is becoming more selective and responding to quality product — at least in the more sophisticated tier-one and tier-two cities. Over the recent National Day holidays (October 1-7), Dante Lam's Operation Mekong, a tightly scripted and packaged action thriller, grossed more than $150m (RMB1bn), overtaking Guo Jingming's heavily marketed LORD: Lord Of Revenging Dynasties, which drew online criticism for the quality of its CGI.
The local production industry appears to be taking notice. At this year's Shanghai International Film Festival in June, local studios discussed the dangers of short-term and speculative capital, while guest of honour Ang Lee warned Chinese film-makers to slow down and focus on development and scripts. "We should see improvements from next year with producers paying more attention to quality and storytelling," says Xiang.
At the same time, there is growing pressure from some quarters of the exhibition industry for a larger and more diverse selection of imported movies. "The Chinese audience is already tired of seeing a limited range of foreign movies — either action films or sci-fi. They should have an opportunity to see more genres," says Wu.
Addressing diversity
China's import quotas are up for discussion with the World Trade Organisation in 2017, but even before talks commence, there are signs the Chinese authorities are starting to address the lack of diversity in the market. After years of lobbying by local film-makers, the State Administration of Press, Publications, Radio, Film and Television appears to have sanctioned an arthouse circuit, operated by state-owned China Film Archive and an alliance of producers, distributors and exhibitors, which will give limited, platform releases to both local and imported specialist films.
Although details are still being ironed out, the circuit should in theory be able to handle films that struggle to make it onto the slates of the two state-sanctioned distributors of imported movies — China Film Group and Huaxia Film Distribution. An increase in the volume of imported arthouse films is unlikely to have a major impact on overall box office, but will contribute to a more mature market with viewing choices for a wider range of demographics, rather than the current focus on cinemagoers under the age of 25.
As for the online ticketing platforms, the price wars appear to be over, and companies such as Weying plan to work more closely with distributors, using their data to help them become more sophisticated about marketing. "Pricing will be used more strategically during a film's release — distributors will look at where and when to use discounting and who exactly they should be targeting," says Xiang.
There's also the possibility that, once the novelty wears off, Chinese audiences will grow tired with theatres and consume movies on cheaper digital platforms at home instead — a spectre that haunts markets all over the world. "We believe the long-term risk of Chinese moviegoers migrating en masse to online viewing is low. However, this is a generation that did not grow up seeing movies in cinemas with their parents, so longer-term preferences are still being formed," says Pow.
But all sections of the industry are upbeat about long-term prospects. "From next year, we'll see a more rational market instead of the overheated market of the past few years," says Wu. Xiang points out the average number of cinema visits per head is just one per year, so there's still plenty of room for growth. Indeed, the immediate impact of the slowdown over the summer appears to be that there's now less of an obsession with being the biggest and more of a focus on becoming the best.