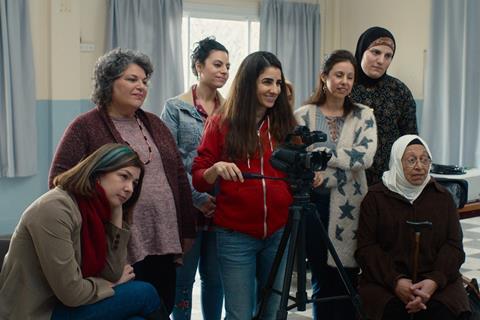 Israeli filmmaker Orit Fouks Rotem's first feature Cinema Sabaya, Israel's entry for best international feature at the US Academy Awards, details the stories, opinions, hopes and dreams of a group of eight Arab and Jewish women living in Israel who gather every week in a nondescript municipal office to take part in a filmmaking class tutored and mentored by a filmmaker.
Shot over 12 days in an empty boarding school near Tel Aviv, the film is the result of eight years of research by Rotem. That included her time spent teaching filmmaking classes for women in Israel and months of script work with the film-within-a-film's director played by Dana Ivgy, the Israeli Academy award winning actor best known for Next To Her.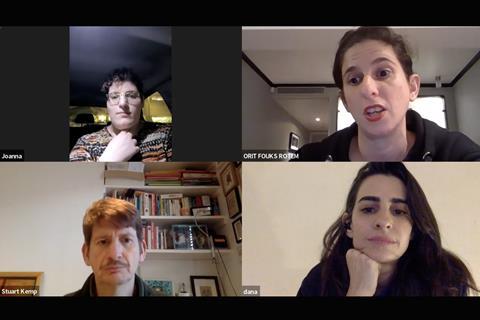 Rotem, whose resume boasts several shorts and a documentary series for Israeli television, Ivgy and Joanna Said (who won this year's Israeli Academy best supporting actor plaudit for her role in Cinema Sabaya), talk to Screen about portraying authentic female voices, using surprise to illicit raw emotion and why it is hard to identify which one of the eight women in class is the film's only non-professional actor.
Please talk a little about the women in Cinema Sabaya. Are they based on real people?
Orit Fouks Rotem: The film is based on true women and real women and my experience, but it's not exactly about a certain woman. No woman that sees the film will recognise herself. Each character is many different parts of others put together in the script.
How did you cast the fiim? All are trained except Liora Levi who plays Carmela, I think?
Rotem: The casting process was long. Liora is an actor in her personality, a natural. And some of the cast had never acted in film before. Joanna [Said] studied theatre but this is her first experience in film. Liora certainly didn't feel like the only one there that never acted in a film before.
Joanna, you are in one of the film's standout scenes opposite Liora Levi, a tense confrontation that eventually becomes physical. How did you tackle it?
Said: I do theatre and performance art, which are two very different types of performance. In performance art, you focus on the being and the state of the person inside to the outside; theatre is exactly the opposite where it is about making the gestures big for audiences to understand what's happening inside. Orit's directing style gave us a lot of freedom as actors. We knew this clash would happen, we just didn't know how. Liori and I talked about it and I told her 'I trust you, push me to the edge.' What she did hide from me is that she pushed herself off the chair. I freaked out and feared I might have hurt someone.
Dana, you portray the director of the film-within-a-film, essentially Orit, your actual director. How did you approach portraying the person who's directing you?
Ivgy: Orit has a very special way of making everyone feel that it's their own film, and of letting everyone express themselves. But she'll get exactly what she wants, and it's not going to be a millimetre left or right to exactly what she wants.
Orit, did you allow your actors to improvise?
Rotem: It was all scripted but there was a lot of freedom. There were scenes I had decided on before we began, like the 'home video footage' they brought to class. The actors shot them by themselves, even though it's not their real life. I wanted them to feel it belonged to them when they brought it to class. The other actors watched it for the first time on set when we shot the film. They had text, but they didn't know what they were going to see. They reacted and in that way it was like a documentary but not a documentary. We had some takes that lasted half an hour. I didn't stop filming because it was so interesting.
What you would like audiences to take away from the film?
Said: How we can change each other's lives with human connections and empathy. How we can see each other for who we really are and not the labels that come between us if it's politics, or any other subject. That is important.
Ivgy: I would like people to come out seeing beauty in other people, no matter how different they are from them. To see beauty in simple things and have a drive to connect and to create.
Rotem: I want people to go from this film with hope and optimism. The situation in Israel is really not optimistic. The hope is in the people, not just in women but also in men.