As the 2021 European Film Market (EFM) kicks off, Screen highlights the buzz titles ready to entice international buyers.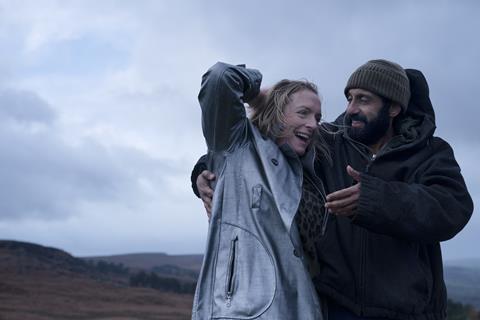 Bankside Films has a pair of hot UK projects it is introducing to buyers at EFM. Religious-themed horror Magpie will star Tuppence Middleton, Max Harwood, Thomas Turgoose and newcomer Buket Komur, and is the story of an isolated church community that becomes gripped by paranoia and fear. Dean Puckett's directing debut is produced by Rebecca Wolff. Mooring is the directing debut of actor Jodhi May, and will star Charlotte Rampling and Niamh Algar in a story of two women who come together when one's canal barge becomes beached at the bottom of the other's property. It is the follow-up feature to Bait for producers Linn Waite and Kate Byers.
Altitude Film Sales is showing buyers the first promo reel of Clio Barnard's much-anticipated UK love story Ali & Ava for which all rights are available apart from UK & Ireland, where Altitude UK will distribute. Claire Rushbrook stars as a recently widowed woman in her 40s who begins to emerge from her loneliness thanks to a burgeoning friendship with a younger, music-loving man, played by Adeel Akhtar. He is struggling with the breakdown of his own marriage, which he has to conceal from his family. Altitude describes the completed film as a feelgood title full of music and love.
David Garrett's Mister Smith Entertainment is introducing buyers to Josh Ruben's completed US comedy horror Werewolves Within, to which it has international rights. Sam Richardson, Milana Vayntrub and George Basil star in the film about the argumentative residents of a small town trapped together at an inn during a snowstorm while a mysterious beast is on the rampage outside.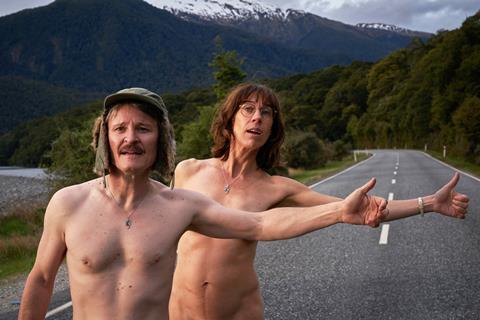 Cornerstone Films has promo reels to show at EFM for near-completed titles Whina and Nude Tuesday. All rights outside Australia and New Zealand are available for both. Whina is the true story of Maori matriarch and activist Whina Cooper, played by Rena Owen, as she looks back on her life. The film is co-directed by James Napier Robertson and Paula Whetu Jones. Nude Tuesday, directed by Armagan Ballantyne and written by Jackie van Beek, is a high-concept comedy about a husband and wife who go on a couples' retreat in an attempt to revive their marriage. Van Beek stars with Damon Herriman and Jemaine Clement.
Documentary specialist Dogwoof is commencing worldwide sales on Shannon Walsh's The Gig Is Up, about the gig economy as favoured by firms including Amazon, Deliveroo and Uber, and the effect it has on workers. The film completed production in 2020. Dogwoof is also starting discussions on Jennifer Peedom's Australian title River, exploring the relationship between humans and rivers, which is scheduled for a Q3 delivery this year.
English-language Finnish horror The Twin is being launched by Film Constellation, having won the best fiction award at Finnish Film Affair last September. Produced by Don Films and directed by Taneli Mustonen, it centres on a deceased twin who will not leave his family alone. Film Constellation previously handled Mustonen's 2016 horror Lake Bodom.
HanWay Films will start sales on Robert Connolly's ecological drama Blueback. Mia Wasikowska, Radha Mitchell and Eric Bana lead the adaptation of Tim Winton's novella, about a child who finds inspiration from her activist mother to take on poachers and save the world's coral reefs. Shooting began in the remote Australian locations of Bremer Bay and Ningaloo Reef in February 2021. HanWay also has international rights on Tony Stone's true crime drama Ted K, starring Sharlto Copley as Ted Kaczynski, better known as US domestic terrorist the Unabomber. Cinetic Media is handling North America on the title, which is playing in Panorama at the Berlinale. Writer-director Alice Lowe's reincarnation romantic comedy Timestalker starring Sam Riley, Natasha Demetriou, Jacob Anderson and Lowe is also on HanWay's slate.
Metro International has boarded world sales on Jordy Sank's I Am Here, a documentary about 98-year-old South African Holocaust survivor Ella Blumenthal and her enduring spirit for life. South Africa's Sanktuary Films produced through Sank and Gabriella Blumberg, and the film premiered in the US in February.
Having met when both were named Screen Stars of Tomorrow in 2018, director Prano Bailey-Bond and lead actress Niamh Algar teamed up for horror title Censor, about a film censor who loses track of reality after viewing a 'video nasty'. The title premiered at Sundance this year. Protagonist Pictures is handling world sales, and Magnolia Pictures recently picked up rights for North America.
Embankment Films is talking to buyers about The Unlikely Pilgrimage Of Harold Fry starring Jim Broadbent as a man in his 60s who decides to walk 450 miles to see his dying friend Queenie, shaking the foundations of his marriage in the process. Hettie Macdonald (Normal People) directs the film which is in pre-production. Producers are Kevin Loader, Marilyn Milgrom and Juliet Dowling.
Rocket Science hopes to entertain buyers with Better Man, a biopic of UK singer Robbie Williams from The Greatest Showman director Michael Gracey. Production is slated to begin this summer, with Williams himself on the cast list in an as-yet-unannounced role. The sales agent also has Sophia Banks' CIA thriller Black Site starring Jason Clarke, Michelle Monaghan and Jai Courtney, which has begun shooting on Australia's Gold Coast, produced by US firm Asbury Park Productions; and will continue sales on Oliver Hermanus's Living, a remake of Akira Kurosawa's Ikiru adapted by Kazuo Ishiguro and starring Bill Nighy and Aimee Lou Wood.
Heist thriller musical The Score heads WestEnd Films' slate, starring former Screen Stars of Tomorrow Johnny Flynn, Naomi Ackie and Will Poulter. The film shot last autumn, directed by Malachi Smyth and produced by Matthew James Wilkinson of Stigma Films (Yesterday) and Ben Pullen. WestEnd also has Terry Loane's The Last Rifleman, starring Pierce Brosnan as a Second World War veteran who escapes his Northern Ireland care home to attend the 75th anniversary of the D-Day landings in Normandy; the title is currently in pre-production.
AMP International is giving a market debut to The Elevator Game, a horror film based on the online phenomenon where travelling between floors in an elevator opens up a different dimension. Michael Goi, who mainly works in TV and whose last feature was 2019's Mary, will direct, with production scheduled to begin in the late spring and summer 2021.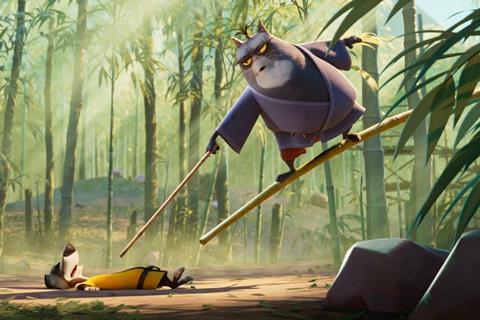 GFM Film Sales will screen first footage of Howard J Ford's pandemic horror Lockdown Hauntings, having already sold to Altitude for the UK. First footage will also play of Ford's climbing thriller The Ledge, which shot last October and has sealed deals including North America, France, Germany and Spain. Sister company GFM Animation is giving a first market screening to comedy Blazing Samurai, with a stellar voice cast including Samuel L Jackson, Ricky Gervais, Michael Cera, Michelle Yeoh, Djimon Hounsou, George Takei and Mel Brooks.
Celsius Entertainment is conducting worldwide sales on Gillies MacKinnon's The Last Bus, which stars Timothy Spall and Phyllis Logan in the story of an old man crossing the UK using only buses. It is currently in post.
Estonian spy thriller Dawn Of War heads Kaleidoscope Film Distribution's slate, having recorded more than 40,000 admissions in three weekends following its local release in October 2020. Kaleidoscope holds UK rights and is planning a theatrical release for the summer. Other Kaleidoscope titles include Billie Piper's Rare Beasts and Dave Minogue's Irish comedy Poster Boys.
Film Republic gives an EFM debut to The Salt In Our Waters, the story of a sculptor caught in a conflict between man and nature in a Bangladeshi fishing village. The sales firm picked it up out of the online BFI London Film Festival in October.
Timeless Films will go to buyers for the first time on the next two titles in the animated Rock Dog series. Rock Dog 2: Rock Around The Park has just been completed, while Rock Dog 3 is in post-production, having been made side-by-side with the sequel.
Horror film Blood Conscious, in which a family turns the tables on a mass shooter who claims to be fighting demonic forces, continues sales through Film Seekers, playing twice at the market with a festival premiere later this year.
Reason8 Films gives a market debut to David Creed's The Ripper's Ghost, a contemporary interpretation of the story of Victorian serial killer Jack the Ripper, which it picked up at Film London's Production Finance Market last October.
Jinga Films' roster is led by Argentinian supernatural thriller The Funeral Home. Picked up for North America by Uncork'd Entertainment, the Fantasia 2020 world premiere centres on an undertaker who hires an exorcist when a malevolent spirit takes up residence in his family's house.
Three titles populate Moviehouse Entertainment's EFM slate. UK gangster thriller Fixed shot last summer in Birmingham between lockdowns; romantic drama Trouble Will Find Us has its market debut following a Busan world premiere; and Australian horror Crow Valley, about a mountain biker captured by a hiker, is in post.
Home-invasion thriller Nemesis heads Parkland Pictures' EFM slate. Directed by James Crow and produced by Jonathan Sothcott, the film stars Julian Glover, Nick Moran, Bruce Payne and Billy Murray, and is currently in post-production.
Medusa: Queen Of Serpents is the lead title for genre specialists Devilworks. The UK supernatural horror from writer/director Matthew BC tells the story of a young woman who morphs into a deadly reptile following a lethal snake bite. It filmed last summer and premiered in the UK in the autumn.
Evolutionary Films is selling family animation Riki Rhino, from Indonesian production company Batavia Pictures. It also holds UK rights on the title, about a young Sumatran rhinoceros who goes on a quest across the rainforest to regain the horn poachers stole from him. Also on the company's slate is UK revenge thriller Seagull starring Jessica Hynes and Gabrielle Sheppard.