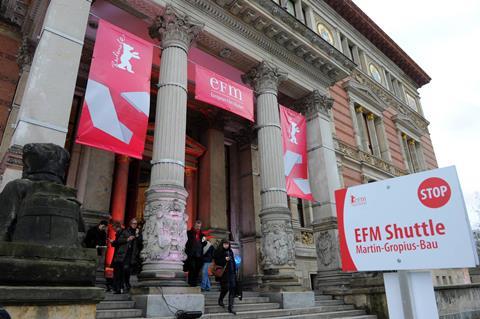 Heading into the second week of a rainy Berlin lacking Asian buyers due to coronavirus fears, there has been a mixed response to the inaugural festival selections of Carlo Chatrian, and a steady stream of EFM deal-making with at least one spectacular US acquisition understood to be in the works.
Occurring later than usual due to the Academy's decision to bring the Oscars forward this year, Berlin kicked off 17 days after Sundance Film Festival. That offered some comfort to sales agents in their annual scramble with producers and agents to lock in talent.
Like others, Brian O'Shea of Los Angeles-based The Exchange appreciated the extra time to wrap up Park City acquisitions like Spree. "It's not only about Sundance titles – it was the pre-sales," said O'Shea, who reported strong interest in thriller The Thicket with Noomi Rapace and Peter Dinklage.
Playtime's Nicolas Brigaud Robert, teasing first images from Francois Ozon's Summer Of 85 among others, was pleased with the buzz surrounding the Berlinale. "It is still a first stepping stone of the year and a first festival of the year and it's important that it maintains its importance and its ranking and this edition has shown."
There was trade across the board. Beta Cinema was fielding interest on Competition films My Little Sister and Berlin Alexanderplatz, Filmax reported sales on thriller Cross The Line, and Loco Films stirred up interest in Servants from new section Encounters. Dogwoof has reported brisk business on its Hillary documentary, and Paramount picked up German rights to Carte Blanche International's Merkel documentary from Bavaria Media International.
As FilmNation and CAA were understood to be closing a $25m worldwide sale to Netflix on drama The Good Nurse, the sellers were also believed to be moving towards a sale with a studio on Olivia Wilde directing vehicle Perfect. AGC International closed a raft of major sales on Sylvester Stallone action sci-fi Little America, and STXinternational cut deals on its action thrillers Remote Control with Gerard Butler and Memory starring Liam Neeson.
One big talking point was American investment in key UK players, illustrating strategic growth in an already intense transatlantic relationship. 30WEST has taken a minority stake in UK's Altitude Media Group and CAA is backing Elysian Film Group Distribution, while it emerged on the eve of EFM that Endeavor Content had taken a minority stake in The Ink Factory.