A growing arsenal of immersive technologies is being deployed this summer by international exhibitors to tempt consumers off the sofa and into cinemas. Adrian Pennington reports.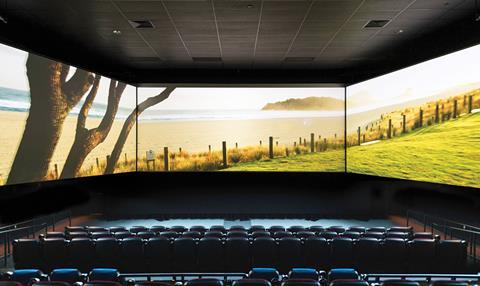 When the USS Enterprise comes under attack in Star Trek Beyond, audiences at Barco Escape screenings will experience uniquely the alien onslaught from horizontal projections to the left and right.
The 20-minutes of additional footage was created specifically by Bad Robot for the tri-screen presentation from outtakes and new CGI, and is described by Barco as a 'director's cut'. "What is shown on the centre screen is the same as any 2D presentation, but with more canvas to play with, [director] Justin Lin is creating a more expansive experience of the Star Trek universe than you will see anywhere else," says Todd Hoddick, CEO of Barco Escape.
The most high-profile title yet issued in Barco's panoramic format will compete with other versions of Paramount's summer tentpole mastered for Imax and Dolby Cinema. "The industry is working to create an experience so compelling that consumers will put down their iPad and leave the sofa to enjoy an experience they can't get anywhere else," says Hoddick. "Experiential cinema is the future."
While some presentation technologies are not new, combined together they are designed to retain cinema's edge over home entertainment. These include 3D, 4K, high dynamic range (HDR) — which includes wider colour gamut (WCG) — motion seating, screens with enhanced audio, laser projection and high frame rates (HFR). IHS Technology analyst David Hancock dubs it "the premiumisation" of cinema. "You could argue this began with Imax and premium large format (PLF) screens but the segmentation is increasing," says Hancock, who includes Secret Cinema events and in-cinema dining in the same bracket.
The need to innovate
"Audiences are responding to being in an immersive entertainment environment," says Framestore chief technology officer Steve MacPherson. "Gravity gave the audience a feeling of being with the characters in space, yet it was filmed without HFR or HDR and while it used 3D, was only mastered in 2K. Advances in technology are giving film-makers a new creative palette to deliver immersive experiences."
But those technological advances are also being felt on the small screen and consumer electronics vendors are flooding retail with 4K TVs. Most will be in sizes of 50 inches and larger, as services becomes available in ultra high definition. Episodic content is also beginning to compete as series such as HBO's Game Of Thrones bring a new level of sophistication and prestige to the medium.
"Home cinema worries me more than debates over the windowing of screen releases," says Hoddick. "But we need to innovate and give the audience something special. VoD releases from Amazon or The Screening Room are an inevitable evolution. The industry can't keep things the way they were for 100 years because any number of new technologies and business models will disrupt us."
"Traditional cinema as a place to go and watch a movie has dramatically evolved over the last decade," says Stuart Bowling, director for content and creative relations at Dolby Laboratories. "Exhibitors have to offer consumers choice and are turning to technology for new ways to reinvent their business."
Exhibitors are keen to enhance their real estate but face a bewildering investment decision. "They are being asked to upgrade to a multiplicity of different technologies and have to make a choice about which will provide ROI," says Hancock.
This rapid development of technology has caused confusion, believes Andy Scade, senior vice president of global mastering operations, Deluxe Technicolor Digital Cinema. "It's difficult from a commercial point of view to understand what the best long-term decisions are. However, there's enough square footage in the industry for [exhibitors] to go down different routes and prosper. We want continuous innovation rather than for one technology to exist in isolation."
Perhaps key to weighing investments are assurances of content coming down the pipe. Barco's solution is to subsidise a large portion of Escape while charging exhibitors $100,000 up front and taking a flat-rate fee per title and auditorium on release. "We lose money on the install," admits Hoddick. "We guarantee to exhibitors that if we don't bring content, we will never break even. With no virtual print fee, exhibitors will see right through you if you're not prepared to back up your proposal. If there's no content, the exhibitor doesn't have to pay. This model has been well received by exhibitors."
Barco is timing 50 Escape locations for Star Trek Beyond, including two Kinepolis sites in Belgium and two Euroscoop theatres in the Netherlands. By the end of 2016, a further 50 Escape-equipped theatres will be rolled out, mainly in the US, followed by another 350 by 2017 and 500 a year after that.
On the studio side, Barco has deals with Everest producer Cross Creek Pictures and Shanghai-based Fundamental Films to produce multiple features in the format. Fundamental's only announced title is 24 Hours To Live, starring Ethan Hawke and due summer 2017. Three further releases are scheduled this year, including the first in a six-picture Escape slate from Minds Eye Entertainment and Scott Waugh's snowstorm thriller 6 Below from Tooley Productions, which will release exclusively in Escape over a several-week window. Eight titles are lined up for 2017 and a minimum of 12 per year targeted from 2018 (Jerry Bruckheimer is developing titles for the format and joined the Barco Escape advisory board in 2015).
Including Star Trek Beyond, all titles to date were retrofitted in the format after production. The first to be shot entirely for the format is 6 Below. "It is less expensive and more impactful when you design a movie from the outset in Escape," says Hoddick. "For business reasons, we had to give everybody a taste of the format so that they could see how consumers would respond before committing to make movies in it from the beginning."
Dolby has arguably been the most successful in promoting studio content into theatres outfitted with its technology. More than 1,800 cinemas worldwide can play films mastered in Dolby Atmos sound, including The Secret Life Of Pets, Suicide Squad, Ghostbusters, Inferno and The Lego Batman Movie.
This excludes the 23 Dolby Cinemas, a branded screen experience that packages Atmos with Dolby Vision (its own high dynamic range grade) for projection using twin Christie lasers. The five Dolby Cinemas in Europe include two in Austria, two in the Netherlands and one in Barcelona (there are none in the UK), with estimates of 70 installations worldwide by the end of 2016 based on plans by AMC in the US and that chain's owner Dalian Wanda's own Chinese circuit, Wanda Cinemas, which signed deals for 100 sites each by 2024.
"HDR is happening because Dolby essentially manages a closed system," says Hancock. "They are feeding the technology into theatres with a guarantee of content. But there's no similar argument for high frame rates."
Titles in 2016 with a Dolby Cinema release include Finding Dory, Independence Day: Resurgence, The Legend Of Tarzan, Jack Reacher: Never Go Back, Fantastic Beasts And Where To Find Them and, in 2017, Wonder Woman. Consumers can enjoy many of the same titles in Imax, as the year brings The Magnificent Seven, Doctor Strange, Sully, Ghostbusters, Suicide Squad, Rogue One: A Star Wars Story and, in 2017, Christopher Nolan's Dunkirk.
While Dolby Vision is exclusive to Dolby Cinema, many of the presentation technologies can be mixed and matched by exhibitors. For example, a screen could be outfitted with 3D and Dolby Atmos or Auro. Barco Escape permits use by theatres of Dolby Atmos as well as Auro. Theatres with digital projection might offer 4K and 3D but not immersive audio. Being reintroduced to the mix are high frame rates. Sony Pictures' Billy Lynn's Long Halftime Walk will be tweaked with all manner of masters relating to different frame rates, resolution, 2D/3D and dynamic range to give it the widest possible release. Potentially, 60,000 theatres worldwide are capable of projecting at least 48fps. None, though, are able to match director Ang Lee's 120fps creative ambition without the DCI spec being rewritten.
"From the exhibitor's point of view, HFR needs to be part of a whole package of image enhancements including resolution and HDR to really give the audience something they will notice and come back for," says Richard Welsh, CEO of Sundog Media Toolkit. "Increasing the ticket price means providing plenty of bang for the buck, which is why we will have missed a big opportunity to advance the cinema experience if we choose only one or two possible improvements from HFR, HDR, WCG, 4K and 3D. All of them together are cinema magic."
Version explosion: is it time to rationalise the formats?
The multiplicity of technologies is leading to what Andy Scade, senior vice president of global mastering operations, Deluxe Technicolor Digital Cinema, calls "version explosion" and what IHS Technology analyst David Hancock terms "the opening of a Pandora's box of formats increasingly less guided by the DCI" (the digital cinema initiatives that set the standard for digital cinema). "A major tentpole will be delivered in at least 300 versions," says Scade. "We can't keep multiplying iterations and put added pressure on the studios and content versioning and distribution services to make delivery deadlines."
Mastering houses such as Technicolor are now being asked to create different deliverables per projector. "We create unique HDR deliverables for the Barco-Imax laser projector, the Christie-Dolby laser projector, the Cinemark configuration of laser projection and for those films being projected in 3D," says Sherri Potter, senior vice president and head of worldwide post-production at Technicolor. "The proprietary nature of these systems will create an inconsistent experience as only certain content will play on certain devices or in certain theatres."
While HDR creates more artistic opportunities, it also requires more time to process. "Paired with the fact that we now create deliverables for each proprietary ecosystem, and are often required to provide all the theatrical and home deliverables at or immediately after the release date, there is a strain on the pipeline with this condensed timeline," notes Potter.
Jim Whittlesey, chief technology officer of content mastering specialist Eikon Group, feels the distribution challenge will be met. "The DCI is constantly evolving to support new formats and the pipeline will adapt to manage it," he says. "All these new tools are enabling consumer choice."