Karlovy Vary (July 4-12) offers an eclectic guest list — ranging from Lech Walesa to William Friedkin — and screens close to 200 films. Artistic director Karel Och gives the lowdown to Michael Rosser.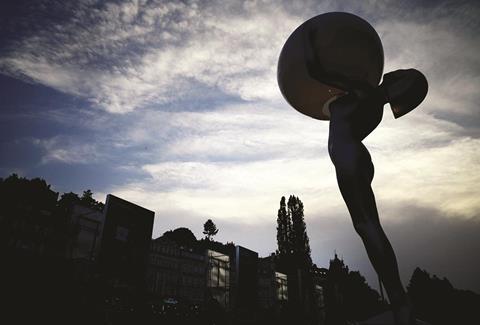 The 49th Karlovy Vary International Film Festival (July 4-12) promises a welcome relief from the more intense events of recent months. "It is a festival where one can watch movies, talk to film-makers and buy their films without coming home exhausted," says artistic director Karel Och.
That said, the festival, based in the Czech spa town, has a wealth of features and events packed into its nine-day run, with nearly 200 films comprising the programme.
"We are extremely happy about this year's main competition line-up," says Och, a long-time programmer at Karlovy Vary who was appointed artistic director in 2010. "We have an unusually strong presence from the former Eastern Bloc, while also launching films by renowned film-makers from other territories."
Seven world premieres and five international premieres will be in contention for the Crystal Globe, won last year by Janos Szasz's The Notebook. These include Rocks In My Pockets, the first animation to be selected for the main competition, which New York-based, Latvia-born film-maker Signe Baumane describes as a "funny film about depression".
There are also two Czech films: Miroslav Krobot's laconic rural drama Nowhere In Moravia, and athlete doping drama Fair Play from Andrea Sedlackova. From outside the former Eastern Bloc, titles include Jeff Preiss's US bohemian drama Low Down, starring John Hawkes and Elle Fanning, and Paris Of The North from Icelandic film-maker Hafsteinn Gunnar Sigurdsson.
'We have an unusually strong presence from the former Eastern Bloc, while also launching films by renowned film-makers from other territories'

Karel Och, Karlovy Vary International Film Festival
An additional 19 world premieres are featured in other competition strands including East Of The West, Documentary and Forum Of Independents, of which the latter will have an official opening film for the first time — Burma-Czech Republic co-production The Monk, directed by Maw Naing Aung.
"We have seen more humour in films selected for East Of The West — sometimes black or dry but still humour, which is refreshing," says Och of the strand that features first or second features by directors from central and eastern Europe, the Balkans, Turkey or the former Soviet Union.
Special guests
Invited guests include US director William Friedkin, who will receive the festival's Crystal Globe for outstanding artistic contribution to world cinema and present a restored version of his 1977 action adventure Sorcerer.
The festival will host Nobel Prize winner and former president of Poland, Lech Walesa, who will introduce a director's cut of Walesa: Man Of Hope, Andrzej Wajda's 2013 biopic of the iconic leader. "Mr Walesa is a legend and the festival will treat him as such," says Och.
Karlovy Vary will also present its President's Award to Czech writer-director Zdenek Sverak and present a tribute to the work of US production company Anonymous Content.
This year's festival retrospectives will focus on UK director and artist Ben Rivers; director, screenwriter and producer Anurag Kashyap from India; and "neglected" postwar Italian film-maker Elio Petri, who won the Oscar for best foreign-language film in 1970 and the Palme d'Or in 1971. Och says the comprehensive retrospective on Petri, who died in 1982, will be "a true revelation" for audiences.
Karlovy Vary also continues to grow its industry programme. A total of 47 films were submitted for its lauded Works In Progress programme, which offers $13,600 (€10,000) in services to the most promising project.
Andrea Szczukova, head of the festival's industry office, says 15 projects will be selected ahead of the 10th Industry Days (July 6-9). "I was surprised to see at least one project from each country that can submit films — and many are co-productions between the countries, which is quite a new thing too," says Szczukova.
The section has proved a strong launch pad and last year's winner, Blind Dates from Georgia's Levan Koguashvili, went on to play at Toronto and Berlin, and features in Karlovy Vary's 2014 programme. In addition, Mina Djukic's The Disobedient was selected for Sundance and Adilkhan Yerzhanov's The Owners played as a Cannes special screening.
Karlovy Vary's expanded industry activities include a workshop for distributors, now in its second year; the Pitch & Feedback strand featuring Czech and Slovak films in development; Doc Talents From The East, showcasing upcoming documentary projects from central and eastern Europe; and panels on TV drama and co-operation with Hollywood, offering advice to international producers looking to break into the Hollywood system.
Szczukova adds: "Major sales companies and many European distributors attend our industry days because they really have time to watch festival films, learn about upcoming projects and talk about movies."
In competition
Adventure, Nariman Turebayev (Kaz-Fr)
All Yours, David Lambert (Bel)
Corn Island, George Ovashvili (Georgia-Ger-Fr-Czech Rep-Kaz)
Fair Play, Andrea Sedlackova (Czech Rep-Slo Rep-Ger)
Free Fall, Gyorgy Palfi (Hung-Fr-S Kor)
Low Down, Jeff Preiss (US)
Nowhere In Moravia, Miroslav Krobot (Czech Rep)
Paris Of The North, Hafsteinn Gunnar Sigurdsson (Ice)
Patchwork Family, Pascal Rabaté (Fr)
Perpetual Sadness, Jorge Perez Solano (Mex)
Rocks In My Pockets, Signe Baumane (US-Lat)
Welcome Home, Angelina Nikonova (Rus)