As Cyril Woodcock, sister to Daniel Day-Lewis's formidable 1950s fashion designer Reynolds, UK actress Lesley Manville proves to be the stylish but steely doyenne of Paul Thomas Anderson's Phantom Thread. Nikki Baughan reports.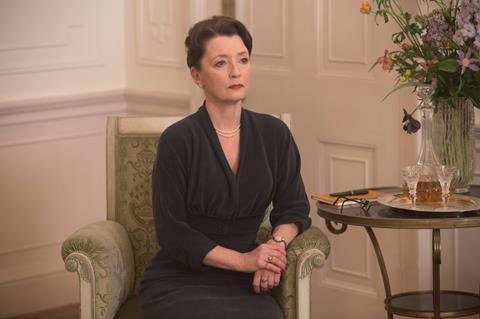 Viewed by many as one of the great modern-day US directors, with big-hitting titles such as Boogie Nights, Magnolia, There Will Be Blood and Inherent Vice under his belt, it is no surprise to hear UK actress Lesley Manville say she thought the path to appearing in one of Paul Thomas Anderson's films would be anything but straightforward.
"If anyone had said to me, 'How are you going to get a movie in the States with Paul Thomas Anderson?', I would have said, 'Well, it's unlikely to happen and, if it does, it will probably be after I've had 25 auditions and self-taped to within an inch of my life,'" laughs the actress, whose feature credits include seven films with Mike Leigh, among them Vera Drake and Another Year.
To Manville's great surprise, the process of being cast in Anderson's latest film, Phantom Thread, was far simpler: following an initial telephone conversation, the director sent her the script and the pair arranged to meet in London. Before that encounter took place, Anderson sent an email. "He said, 'I realise you might be agonising because I don't know if I made it clear that the part is absolutely yours if you want it,'" Manville recalls. "He's always said it was a one-stop shop."
Dynamic roles
As Cyril, sister to Daniel Day-Lewis's formidable, emotionally detached 1950s fashion designer Reynolds Woodcock, Manville inhabits a role that feels like it was meant for her. Cyril is the embodiment of reserved professionalism, with her tailored suits, perfectly coiffed hair and immaculate make-up. But she is more than a match for Reynolds as he slowly unravels after falling in love with new muse Alma (Vicky Krieps). Manville says that she immediately connected with Cyril on the page, and spent the seven months before the shoot immersing herself in the world of 1950s haute couture and working closely with Anderson.
"We talked about the film and feeling and atmosphere, but he was never prescriptive about Cyril," she says. "That's the filmmaker he is. He doesn't want to employ a good actor and not let them bring something to the table. On set, we had this amazing collaboration. We had the luxury of having quite a lot of time to shoot, 14 weeks, and we would really throw things around. He's very much a filmmaker in the purest sense; he sees what the actor is doing and responds to it. There was a great freedom."
On screen, the sibling relationship between Cyril and Reynolds feels authentic, something Manville attributes to a well-honed dynamic between herself and Day-Lewis. "[Before this project], we knew of each other but didn't know each other," she says of the actor, who won one of his three best actor Oscars for Anderson's There Will Be Blood. "So we talked and texted and emailed, sharing stuff and building up a banter and becoming comfortable with each other. By the time we started [shooting], we were very good friends, and we felt very comfortable being silent together — which is a great thing to achieve, particularly as we were playing a brother and sister who are very co-dependent."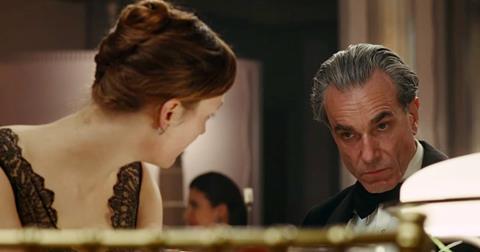 The deep-rooted psychology of Cyril and Reynolds' bond is crucial to the film. Despite his cold, sometimes callous demeanour — particularly towards the opposite sex — Reynolds depends on Cyril for emotional support and moral guidance. For Manville, it was essential her character remained a well-defined individual, despite living and working in her brother's shadow. "It was clear that she was, in a quiet way, the one who wore the trousers," she says. "The way that Paul had written Cyril led me to make her somebody who could floor Reynolds with a glance. Reynolds can read her like a book; he knows the look that seemingly doesn't give away very much is actually a huge cue for him to do as he's told."
The film's primary location — a sweeping London house that served as both the Woodcocks' home and their atelier — also helped Manville connect with her character. "We used every inch of it, more so than any other set," she recalls. "It really felt more like our home and salon than a place where there were boxes of camera lenses and filmmaking paraphernalia. And the level of detail was staggering; no stone was left unturned."
Fittingly, it was through Cyril's wardrobe that Manville found the most vivid access point to her psychology. Costume designer Mark Bridges had Manville try on a sequence of vintage outfits he had purchased in Rome, Paris, the US and London. "I was trying on all this stuff thinking, 'Great, I'll get to wear these originals from the 1950s,'" she says. "But he was actually just looking at shape, and then everything was made for me to the highest couture standards."
Manville admits it took a while to arrive at the right look for Cyril. "At first we got it a little bit wrong, we had her a bit frumpy," she says. "Paul said, 'No, there's a tight sexuality about her. It should not be sensual, but you should see that there's a woman with good shape.' So she's very feminine — and she rocks red lipstick."