In her first year confirmed as director, BFI London Film Festival's Tricia Tuttle explains her plan to create packed screenings and more public and industry engagement.
When it comes to running a major international film festival, as much as you might wish to be master of your own destiny, sometimes it's more about harnessing the winds of change. A case in point is the BFI London Film Festival (LFF), which saw former deputy director Tricia Tuttle step into the hot seat last year, while festivals director Clare Stewart was on a 12-month sabbatical.
Last year, the festival's flagship venue, Odeon Leicester Square, closed for renovations — a big loss to the festival since the huge capacity screen had delivered 35,000 of the festival's 181,000 London admissions in 2017. The impact was a 9% reduction of the programme to 225 features and a significant reduction in audience capacity.
But while overall attendance at the 2018 edition of LFF did shrink, one felicitous outcome was a spike in seat occupancy — up by 12% to 72% for paid occupancy and a record 85% when complimentary tickets to sponsors and delegates are included. "That's exactly what you want to get," says Tuttle. "You want to maximise your box office, but you also want really buzzy, full screenings. You never want to have an experience where you bring a filmmaker over from another country, and you don't have a full cinema for them."
The festival (October 2-13) has not announced it as a change of strategy, but — by accident or design — the years when LFF was defining success by engaging wider and wider audiences now seem to be behind it. And given the festival pays a hire fee for the venues, rather than operating a revenue-sharing model with exhibitors, accurately matching audience demand to its venue capacity does seem a sensible goal.
"That's what running a film festival is all about — making virtues out of necessities," says Tuttle, who was confirmed as director of BFI Festivals last October after Stewart opted not to return to her post. Another key personnel change was the appointment in February of Anu Giri — an arts executive with extensive experience in dance organisations — as head of business and operations, replacing departing managing director Anne-Marie Flynn.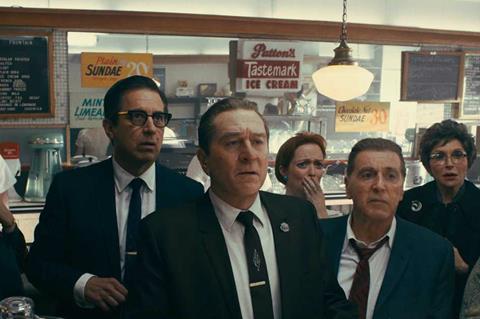 This year, the newly christened Odeon Luxe Leicester Square returns, but with drastically reduced seating capacity, meaning that gala screenings — including Armando Iannucci's The Personal History Of David Copperfield and Martin Scorsese's The Irishman in the opening and closing slots — will be twinned at the Odeon and the festival's own 800-seater pop-up in Embankment Gardens on the River Thames. The overall capacity for the festival in London is unchanged from 2018, as is the number of feature films.
Last year, given the anticipated reduction in ticket income, the festival jettisoned its glitzy awards dinner, replacing it with a public-facing ceremony at Vue Leicester Square where audience members could book to see the winners of the three competitions — Official, First Feature and Documentary — whatever they might be.
Tuttle acknowledges the solution was "less expensive than running a huge, private, invite-only banquet", but adds "it is also genuinely aligned with the kind of festival we want to be". She elaborates: "We don't want to be a festival where you have to be one of 200 people in the know to experience one of the mostimportant moments of the festival. That also wasn't serving the films. We were getting red carpet coverage for the awards dinner, but no-one was talking about or writing about the films, and last year our awards night genuinely did create a dialogue around the films, and engagement."
Festival controversies
Tuttle is talking to Screen two days into Venice Film Festival when controversy over Venice's inclusion of Roman Polanski's An Officer And A Spy (J'Accuse) was at its height. And a current hot topic for festivals and the independent exhibition industry concerns programming ethics in cases where filmmakers have become the subject of credible accusations in the #MeToo era.
"I didn't see it. I didn't pursue it to see it," says Tuttle in reference to Polanski's film. "Every single decision that a programmer makes is connected to millions of different things. It's connected to personal taste, your own ethical positions. I'm a curator, and every decision we [the festival programming team] make, we make together as a group."
While Tuttle and LFF have sidestepped this controversy by not selecting Polanski's film, the same cannot be said for honouring Netflix title The Irishman with a closing night slot.
The UK's multiplex chains are less than delighted at this development. Phil Clapp, CEO of the UK Cinema Association, comments: "It's disappointing that LFF chose to give prominence to this film. And on the back of the discussion around the award of the best film Bafta to ROMA last year, it's also disappointing the BFI and the organisers of LFF didn't think this might be an issue."
As for the festival's offer of the closing night gala screening to cinemas across the UK, including red carpet footage and interviews with talent, Clapp also gives that short shrift: "This is not an event cinema release. The fact it's a red carpet event… This is still a standard traditional film release and will be treated as such by colleagues." Indeed, the list of cinemas taking the feed from the closing night gala does not include Vue, Odeon, Cineworld or Picturehouse.
Given that Picturehouse Central — a key venue in 2018 that also hosted the industry events, networking drinks and press and industry screenings — is not participating in LFF 2019, and also given the Cineworld-owned chain's stated antipathy to films that do not offer cinemas the full UK 16-week theatrical window, you might assume all these events are connected.
"Not a factor, not at all. That was not a conversation," says Tuttle. So why no Picturehouse this year? "What we can say is, even though we are a cultural event, we always go with the right deal for the festival." To take up the slack, the festival has added a fourth screen at Vue, as well as expanding into Empire Cinemas Haymarket. Tuttle adds that the festival has not been prevented from showing any film at any of the participating venues — a challenge faced recently by Toronto International Film Festival. Picturehouse's distribution arm has several titles playing in the festival.
This year, LFF will enact a complete takeover of Vue during the daytime, including all the public spaces. Press and industry screenings will play across the venue's screens, as will industry events, and the bar area will be reserved for delegates and networking drinks. Only in the evening will Vue's regular programme of commercial releases play in any screens.
Tuttle sees this as a win for delegates, given the efficiencies of having so many industry and public screenings for the festival occurring in the same location, which is also a stone's throw from the Odeon Luxe.
The bigger concentration in Leicester Square also aligns with the festival's goal of making the event more visible to the public, and it is working with LFF sponsor Heart of London Business Alliance to make steps in this direction.
"The medium-term ambition is that we create much more of a buzz in the centre of town," says Tuttle. "If you go to Park City when Sundance is on, you have a big sense of the festival. In a city like London, we've always struggled with that presence, because there's a lot going on for public audiences." Tuttle has an ambition, for example, to have a walk of flags from Leicester Square to Embankment Garden Cinema, but cautions, "We are working within the same financial envelope as before. It might be baby steps this year but this is the direction of travel."
The festival long ago lost Odeon West End in the south-west corner of Leicester Square when it was shuttered to be converted into a hotel. However, it is set to re-open as The Londoner before LFF 2020, with two Odeon screens as part of the mix. Since the festival already works with the hotel's owner Radisson (via The May Fair Hotel, which has been a partner of LFF for many years) and Odeon, this new opening is a tempting prospect for next year.
Evolution, not revolution
When Stewart took over LFF with the 2012 edition, she embarked on what would be a five-year period of revolution. She shortened the festival from 16 days to 12, increased the overall capacity via a bigger venue footprint and — most noticeably — restructured the programme from one that was for the most part geographically aligned to one based around three competitions and 11 thematic pathways such as Dare, Laugh and Love. Considering Tuttle served as Stewart's deputy since 2013, it is perhaps no surprise the mode now is evolution, rather than more revolution.
"I get asked, 'What are you going to do differently as a festival director?'" says Tuttle, who points out the programme structure essentially remained unchanged for the 25 years before Stewart's arrival. "There is no point in doing something different for the sake of doing it. But you do have to constantly ask, 'Is it still doing what you want it to do?' We want to create a vibrant public festival that has the intelligence and history of the BFI behind it — the appreciation and understanding of film culture and film history — that also feels very accessible."
One way the festival aims to be more accessible this year is via LFF For Free, a special public-facing free programme at BFI Southbank that will incorporate screenings of short films, talks, a film quiz, DJ nights, family events and music events. Tuttle's experiences running BFI's LGBTQ+ festival Flare — which, for example, makes its closing night party freely accessible to the public — helped inspire this innovation.
"One of the things that is great about Flare is those boundaries between what's happening with the industry and what's happening with the public are more porous because we are in one single space. There's a great atmosphere — and we can truly create access points for people."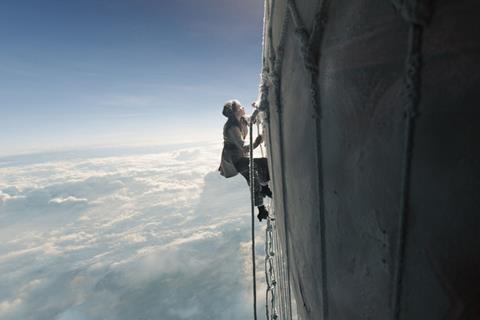 As for the festival programme, one notable aspect is the strong showing of titles from UK talent both established and emerging — a riposte to the naysayers who pointed to a relatively light showing of UK films at some of 2019's major festivals.
Each year, the $62,000 (£50,000) IWC Schaffhausen Filmmaker Bursary Award is presented to a first- or second-time UK-based filmmaker with a title in the festival. Whittling candidates to a shortlist of three — Hong Khaou (Monsoon), Peter Mackie Burns (Rialto), and eventual winner Rose Glass (Saint Maud) — was "brutal", says Tuttle, who mentions Craig Roberts, Babak Anvari, Claire Oakley, Nick Rowland, Eva Riley, Fyzal Boulifa, Simon Bird, Billie Piper, Tom Cullen, Henry Blake and Nathalie Biancheri as other worthy contenders. Sums up Tuttle: "I can't remember such a thrillingly broad new crop of first- and second-time UK-based feature filmmakers."