The UK producer and Bafta chair talks about her working day, first job in the industry and her desire to take a meeting with Bong Joon Ho.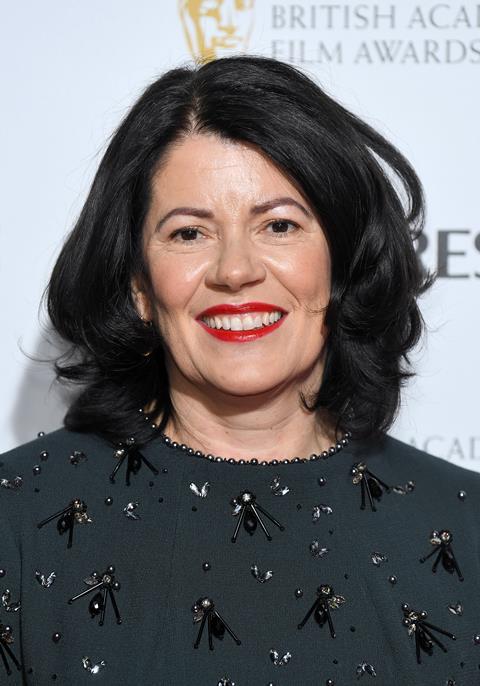 Pippa Harris is the Bafta-winning producer of Sam Mendes's First World War drama 1917.
She runs London-based film, TV and theatre company Neal Street Productions with Mendes, Caro New­ling and Nicolas Brown and has a full slate executive producing series 10 of Call The Midwife for the BBC, a new Penny Dreadful spin-off Penny Dreadful: City Of Angels for Showtime, series three of Britannia for Sky Atlantic and is developing an adaptation of John Fowles' The Magus (to which a broadcaster is not yet attached).
Her next feature guarantees a change of pace from 1917: an adaptation of Enid Blyton's children's book The Magic Faraway Tree, adapted by Simon Farnaby. Harris is also the chair of Bafta.
What is your office like?
We've been in the same converted warehouse [on Neal Street in Covent Garden] since the company started [in 2003], so it's full of posters, pictures and mementos of the projects we've produced. We've considered moving somewhere bigger, as it can get crowded — like if we're doing casting for Call The Midwife and a table read for [stage play] The Lehman Trilogy at the same time — but we all love the area and the sense of continuity of working in the same rooms for so long.
What's the first thing you do when you arrive in your office each day?
Well, to be honest, I'm not in the office every day. I live out of London and try to juggle the week so I split my time between the office, location work and home. However, when I am in the office the first thing I do is read my emails and drink a cup of black lapsang tea.
What was your first job in the film industry?
I started out as the receptionist in a tiny production company in Soho called Jacaranda Productions. I had seen an advert and blagged my way in by slightly exaggerating my typing speed… I was rumbled in the interview when they gave me a typing test, but I still got the job, where I was in charge of answering the phone and arranging flowers on the reception desk.
Who do you look up to in the industry and why?
Jane Featherstone, who runs Sister Pictures, is one of my heroines in the industry. I first met her years ago when she was producing Spooks for the BBC and she's gone on to make many of my favourite TV shows, such as Life On Mars, Broadchurch and Chernobyl.
Who helped you most when you were first starting out?
Jane Tranter [executive producer of Succession and His Dark Materials]. I worked for Jane first at Carlton TV and then at the BBC and we became firm friends. She has one of the sharpest brains in the business and manages to combine commercial nous with great taste and an ability to bring the best out of writers and directors.
What were your favourite films growing up?
As a teenager they were Breakfast At Tiffany's and Harold And Maude.
What do you like best about your job?
No two days are ever the same. One morning I might be looking at the different-sized prosthetic umbilical cords we have on set for Call The Midwife, then watching a cut of the latest episode of Penny Dreadful: City Of Angels, then finishing up with a preview performance of the new stage version of [musical] Local Hero, which Neal Street is producing, in the evening.
What is your favourite festival?
Venice. I love the beauty of the city and the range of films that are programmed. It is a real celebration of cinema.
With whom would you most like to take a meeting?
Bong Joon Ho. I've met him briefly, but it would be amazing to quiz him properly about making Parasite.
What is the biggest challenge facing the business today?
It has become increasingly difficult to get studios to fund mid- to high-budget movies that aren't part of a franchise or based on major IP. We were extremely fortunate to be allowed to make 1917 without major stars in the leads, but that freedom is rare. In our case it was thanks to the great working relationship Sam [Mendes] has with Steven Spielberg and Amblin, who trusted us not to make a niche film that nobody would want to see.
What book are you reading?
Catch And Kill by Ronan Farrow.
What do you do to unwind?
Gardening and practising my French on [online platform] Duolingo.
Who would play you in the biopic of your life, and who would direct it?
It would have to be Olivia Colman, directed by Sam Mendes.
Interview by Louise Tutt
More Screen Life interviews