In 2013, Screen profiled a new generation of business-to-business websites seeking to capitalise on rapid technological changes in the industry. Colin Brown reports on how far things have come.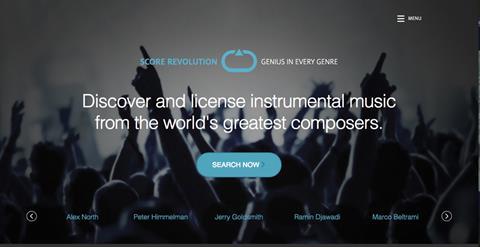 A platform focused solely on film music, Score Revolution has carved out its own niche as the destination for the licensing of instrumental scores. Not just for use in movies, but also in trailers, promos, TV shows and advertising campaigns, as well as lower-value web-based uses. The searchable website has agreements with three of the four major global music publishers to represent their film music, as well as deals with Warner Bros Pictures, Lionsgate, Lakeshore and Constantin among others. Its catalogue stands at approximately 15,000 tracks.
"Originally we were concentrating our efforts on high-value licences — mainly in the trailer and advertising areas. The problem with those licences is that they are the most difficult to win and can be hard to rely on for steady revenue," says co-founder and CEO Christine Russell. "We found that there was a great deal of interest in the catalogue from the lower dollar/high-volume users. We realise that this can be a real growth area for us and has the potential to stabilise our revenue stream. It also informed our decision to create a mirror site to Score Revolution called Score Revolution Xpress, which separated out tracks that can be licensed for $2,500 and under.
"We understood from the beginning that although film music's great advantage was its quality both in terms of the talent of the composers and production quality, its disadvantage is that it is not specifically tailored toward the uses that we are marketing for. This prompted us to create volumes that iterate on some chosen tracks to tailor them more towards the trailer market in particular. We call this 'trailerising' our tracks."
On the technology side, Score Revolution received a patent for its music search engine, a validation of uniqueness that also serves as a potential game-changer, believes Russell. "With the granting of that patent, we are making decisions about creating a white-label version that could be offered to any company that is looking to manage or monetise its own catalogue of music assets."
Launch date 2013
Key executives Christine Russell, CEO.
Cost to users The cost for a piece of music depends on the type of media, the piece being used, duration, territory and budget constraints.
Ownership structure Privately owned.
Business model Fee split with rights-holders, depending upon the size and stature of catalogue. Does not participate in any performance royalties.
www.scorerevolution.com