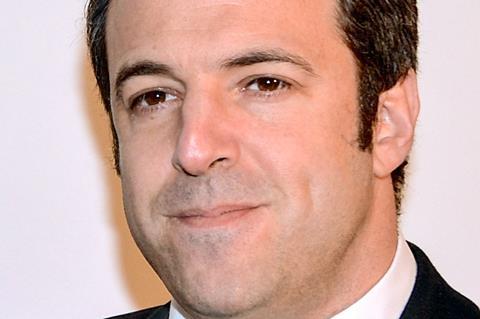 Simon Chinn, the two-time Academy Award winning producer, will open the talks at the Media Production Show on June 12 at 10:15, in an interview with Screen International features editor Charles Gant.
London-based Chinn, who won his Oscars for Man On Wire and Searching For Sugar Man, co-founded Lightbox Films in 2014, in partnership with his Los Angeles-based cousin Jonathan Chinn.
At the MPS, he will talk about his career as well as his new Whitney Houston documentary Whitney, directed by Kevin Macdonald, which had its world premiere in Cannes and will be released in cinemas on July 6 (via Altitude in the UK and Roadside Attractions/Miramax in the US).
The Media Production Show takes place 12-13 June at London Olympia. To receive your free badge granting admittance to the show, register now at mediaproductionshow.com.
Ahead of his appearance at MPS, Chinn spoke to Screen about the changing landscape for documentary financing and production.
How has the financing of documentaries changed in recent years and what are the exciting opportunities?
There has been an explosion of opportunity in the market, largely driven by US and global buyers, that derives from a few things. Firstly, there just is an audience for documentaries that didn't exist before. In part this is due to the rise of the documentary as an exciting and commercially viable alternative to fiction, with documentary filmmakers borrowing techniques from fictional storytelling to push the form toward ever greater heights. That is combined with audiences' insatiable appetite for true stories. And it's also due to the rise of streaming platforms like Netflix whose passion for documentary – reflected by the audience's – has reignited the marketplace for docs in an exciting way.
With a film like Whitney, why do you still believe in the power of the theatrical documentary?
The theatrical market for documentaries has always been limited but for a certain kind of doc it's still in great health. The fact that we were able to pre-sell the world on Whitney in the two weeks of the Cannes Marche in 2016 based on a one page outline from me and director Kevin Macdonald says something – and may be a first for a documentary. That pre-sales market just didn't exist before. When I was setting up Man On Wire a decade ago, I couldn't even get a single UK theatrical pre-sale.
There is nothing like the experience of seeing something on a big screen with an audience and people will pay to go the cinema for docs that justify that experience – and every year there are a handful that absolutely do.
Those docs just enter the blood stream in a different way to a TV broadcast or even an SVoD release and live long in the memory. I often wonder what would have become of some of the great theatrical docs of the past 15 or so years had Netflix existed - would we have heard of many of them?
After producing Whitney, you're moving onto another icon with your new film about Tina Turner. Why are you and directors Dan Lindsay and TJ Martin fascinated by her as a subject?
Tina Turner is the godmother of the #MeToo movement and she's a hugely inspirational figure without whom so many powerful female solo artists – Beyonce, Rihanna and so many more – wouldn't exist. But hers is simply one of the most extraordinary narratives of a woman who overcame impossible odds to escape all the prejudices of her time and the kind of hardships that would finish most people off to become one of the greatest female singers of all time. I don't think any film has satisfactorily answered the question of how that was possible and, unlike with our Whitney doc, we have the woman herself to tell us. I am so excited to be re-teaming with Dan and TJ to make this film. They are really among the most talented directors I have worked with [Lightbox also produced their film LA 92].
Your company Lightbox is based in both the UK and US. Why is that a smart strategy these days?
We benefit hugely from existing in both markets because we can take advantage of a much broader range of opportunities, but the key to Lightbox's success is really my partnership with my LA-based cousin, Jonathan Chinn. Lots of UK production companies have satellite offices in the US but Lightbox is truly bi-national because it was founded as such and because we run it that way. Our London and LA operations are completely equal and we function as one company. We both sell into the US and UK markets together, we develop collectively between our two offices and we produce our projects out of either office according to where the talent is, but we both stay close to the creative process on everything we do. I really don't think it would work if Jonathan and I weren't as close as we are, and if we didn't have implicit trust in each other, a unified vision for the company and a strongly shared creative sensibility. I think that gives us a real competitive advantage.
Are you also excited to work in other formats and with the digital platforms?
We are already working in a number of different formats – and doing a lot of work for the digital platforms. We are currently in production on an eight-part series for Netflix called Diagnosis – in partnership with Scott Rudin and The New York Times – which aims to find diagnoses for people with mystery illnesses through the power of online crowdsourcing. It's an idea which has revolutionary implications for public health and, as a series of lightly formatted premium documentaries, it absolutely brings Jonathan and my backgrounds together in one show, which was one of the big ideas behind our company. We're increasingly looking for those kinds of projects alongside all the feature docs and limited documentary series we've been doing, and are incredibly excited about the growing opportunities to innovative in the documentary space.
The Media Production Show (MPS) takes place on June 12 & 13 at the Olympia in Hammersmith, west London. It provides opportunities to meet and network with different exhibitors presenting products and services across pre-production, production, post and content distribution. Seminars are free to attend. The full programme is available at www.mediaproductionshow.com.