SCREEN SUBSCRIBERS: Director discusses new crime-drama starring Daniel Auteuil, his passion for true stories and future projects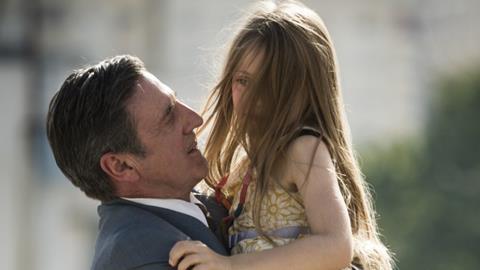 French director Vincent Garenq's new film Kalinka, starring Daniel Auteuil as real-life French accountant André Bamberski who spent 30-years battling to put the German doctor who raped and killed his teenage daughter behind bars, was one of the buzz titles of this year's Unifrance Rendez-vous with French Cinema in Paris over the weekend (Jan 14-18).
The film is based on Bamberski's autobiographical Pour Que Justice Te Soit Rendue (So That You See Justice Done) detailing his fight for justice which began in July 1982 after his teenage daughter Kalinka was found dead in bed while on holiday with her mother Danielle and her second husband, a German doctor called Dieter Krombach.
A detail in the post-mortem that there were signs of injury to the girl's genitals convinced Bamberski that his daughter had been raped before her death and that Krombach was the perpetrator. A 30-year legal battle battle ensued, culminating with Bamberski getting involved in a plot to kidnap Krombach and smuggle him over the border to France, after Germany refused to extradite him following a French conviction in his absence.
Garenq's previous features include Guilty (Présumé Coupable), inspired by another real-life miscarriage of justice in which 18 innocent people in northern France, mainly parents, were put behind bars after being falsely accused of sexual abuse, and The Clearstream Affair (L'Enquete) based on journalist Denis Robert's investigation uncovering corrupt practices of Luxembourg bank Clearstream Banking.
Initiated by Hugo Bergson-Vuillaume at Paris-based Black Mask Production, who acquired the rights to Bamberski's book from French publishers Michel Lafon, the film is a 50:50 co-production with French LGM Cinema. Studiocanal is handling International sales.
What drew you do this story?
Quite simply, I read the book and I found it extraordinary. It's really well written. I'd hesitated about reading it because I'd just done a film about justice [Guilty] and I felt I should do something different but I cracked and bought the book while I was on holiday and read it over the course of one night.
I was still hesitant about pursuing it so when I called the publisher and they told me the rights had already been optioned, I thought 'It's probably for the best — that decides it' but then a month later I called her again to find out who had the rights. I discovered it was a TV production company.
I called the producer and said you can't make a TV film. This story deserves more than that. It should be told on the big screen. I guess it wasn't very diplomatic to say that to a TV producer but that was my opinion. A year later they called me back and said 'You were right'. I was still hesitant about taking it on, doing another film about justice, but deep down my heart told me I should do it.
What made you feel that it was cinematic as a story?
I understand why people think it's a subject more suited for television but I always saw it as perfect for the big screen. It's really about how you deal with the story and write the screenplay. When I read a book, I feel intuitively whether it will work as cinema. I fell in love with the central character. It's not really the whole affair which interests me but rather the figure of Andre Bamberski. The film is about him, the strength of his character and what he went through and what he did.
The facts of the case and the various judicial battles fought by Bamberski over 30-years are complicated. How did you and your co-writer Julien Rappeneau avoid getting bogged down in the detail?
There were two key stages: the writing and the editing. We remained pretty faithful to the book but it was in the editing suite that the film really took shape. It was almost like a second writing stage in which we gave the film its rhythm. The story is monolithic, obsessive and focused on one storyline, it could have easily been boring. It took us six months to find the right version.
Did you meet Andre Bamberski?
Of course. We met him, interviewed him and consulted him on the screenplay. We also met Kalinka's mother.
It is surprising Kalinka's mother Danielle Gonnin was happy to cooperate. The fact she defended Krombach's innocence, albeit in good faith, for many years is highlighted in the film.
The film is faithful to the facts but I guess she felt I wasn't there to attack her. I had no desire to criticise her. In real life, Andre has been highly critical of his wife but in my films I try to look at things more objectively. I try to understand my subjects. I never looked at her critically. I saw her as a victim.
Why did you choose Daniel Auteuil for the lead?
While I was reading the book and then writing the screenplay it was obvious for to me that it was a role for him. And in fact, he agreed immediately. I had previously contacted him for a role in Guilty although he was really too old for the role I had proposed but for this film he was the perfect age.
In recent years you have become known for hard-hitting films, based on true stories, such as The Clearstream Affair, Guilty and now Kalinka, but you started out directing more light-hearted productions such as the romantic comedy Baby Love and Sous Le Soleil. What prompted the change in direction?
It took me a long time to break into cinema. It was my dream but I didn't hold the keys. I'm from the provinces. I wasn't born with a silver spoon in my mouth. I had to work it out for myself. I guess it's strange to see Sous Le Soleil in my body of work but I did that to make a living — and it's one of the many things I did en route to making a film.
Baby Love was actually based on the story of an old school friend and it took me years to get it off the ground and find a producer who would take it on. I started with comedy because I liked the story and didn't think it would work as a drama. I don't calculate I just do things because I want to. It's intuitive.
What is it you like about making films based on real facts?
For me cinema is about life and I like to get inspiration from true stories. Too often, I find films inspired by a director's imagination are contaminated by their love of cinema which result in cinephile screenplays. I like to take inspiration from reality. When I see films revisiting the Nouvelle Vague, for example, that irritates me.
What will you work on next?
I am working on a biopic but I can't reveal on who yet because we have to work with the family. It's a very well-known French personality. It will be more crazy, excessive in style and about fame, drugs, power and money. I'll write it this year and the aim is to shoot it next year.