As part of Screen's Perspectives on 2020 series, MUBI founder and CEO Efe Cakarel tells us about his streaming platform's pandemic-fuelled boom, why he is happy to see windows being shattered and the company's active move into production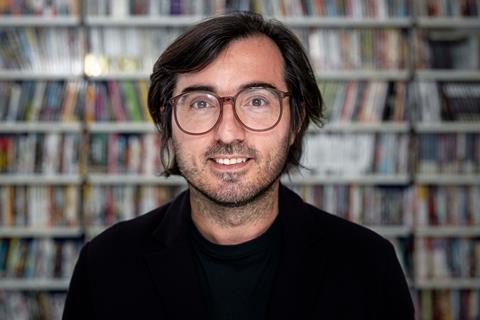 Since launching MUBI in 2007, Turkish cinephile and entrepreneur Efe Cakarel has overseen the steady rise of his arthouse-oriented streaming platform. That growth has been turbo-charged in 2020 by the pandemic, as a new audience fervently embraced SVoDs. It has also seen the company evolve over time from its signature customer offer of one new title added per day to the service and available for a 30-day window, to the point where it is now actively engaged in all-rights acquisitions, theatrical distribution and, increasingly, production.
MUBI's global footprint has also grown rapidly, including a late 2019 launch in India — a territory that Cakarel cites as crucial to the company's long-term ambitions. And while it hit pause on the initiative during the pandemic, its MUBI Go package, in which the company covers the cost of a cinema ticket for one curated new release per week, indicates a wider philosophical desire to help sustain the global independent arthouse ecosystem.
What is your most memorable moment of 2020?
It was a bittersweet moment when the first weekend of lockdown happened. We typically get about 17,000 people hitting our servers in a given minute — doing something on MUBI, watching a film, reading an article. Overnight, it went up to more than 50,000 people in a given minute, globally. We literally spent three days around the clock redeploying our server infrastructure all over the world, just riding that wave of people watching movies.
What kind of subscriber growth have you seen this year?
We've been around for 14 years, and growing consistently the past few years. Since the beginning of this year, we've more than doubled our subscriber base. What's more interesting is engagement went up even higher — the number of films people watched per subscriber is up more than three times. So you have this huge cohort of new subscribers coming in, and they are more engaged even than our previous really hardcore cohort.
How did you personally adapt your working style to stay productive and sane?
We were already very comfortable working remotely. MUBI has more than a hundred people, mainly in our offices in London and New York, but also in Istanbul, Mumbai, Kuala Lumpur, Mexico City and Sao Paulo. So we had all the processes in place to work very efficiently [from home]. Personally, I had this one hour of exercise time. I live in Notting Hill and our office is in Soho so I used that time to walk to the office. There was nobody in the office and I made this place sort of my home. And there was nothing open so I would be fasting all day — I felt so healthy.
What's one thing that changed this year that you hope to see continue in 2021?
Theatrical windows! To give people the choice to watch what they want to watch, when they want, is lovely. I love the cinema, and when a film comes out, I don't want to watch it on my laptop, even though I run MUBI. I want to go to a cinema. But this 90-day window, especially for smaller, independent, foreign arthouse films, made no sense. The 'a-ha' moment was when Disney decides to put Mulan and Pixar's Soul [on Disney+], and then Universal [sets up PVoD deals with cinema chains]. Once these moments happen, it's game over. The studios are going to go direct to their consumer as well as [putting films in] cinemas, but we have a choice as consumers.
None of the UK chains have indicated whether they will entertain a Universal-style arrangement.
But it will happen. What is Cineworld going to do when Disney says, "We're going to put Avengers day-and-date on Disney+." Not show Avengers? They can continue to push for another year at the expense of losing a lot of value for themselves, their shareholders, but it's game over. I thought this was going to happen two or three years from now, but Covid-19 has accelerated that timetable significantly.
Besides a Covid-19 vaccine, what's the one thing you're pinning your hopes on for 2021?
I want to see the cinemas survive and prosper, especially the independent ones. And of course, we are getting more and more into buying and releasing films exclusively. In 2021 we have a slate like we've never had before: Limbo, Beginning, Notturno, New Order…
What excites you about the future of the film industry?
While the pandemic had negative impacts, I also think it's created more opportunities for independent arthouse film. There is more demand for more interesting, different stories — I'm already observing that it's going to be a better environment for getting those films made. With less mainstream films this year, a lot of households are discovering independent films or films with subtitles for the first time.
You added a library in May so users can access titles beyond the 30-day menu that has always been MUBI's signature consumer experience. Was that pandemic-related?
If you have the rights for 12 years to a film like Limbo, it doesn't make sense to just show it for 30 days. About two or three years ago when we really started to invest in all-rights acquisitions, we found ourselves also being able to buy pay-one rights of some amazing films. We showed Portrait Of A Lady On Fire right after the cinemas; we got that from Curzon for 15, 18 months, whatever the pay-one window is. Pain & Glory from Pathé — it doesn't make sense to show that film for one month. We are never losing our one-new-film-everyday, but now we just open up the world behind our kitchen a little bit.
How ambitious are you aiming to be with your production arm?
That's going to be a major focus. If you want to have a meaningful, long-term, sustainable differentiation, you have to be producing your own content. It is essential. And there's no reason why we could not be doing the next Alfonso Cuaron in a couple of years, instead of Netflix. Because MUBI is the right home for these kinds of major productions. It's going to be a journey. We are going to be investing heavily into it. We are starting our development slate in 2021 and we expect to greenlight our first film, fully financed, from that slate in 2023.
What's enabling you to move into production so robustly?
The kind of growth that we've had, which reflects very positively on our financial health. MUBI is a cashflow-positive company now, and we are going to invest a significant chunk of that towards producing our own content. It's an ambitious plan, and it's going to take us a good five years to really start humming. But like I said, it's essential. You cannot rely on licensing Parasite from Curzon if you want to survive. You want to be making Bong Joon Ho's next film. And that is our world, by the way: when he won the Oscar, on his way back to Korea from LA, he stopped in London and what did he do that night? He came to a screening with us and hung out with the MUBI team. That's our world. There is no reason why we cannot develop the capabilities to produce a film like Parasite in the coming years.
Is it a decision driven by what Netflix and Amazon are doing in this space?
It's not a defensive move. You might think Netflix, by doing The Irishman and The Meyerowitz Stories (New And Selected), is focused in this space, but the reality is they are not. If you go to Netflix.com and check out their film selection, you are going to get frustrated very quickly.
I know that they promoted Roma for less than a day before they realised nobody's clicking [to watch] a black-and-white period drama in a foreign language. Their business is these global tentpole moments like The Crown or Emily In Paris, and they'll do two or three films a year like Roma and The Irishman because it's important for them to play the awards game. But it's not going to make any difference to their subscriber base if they have another 20 of these films.
So it's not a defensive move, it is because the audience that we are advocating globally, from Buenos Aires to Tokyo to London, is the audience for Roma and New Order and Notturno and so on. I want us to produce whatever [Dea Kulumbegashvili], who directed Beginning, does next; we want to be producing Kantemir [Balagov's] next film — Beanpole was our film, we have it in many territories exclusively. It's a part of our long-term strategy to become the home for this incredible talent.
Now that you are aiming to buy rights for more territories, has the competition become more fierce?
For global deals, yes. I think we are still some way from doing a global deal for a film like Limbo. But we still have wonderful opportunities. Most recently, we did Yorgos Lanthimos's short film Nimic. That's a global acquisition that happened during lockdown, it's not a film in any case that had theatrical potential. It's going to be a journey to go to total global buyout of a major film in Competition in Cannes. But it will happen.
Our Perspectives on 2020 series sees key figures from across the international industry landscape share their experiences during the pandemic year and their thoughts on the future. See below for more interviews in the series: