As the 2021 Pre-Cannes Screenings kicks off, Screen highlights the US buzz titles ready to entice international buyers.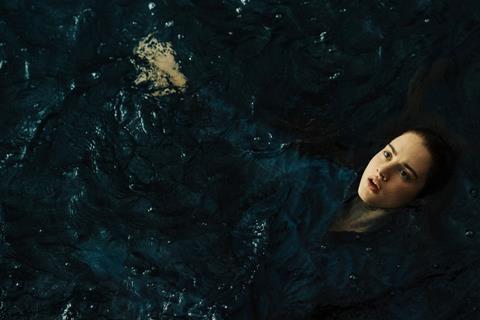 A bumper Voltage Pictures slate includes Renny Harlin horror thriller Refuge, about a US veteran from Afghanistan with suspected PTSD whose wife believes he has become possessed by a malevolent spirit. Jason Flemyng (Lock, Stock And Two Smoking Barrels), Raza Jaffrey (Homeland) and Sophie Simnett (Daybreak) star. Voltage will also be selling action heist thriller The Yacht with Ruby Rose, Patrick Schwarzenegger and Frank Grillo; art heist thriller American Night with Jonathan Rhys Meyers; and English-language J-horror Room 203.
Millennium Media produces and represents the world on The Enforcer, a noir thriller starring Antonio Banderas, Kate Bosworth and rapper 2 Chainz. Richard Hughes will direct from a script by W. Peter Iliff (Point Break, Patriot Games) about an enforcer in Miami who discovers his femme fatale boss has branched out into cybersex trafficking, putting a young runaway he has befriended at risk.
A24 will start talks on Disappointment Blvd., Ari Aster's follow-up to Midsommar and Hereditary, both of which the company produced. Joaquin Phoenix is set to star and while plot details are scarce, it is understood the film profiles one of the most successful entrepreneurs of all time over several decades. Aster and Lars Knudsen will produce under their Square Peg banner with A24. Oscar-winner Phoenix (Joker) made A24 his home on his last film, Mike Mills' drama C'mon C'mon, which is in post and expected to surface in awards season.
Rachel Weisz and Colin Farrell (The Lobster) are reuniting on Todd Solondz comedy Love Child, which Madriver International will be taking out to buyers. Killer Films and 2AM are producing the Oedipal tale of a precocious child who plots to remove his brutish father so he can have his mother all to himself. Cinetic Media and CAA Media Finance are arranging financing and represent North American rights with Endeavor Content.
Foresight Unlimited is talking up Rumble Through The Dark, a Mississippi Delta-set drama starring Aaron Eckhart about a bare-knuckle cage fighter's final attempt to salvage the family home of his dying foster mother. Graham and Parker Phillips will direct and production is set for July in Mississippi. Cassian Elwes of Elevated and CAA Media Finance represent US rights.
Liam Neeson's role as hard-boiled private eye Philip Marlowe is finally set to proceed with Storyboard Media. Neil Jordan directs Marlowe from a screenplay by William Monahan (The Departed). Production on the noir thriller from Storyboard Media, H2L Media, Nickel City Pictures and Parallel Film Productions has been earmarked for October in Los Angeles and Europe.
FilmNation will be talking up Zoe Kravtiz's upcoming feature directorial debut Pussy Island, a thriller that leans into sexual politics and follows a cocktail waitress who gets an invite to a tech mogul's island where a sinister truth lies behind the parties and free-flowing champagne. Channing Tatum will play the billionaire, and the lead role of the waitress is yet to be cast. Free Association and Bruce Cohen Productions are producing. CAA Media Finance handles US rights.
Production is underway in Paris on Mel Gibson thriller On The Line, Fortitude International's sales title about a radio host confronted with a hostile caller over the course of one night. Romuald Boulanger directs and produces with Robert Ogden Barnum and Marc Frydman. Executive producers include Three Point Capital, BondIt and Caliwood Pictures.
XYZ Films starts talks on Nick Cassavetes crime thriller God Is A Bullet, which is in production in Mexico and stars Nikolaj Coster-Waldau, Maika Monroe and Jamie Foxx. XYZ Films and Patriot Pictures handle worldwide sales on the story of a detective who quits the force and infiltrates a satanic cult to rescue his kidnapped daughter after his wife is murdered. Michael Mendelsohn and Don Allen are producing.
STXinternational is talking up the F. Gary Gray action comedy Muscle starring Vin Diesel, riding high on the international success of F9, which opens in the US next Friday (June 25). The logline is being kept under wraps and writers are John Swetnam and Malcolm Spellman.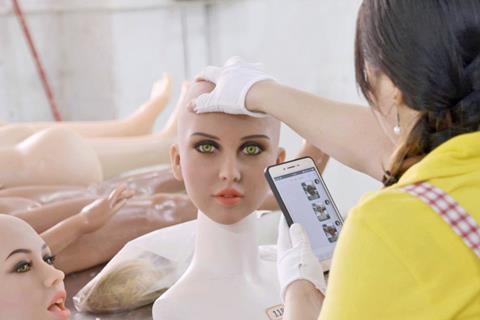 Visit Films is starting talks on Jessica Kingdon's fresh 2021 Tribeca Festival best documentary winner Ascension. The film from Mouth Numbing Spicy Crab LLC explores the pursuit of the contemporary "Chinese Dream" through meditations on labour, consumerism and wealth.
The Exchange starts talks on thriller The Maestro from Roland Joffe, with Julian Sands attached alongside an international cast that includes Thomas Kretschmann, Laëtitia Eïdo and Alexander Petrov. Inspired by composer/musicologist Francesco Lotoro, the story follows an Italian composer who archives musical works composed by Jewish inmates from the concentration camps. When he suspects a German composer of appropriating the works, it leads him to team up with Mossad to track down a missing Nazi. Acteurs Auteurs Associés, Orka Film and R.B. Produzioni are producing.
Highland Film Group will be talking up The Good Neighbor, a thriller based on 2011 German film Unter Nachbarn. Jonathan Rhys Meyers and Luke Kleintank star in the story of a budding friendship between neighbours that turns sour when one of them accidentally runs over and kills a young woman. Dean Altit and Yulia Zayceva are producing, and Stephan Rick directs, as he did on the German original. CAA Media Finance represent US rights.

Endeavor Content will be starting talks on Gina Rodriguez's (Jane The Virgin) feature directing debut, an untitled sports drama in the vein of Rocky and Creed that will shoot next year and star Rodriguez and boxer Ryan Garcia. One Community and Endeavor Content are financing development and Rodriguez's I Can And I Will Productions is producing.
Magnolia International is handling internationals sales on 2021 Sundance and IFFR entry Mayday. Karen Cinorre directed the fantasy action title about a young woman who is transported to a dreamlike land where women lure seafaring men to their death and realises she is not the killer people want her to be. The cast includes Grace Van Patten, Mia Goth, Havana Rose Liu, Soko, Théodore Pellerin and Juliette Lewis.
Jason Isaacs, hot off rave reviews for Sundance entry Mass, stars in the completed sports thriller Streamline, which Arclight Films represents worldwide. Tyson Wade Johnston directed the story about a 15-year-old swimming prodigy who self-destructs after his father is released from jail. Legendary Olympian Ian Thorpe prepared Levi Miller (Red Dog franchise) for the role. Blake Northfield and Nathan Walker from Bronte Pictures produced with Jay Douglas.
Montreal's WaZabi Films will be tempting buyers with Marion Hill's Sundance NEXT audience award winner and SXSW entry Ma Belle, My Beauty, about two women and former polyamorous lovers who reunite. Good Deed Entertainment and LevelFILM plan to release the drama in August in the US and Canada, respectively. WaZabi's slate includes international rights to Hot Docs entries Wuhan Wuhan and My Tree.
Arthouse genre specialist Yellow Veil has added upcoming Fantasia International Film Festival selection Hellbender to its roster. Hailing from the Adams Family of filmmakers and actors, the story follows a young girl who lives on a mountaintop and begins to question the ailment that requires her to be there. Toby Poser, Zelda Adams and John Adams direct, and Zelda Adams and Lulu Adams star.
MPI Media kicks off talks on SXSW tech thriller Broadcast Signal Intrusion, which is inspired by real events and stars Harry Shum Jr. (Crazy Rich Asians, Glee) as a video archivist investigating strange pirate broadcasts in the late 1990s. Jacob Gentry directed the genre title from Queensbury Pictures; Dark Sky Films holds US rights.
Epic Pictures is talking up Slapface, a completed horror thriller about orphaned brothers who keep company with a gang of bullies and strike up a bizarre friendship with a legendary local witch. Jonathan Kipp directed from his screenplay and the film stars Mike Manning, Lukas Hassel and Augut Maturo.
Myriad Pictures is selling Susan Sarandon drama Ride The Eagle, a comedy from Trent O'Donnell about a man who can only inherit his deceased mother's picturesque Yosemite cabin if he completes an elaborate to-do list as her way of making amends from beyond the grave. Jake Johnson and J.K. Simmons also star. Decal, the home entertainment distribution JV launched by Neon and Bleecker Street, holds North American rights.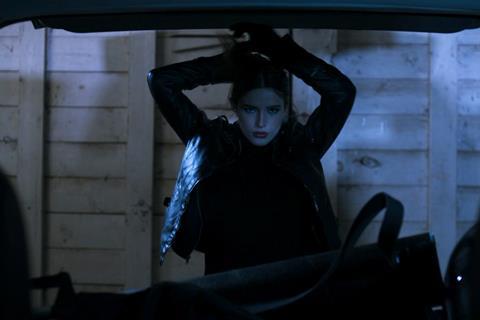 Bleiberg Entertainment will be touting Racer Entertainment's Masquerade, a thriller with a twist from Shane Dax Taylor about an 11-year-old girl who gets into a game of cat-and-mouse when intruders break in to steal her family's artwork. Bella Thorne and Alyvia Alyn Lind lead the cast. Steven Schneider (Insidious) produces and executive producer is Stuart Manashil (Pieces Of A Woman, His House). Shout Factory will release the completed film this summer.
FilmSharks from Buenos Aires has History Of The Occult, winner at 2020 Mar del Plata for Germán Baudino's best performance by a breakthrough Argentine actor. Cristian Jesus Ponce directed the supernatural thriller about an attempt by journalists to reveal government links to a coven during a live broadcast.
Toronto genre specialists Raven Banner has boarded sales on Leigh Brooks' documentary The Sound Of Scars from Firebelly Films. The film explores how New York heavy metal band Life Of Agony achieved their dreams against the odds while led by the first openly transgender singer in the testosterone-fuelled music genre. Mina Caputo, Alan Robert and Joey Z feature in the completed film.
Red Sea Media has The Survivalist starring Jonathan Rhys Meyers and John Malkovich, about a former FBI agent forced to protect an immune young woman from a violent gang after a disease has wiped out most of humanity. Jon Keeyes directs from a screenplay by Matthew Rogers. Quiver Entertainment plans an October US release on the post-apocalyptic action thriller from Yale Productions and LB Entertainment.
Film Mode Entertainment is introducing buyers to comedy drama As Sick As They Made Us starring Dustin Hoffman, Candice Bergen, Simon Helberg and Dianna Agron. Mayim Bialik is in production on the story of a newly divorced woman who has found love and tries to make peace with her dysfunctional family.
Motion Picture Exchange has the completed, female-led film Student Body, about a high school student and her best friend who take matters into their own hands with deadly consequences when a teacher oversteps the mark. Lee Ann Kurr's feature debut stars Montse Hernandez, Cheyenne Haynes, and Harley Quinn Smith. The all-female producing team is Rachel Liu, Sandra Leviton, and Kurr.
13 Films has The Friendship Game, a sci-fi horror starring Peyton List about a group of small-town teens who encounter an object with mysterious cosmic powers that leads to a cataclysmic collapse of reality. Director Scooter Corkle is gearing up for a September shoot in Vancouver.
Octane Entertainment arrives with horror thriller Nix, in which a mysterious entity terrorises a family and thrusts them deep into their self-created madness. Anthony C. Ferrante (Sharknado) directs and the cast includes Michael Pare, Dee Wallace and James Zimbardi. In post.
VMI Worldwide has Come Out Fighting starring Kellan Lutz and Michael Jai White, due to commence production this week. Stephen Luke is directing the story about a US soldier behind enemy lines and members of the Black Panthers tank battalion comprised primarily of African American soldiers who must put aside their differences and end the Second World War.
Grandave has drama The Atlantic City Story, a completed drama about an unhappily married woman who flees home and strikes up an unlikely friendship with a young gambler in Atlantic City. Jessica Hecht, Mike Faist and Gary Wilmes star, and Henry Butash wrote and directed.
RTG Features represents world excluding Spain on Untitled Pau Gasol Docuseries about the two-time NBA champion with the Los Angeles Lakers and six-time NBA All-Star as he winds down his professional career. Oriol Bosch directs for PG Productions, RTG Features and THINK450.
MSR Media International has romance A Week In Paradise, which is shooting in Nevis in the Caribbean and stars Malin Akerman, Connie Nielsen, Philip Winchester and Jack Donnelly. Philippe Martinez directs the story about a heartbroken woman who takes refuge at her cousin's idyllic home and finds new love, before trouble returns. Sherborne Media is financing production.
Premiere Entertainment Group has family and faith-based drama The Girl Who Believes In Miracles starring Mira Sorvino, Austyn Johnson, Kevin Sorbo, and Pete Coyote. Hannah Montana co-creator directed the story of a young healer who must prove that her visions are real against sketpics in the community. The film opened in the US via Atlas Distribution and took more than $3.1m at the box office.
Lon Haber & Co will be launching sales on The Unexpected, Remi Adeleke's dramatic thriller about a human trafficking ring's terrorism links, told in reverse and from the perspective of two victims. Adeleke, Ariana Kaufman, Raelin Searcy and Kerry Lynne McHugh star.