Screen highlights the buzz titles for buyers available from sellers in Spain, Italy and the Nordics.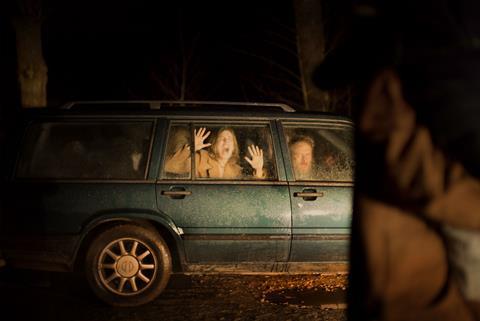 Italy
Comedians, the new film by Gabriele Salvatores, headlines Rai Com's market slate. The completed film is based on the play of the same name by Trevor Griffiths and is produced by Indiana with Rai Cinema. It features a cast of aspiring comedians preparing for their big night.
Intramovies is kickstarting sales on the Dutch drama Love In A Bottle, produced by Levitate Film and directed by Paula van der Oest, whose credits include Zus & Zo. It is a lockdown love story that unfolds over FaceTime. The company is also handling N-Ice Cello, a documentary by Corrado Bungaro about the journey of a cello artist and his instrument made of ice. Wasabi SNC and Naturalmente Arteventi produced.
True Colours is introducing buyers to two new Italian films. The first is Claudio Cupellini's post-apocalyptic drama Land Of The Sons, based on Gipi's graphic novel. Valeria Golino stars with Valerio Mastandrea. The producers are Indigo Film and France's WY Productions with Rai Cinema. The second is With Or Without You, the feature directing debut of screenwriter Stefano Sardo. It is a romantic comedy about a couple trying to break up without rancour. The film is produced by Nightswim and Ascent with Rai Cinema.
Minerva Pictures has the Italian-Canadian drama The Cuban starring Louis Gossett Jr. and directed by Sergio Navarretta. It is the story of a pre-med student who bonds with a former musician in a nursing home. Minerva is also handling Michael Zampinoo's drama Governance and Antonio Capuano's docu-drama The Hole In The Head.
Vincenzo Mosca's TVCO will have a strong presence with Igor Drljaca's The White Fortress, a coming-of-age drama produced by Timelapse Pictures and SCCA/pro.ba, which premiered in Berlinale Generation in March. It is also selling Kostas Marsaan's Russian horror title Ichi-chi, produced by Art Doydu Film Company, which premiered at Sitges last year.
Sales of Marcello Noto's The Love You Don't Know will be kickstarted by Summerside at the Cannes Pre-Screenings. The Italian romantic comedy is produced by Ideacinema with Rai Cinema and tells the story of a musician escaping from the Mob with a woman.
Spain
Latido Films' diverse slate includes Óscar Aibar's The Replacement which is a period cop thriller set in the early 1980s. It tells the story of a young police officer who discovers a group of retired Nazis living in a beautiful coastal retreat. There are also thriller elements to Carpoolers, a story of four strangers sharing a road trip that takes them places they were not expecting.
On a lighter note, Latido is also screening Fernando Colomo's comedy Polyamory For Dummies, which has already opened in Spain and stars Karra Elejalde, Maria Pedraza and Tony Acosta.
Latido is also handling the documentary 7 Lives, 7 Lakes about a researcher diagnosed with Amyotrophic Lateral Sclerosis who wants to fulfill his dream of touring Eastern Europe and bathing in its lakes, and musical The Cover, about an aspiring musician who falls in with a group of musical impersonators living in Benidorm.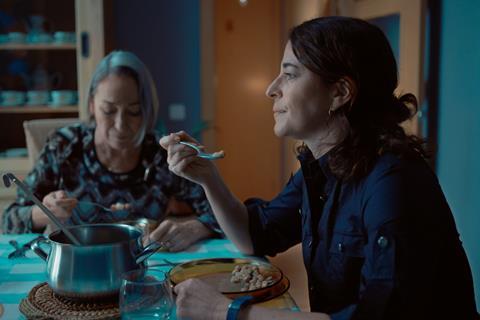 Filmax also has a strong line-up with five market premieres. Ama is a completed drama and the debut feature of Julia de Paz Solvas, about a young homeless woman who is bringing up her young daughter alone. The film won the best actress award for Tamara Casellas at the Malaga Film Festival earlier this month.
Anna Maria Bofarull's Sinjar is about three women whose lives have been shattered by ISIS. Nora Navas (Pain & Glory) stars.
The company is also handling the black comedy Counting Sheep by first-time feature director José Corral and starring Eneko Saga and Natalia de Molina, and the comedy Undercover Wedding Crashers about a cop who joins a band booked to play at the wedding of the daughter of a local mafia boss.
Nordic region
REinvent, which will do online and physical Cannes meetings, has added two new films to its genre label Chills. Alex Herron's feature debut Leave is about a young woman, played by UK actress Charlotte Hope, who is haunted by a malevolent spirit who was once abandoned as a baby at a cemetery. Spirit Of Fear is the latest feature from Pal Oie, director of Norwegian disaster thriller The Tunnel, about a small-town woman who hires a medium to find her son who went missing during a winter storm.
Reinvent's market screenings include Henrik M. Dahlsbakken's Possession and Bille August's The Pact; its promo reel will show scenes of forthcoming titles including Charlotte Sieling's Margrete – Queen Of The North and the new Faroe Islands-set mystery series TROM.
TrustNordisk's hot titles include the horror romance Attachment, directed by Gabriel Bier Gislason (son of Susanne Bier), with a cast including Josephine Park, Ellie Kendrick, Sofie Grabol and David Dencik. The film is now in production, including partially shooting in London.
Trust's slate also includes three films in post-production: Christian Tafdrup's psychological horror Speak No Evil (which is attracting a lot of buzz from festivals and buyers); footballer-themed drama I Am Zlatan; and oil rig disaster epic The North Sea which has already been acquired by Danny Perkins' Elysian Film Group for the UK.
LevelK is hosting the first market screening for UK director Ruth Platt's UK ghost story Martyrs Lane, about a young girl who receives a mysterious late-night visitor; the cast includes Denise Gough. The company recently added Jake Wachtel's Cambodia-set sci-fi Karmalink (with XYZ representing North America), while its animated sequel Checkered Ninja 2 is being readied for an autumn launch.
The Yellow Affair has added two new titles to its slate: Ioseb Bliadze's Otar's Death, a Georgian suspense drama now in post; and Tobias Leo Nordquist's Swedish small-town gangster thriller Geared Up, starring Ola Rapace and Ida Engvoll, which will have a market screening. The company will also reveal first footage of Welby Ings's New Zealand drama Punch starring Tim Roth.
Michael Werner's Eyewell has added one new title, Latvian-Estonian family film Christmas In The Jungle directed by Jaak Kilme. The film, now in post, shot mostly in Indonesia with English dialogue. The story follows a 10-year-old girl who moves to the tropics with her family. When she can't get in the Christmas mood, she goes into the jungle to find the "Christmas shaman".