Sally Hawkins radiates an inner goodness on screen — a quality Guillermo del Toro has exploited to the full in The Shape Of Water.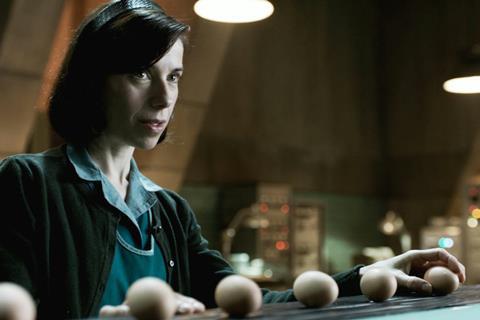 Sally Hawkins is in thrall to life's coincidences and "overlaps", so it seems only right that some essence of The Shape Of Water was inside her head before director Guillermo del Toro came calling. "He captures a part of your psyche you're not quite sure of," the UK actress says down the phone from Los Angeles before a recent Screen Actors Guild Q&A. "I don't know how he does it."
About five years ago, Hawkins started thinking about "a little tale that wouldn't go away", an idea for a short she fancied directing: "It was about a mermaid, a woman whose body is completely different, set in a non-specific future and her body is disintegrating."
Then in 2013, her agent called, saying del Toro had a feature idea and would Hawkins be interested in discussing it. "The vague premise was this was a woman who was a cleaner in a government facility in the 1960s and she falls in love with a fish-man," she recalls. "It gave me goose bumps — it still does — and I said yes."
Time passed and Hawkins, a rare combination of outsized talent and minuscule ego who understands the slings and arrows of making movies, resigned herself to the fact that the opportunity had dissolved. Then everything changed in early 2014 as Hawkins left a Golden Globes party with a friend and was spotted by del Toro. "He had been there celebrating Gravity with his comrades," she says. "He was very drunk, and he swept me up in his arms and said, 'Will you do my film? It's about a fish-man and you fall in love.' And I was saying, 'Yes I know — I've already said yes — and will do whatever you want.'
"The next day you wake up and wonder if it was all a dream, and he was drunk and it was in the dark and he might have had the wrong person."
In fact, del Toro had exactly the person he wanted for the lead role of Elisa Esposito, a mute cleaner at a US government facility during the Cold War who falls for an amphibious creature. However, the filmmaker had been somewhat preoccupied for a while, fighting behind the scenes to keep the project alive and investing some $200,000 of his own money to develop Daniel Kraus's story idea for a cross-species romance after studios baulked at the scope and premise.
Eventually Fox Searchlight agreed to do it for $19.5m and del Toro, who had admired Hawkins from the 2005 BBC miniseries Fingersmith, was ready to move towards an August 2016 production start in Toronto. A year later, The Shape Of Water premiered in Venice and dazzled critics, winning the Golden Lion. It opened in limited release in the US on December 1, where it has grossed $3.62m to date, and leads the field with seven Golden Globe nods, including one for Hawkins.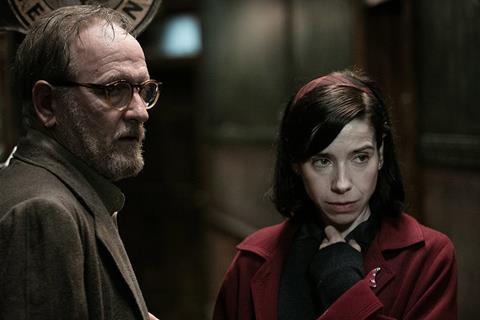 Hawkins has a disarming penchant for self-deprecation, considering her status as a beloved screen veteran and Mike Leigh regular who has consistently delivered distinctive work, winning a Golden Globe for playing the impossibly upbeat Poppy in Happy-Go-Lucky in 2009 and more recently Oscar and Bafta nominations for her performance as Cate Blanchett's working-class sister in Woody Allen's Blue Jasmine.
She could not believe it when she landed the part of Elisa. She still cannot believe it, despite already earning recognition from the HFPA, a SAG nomination and prizes from the Los Angeles Film Critics Association and others for a heart-stopping, sensual performance of quiet power. She is a strong bet for an Oscar nod come January.
"[Del Toro] is interested and sees something in us all that we may not be aware of," she says. "He brings out the best and he brings out the strength in people. I believe he sees into your soul. You know, with my mermaid story [in mind when I got the call], it's odd and just brilliant. Only in Guillermo's world could that happen. It's like the film started years before and it did with this amazing writer Daniel Kraus, and then [del Toro's co-screenwriter] Vanessa Taylor. It's all these lovely links and loops that I love about life."
She describes del Toro as "a beautiful man, a beautiful soul" and a "hard taskmaster", adding: "This film is beyond words. That's why it's so brilliant that she's a mute. Love is beyond words. Guillermo says himself when you see this film it's a feeling; he can't tell you what it's about beyond basic terms. It's different things to different people.
"[Elisa] has an inner dialogue that's so strong and so rich, and you're not quite ever sure why she is mute until the end. I loved that so much." Before production, Hawkins challenged herself by taking American sign language (ASL) classes and trained with deaf actor Justin Jackson. "You have a responsibility to the ASL community even though she isn't deaf and she has her own particular style of language, and you're never quite sure where she gleaned it from," she says. "I discussed with Guillermo how she probably picked it up from an ancient 1960s ASL tome she found, maybe in the library of the orphanage. It was never specific and I loved that, I was freer in that way…"
A doorbell chimes, yanking her out of what is beginning to sound like a reverie. Hawkins returns, a stream of apologies. The publicist is asking her to wrap up. She carries on, waxing lyrical about Doug Jones, the del Toro regular who plays Elisa's amphibious love interest: "Doug is just a genius. The most extraordinary human being I've ever met. I never saw Doug in this suit; I only saw this god-like creature. It's such a delicate performance and so powerfully strong. [The character] is capable of killing and capable of this incredible passion. He vibrates with it. I didn't feel alone within that. I felt a part of this incredible team and you're pinching yourself that you're even there, within it all, existing."
Lucky break
Hawkins has existed within a celebrated orbit for a decade-and-a-half now, ever since her breakout as an unemployed London teenager in Mike Leigh's All Or Nothing in 2002. "Mike Leigh is like my schooling in film," she says, pointing to Happy-Go-Lucky as a milestone. "That was huge and it was embraced. I'm forever thankful to Mike. You learn so much and you feel like your vocab increases a thousand-fold whenever you work with him. He's the person you want to learn from, as you do with Guillermo."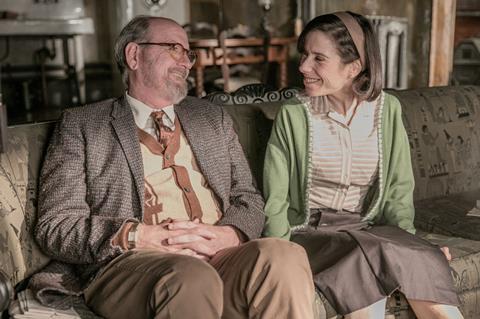 An arthouse specialist, Hawkins cherishes the intimacy, rehearsal time and artistry on lower-budget passion projects: "Sometimes it's so easily forgotten in the world of [blockbusters] where it's all about money. It really has to be the other way round." Yet she declares herself a fan of good genre films and has done a few tentpoles in her time — a scientist in Godzilla, Mrs Brown in the hit Paddington series — and is in post on Legendary's Godzilla: King Of Monsters, which Warner Bros has scheduled for March 2019. "Oh God, I'm so worried about that," she says with a nervous chuckle. "I was lost in that world of a big-budget film. I hope I did it right."
Only time will tell. Meanwhile, she awaits the start of production in 2018 on the latest directorial effort from Craig Roberts, the Welsh actor/filmmaker with whom she starred in Submarine.
Does she want to pursue directing? Yes, but "quietly, without anyone noticing". And what of her idea, the overlap with The Shape Of Water? She goes quiet, then sighs. "It would look weird if I did a short film about mermaids now, so I think I'll have to keep it for me. Maybe several years down the road… I don't know. I'm kind of embarrassed even talking about it, to be honest, but Guillermo has mentioned it very generously in interviews so I suppose I'm allowed."
Sally Hawkins awards history:
Academy Award nominations
Best Supporting Actress
2014: Blue Jasmine
Bafta Film Award nominations
Best Supporting Actress
2014: Blue Jasmine