Wes Anderson's The Grand Budapest Hotel was brought to life with huge success by Secret Cinema. Ian Sandwell looks at how the event came together and the reasons for its popularity.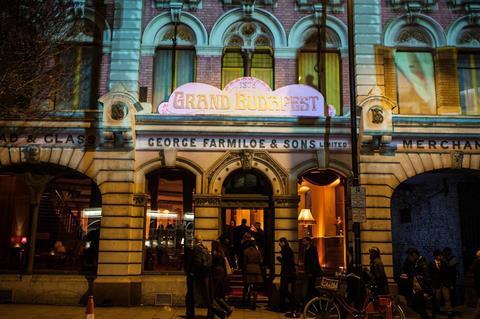 As beloved as Wes Anderson is as a director by some, the box office success of The Grand Budapest Hotel could be seen as somewhat of a surprise.
Aside from the $15m (£9.03m) run of Fantastic Mr. Fox, Anderson's adult-orientated films had previously failed to crack £4m with The Royal Tenenbaums closest at $5.4m (£3.3m).
Yet, The Grand Budapest Hotel currently stands at $13.3m (£8m) as of March 30, checking into number one in its third weekend of wide release.
Part of the credit for its success goes to Secret Cinema's production of The Grand Budapest Hotel. With event cinema takings now included in Rentrak's official UK chart, the run has bolstered the film's UK gross (although it's not yet known by how much), aiding it in its climb to the top and its consistently strong holdovers.
Yet it's not just the money, but the invaluable word of mouth that the run has created, especially with the first week of performances taking place the week before the film's UK release on March 7.
"The idea of a film having a pre-release where it can be experienced in a slightly different way can be a really positive thing for getting people to talk about the film before its release," says Fabien Riggall, founder and director of Secret Cinema.
"In a society of people who live through social media, people like to discover secret things rather than just being told to go and see them. I believe audiences are hungry to be part of and contribute to the worlds we create."
Unique billboard
Speaking about its decision to work with the event cinema outfit, Kate Gardiner, head of Fox Searchlight UK, says: "Secret Cinema's pre-release screenings generated buzz and positive word-of-mouth for the film prior to the nationwide release. As Secret Cinema typically work with classic/cult films, the partnership positioned The Grand Budapest Hotel as a very special film in advance of its nationwide release."
Described by Gardiner as a "very unique billboard" for the film, the location transformed by Secret Cinema into the film's eponymous hotel was one Riggall was familiar with, having been used in Secret Cinema's run of The Third Man. So what came first, the location or the film?
"We got the film first. Since we did Prometheus, we've got a good relationship with Fox and I've been trying to secure The Grand Budapest Hotel for some time. I knew that it was happening when it was shooting and I just thought it'd be the perfect Secret Cinema," explains Riggall.
"Then we had to find the building in record time. There's very few that have an atrium like it does and it's an amazing building."
With the immersive location in place, it was time to start checking in guests and despite the film's potentially unique audience, Riggall was always confident it would succeed.
"It's sort of weird because I was pretty confident. I joked with Kate Gardiner that this was going to do better than Avatar," comments Riggall.
"I loved the film, it captured so much of what I see as most important in life. Romance, adventure and a sense of absurdity. Wes is one of the most incredible filmmakers, each time pushing the boundaries further. It felt perfect for Secret Cinema. One day we will look to open a real hotel where audiences can stay the night in the character of the film."
Experience
Having an audience that was potentially either fans of Anderson or fans of Secret Cinema was an advantage too, especially if people had seen the film in a cinema but then came to the production for the whole experience.
Riggall equates it to when they carried out a Secret Music run with Laura Marling: "There were some in the audience that had never heard of Secret Cinema and some in the audience who weren't fans of Laura Marling but, by the end, they were fans of both."
A sold-out run, recently extended to April 6, has vindicated both Riggall's faith in the concept and Fox's bold strategy, and he believes it comes down to a key shift in audience habits: "What we're doing is reflective of our audience's desire to see a change in the way they see films."
Gardiner agrees: "Audiences are increasingly hungry for novel ways to enhance the movie going experience and Fox is always keen to support innovation from wherever it comes."
Global ambitions
It's currently a busy time for Secret Cinema, with both Grand Budapest still in season and the 21st production of its Tell No One strand underway, with close to 1,000 people taking part each night in two different areas of London. Yet, Riggall has an equally busy vision for the future.
"We're in discussion with other distributors and other film-makers about creating new experiences around their films. We're looking to launch this in the US so it could be that this happens on a global scale."